[useful_banner_manager_banner_rotation banners=72,74,79 interval=10 width=120- height=600 orderby=rand]
By Michael Cruz
Three wrestlers made strides for Guam wrestling this Valentines weekend in Guam's Nainoa Calvo, Chance Ikei and Slater Cruz.
Ike takes 3rd in Arizona
Chance Ikei's prep career came to an end this weekend. Ikei who started wrestling in 8th grade was originally a Brazilian Jujitsu player. By 9th grade, he placed in his first state tournament in Hawaii. The wrestling bug stuck and he became a two-time state champion in Hawaii.
Wrestling at 132 lbs. Ikei also was very successful wrestling at national tournaments in the off-season. His hard work on the mat and classroom paid off as he was offered to wrestle for Arizona State this past fall. Ikei decided to challenge himself and moved to Arizona for his senior year to wrestle. He entered the Division I Arizona state tournament as an underdog. His first opponent made it to the 3rd period with Ikei finally securing the fall.
The second round he faced the #2 state seed and former state champion in Missouri. Ikei lost the match. There was still the 3rd place bracket to wrestle for and he came through winning three matches over two days. His battle scars showed his pure determination to be victorious.
https://www.instagram.com/p/BBt2Z25ieRk/
Calvo walks on as freshman
Just over a year ago, Nainoa Calvo battled Mark Tamashiro in winning an overtime victory to win All-Island on Guam. He finished as a four-year letter winner and helped establish a winning tradition at FD. Calvo was accepted and enrolled at Stanford University this past fall.
Calvo decided to tryout for the Stanford Wrestling team. He persevered and made the team which was big news back on Guam. Division I wrestling is the most competitive division in the NCAA. The average NCAA Division I men's team has a roster size of 32 wrestlers but only a maximum of 9.9 athletic scholarships per team are available.
This means the average award covers less than 1/3 of an athlete's annual college costs. Wrestling is an equivalency sport for NCAA scholarship purposes, so partial scholarships can be awarded to meet the limit per school. That means a Division I wrestling is tough and staying on the team is even tougher.
Calvo spent the first semester preparing for the opening season in November and adjusting to college life. On November 1, Calvo wrestled at the 157 lb. class in his first college meet at the San Francisco State Open. His first opponent was Noor Kathem who is one of the top ranked wrestlers in the state for junior college.
Kathem won by fall at 6:50. Nainoa's 2nd match was against San Francisco State freshman Romeo Medina. Medina was a San Joaquin Section Champion and finished in the top 12 in California his senior year. Calvo battled in losing a 9-0 decision.
Two months would pass as Calvo worked on his technique. He would get a second opportunity at the California Collegiate Tournament wrestling at 165 lbs. His first opponent was Fred Green from Boise State. Green is a freshman and former four time state champion in the state of Washington. Green won by fall at 2:47.
Calvo wrestled again the same day against Boise State's Brandon Brenanstahl who was also a state champion in Washington. Nainoa battled again in a 6-0 lost. On February 11, Stanford faced Boise State in the last Pac 12 regular season dual meet. The previous meet, Stanford had to forfeit their 157 lb. match.
For whatever reason, Walker Dempsey the regular starter was out. Instead of forfeiting against Boise State, Stanford decided to fill in that spot, and with that history was made in Guam prep wrestling as Nainoa Calvo was called upon to start for a Division I dual meet.
https://twitter.com/CardWrestling/status/697972065458991104?s=04
His opponent Chris Castillo was a four time state champion in Washington and was 167-2 in high school. Castillo won by fall at 3:25. Calvo shared his experience on Marianas Preps sports blog saying,
"Hey everyone thanks for the support, it was a tough meet for me definitely outmuscled but this is definitely a good starting point to judge where I'll be in the upcoming seasons. I'll be wrestling in Oklahoma against Oklahoma State on Sunday (Monday your guy's time) and then after that I plan on hitting the weights and training here the whole summer. Thanks again for all the support."
For Cruz, he placed third in his 138-lb. division in the Georgia State Championships the same weekend. He is a senior at Lee County which competes in the largest classification 6A. He is a honor student and has been accepted to the University of Georgia.

QUICK HITS
Guam MTB National Championship: Edward Oingerang and Jennifer Camacho are your 2023 MTB national champions. Oingerang finished the course in 1:13:24 while Camacho won her second straight title in 54:08.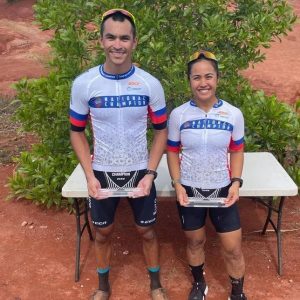 ——————————————
Kobe Miyashita, with St. John's coach Arvin Flores, was named the 2023 IIAAG Middle School Boys Volleyball MVP!