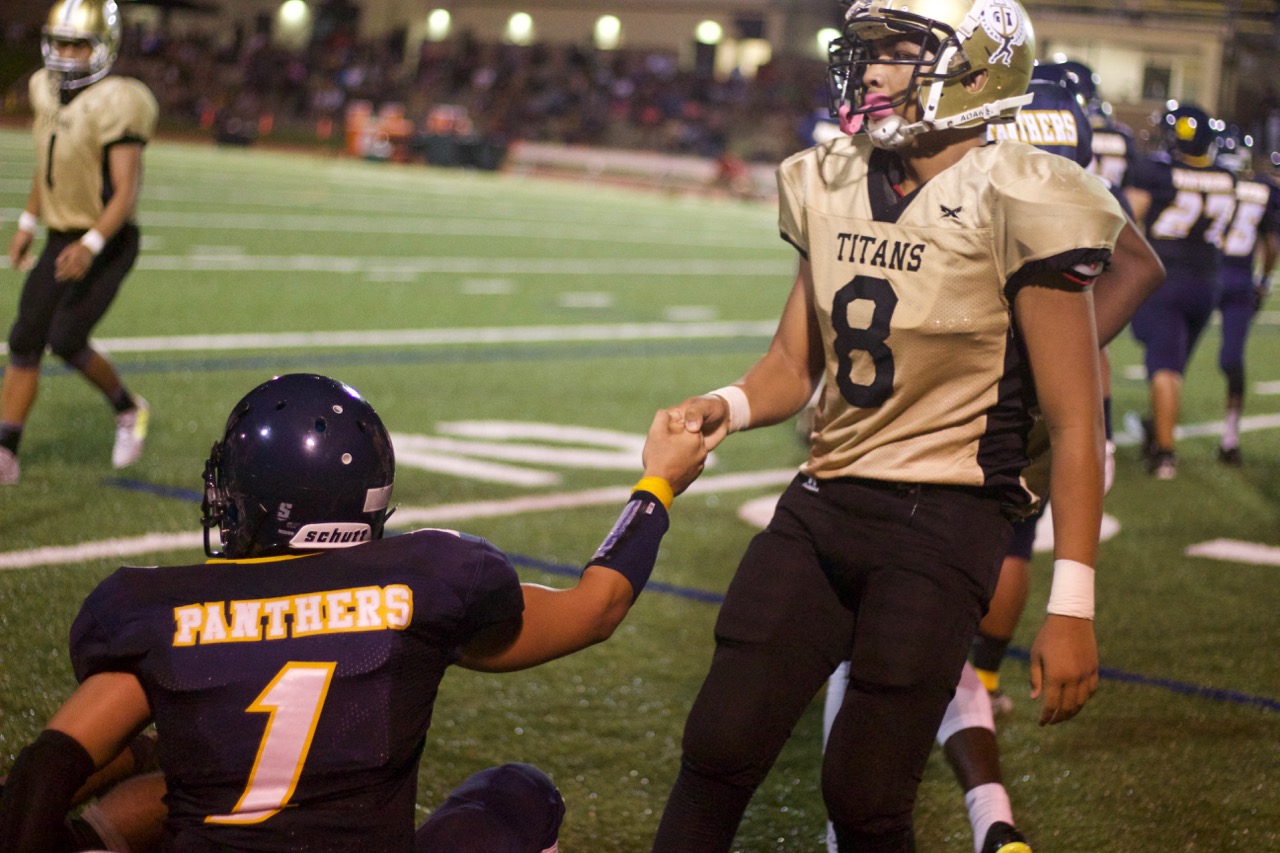 By Michael Cruz
OFFENSE
QB- Daniel Phillips-FD
He has been the starter since his sophomore year. Showed a good arm in completing passes to all island receivers and tight end last season. Has good feel for the game and sees the field well. Overcame illness during playoffs and competed in track this past season.
RB- De'Aundre Cruz-FD
Big physical runner who ran for 1100 yards. The best local prospect this decade. Does just about everything well. Cruz enter his senior year as a four year starter. He will be ready by Week 2 or 3.
RB- Xavier Napiti- FD
The transfer from GW will only add more weapons to the Friar offense. Great acceleration and can take it to the house. Scored GW's lone touchdown against FD in last year's championship game.
WR- Tyler Pangelinan- Tiyan
Two time 1st team all island wide receiver at JFK. He makes the Titans a contender. He also plays defense. Tyler is an all island kicker and punter in high school and adult league. Could be Tiyan's first player to play collegiately. He is also an accomplished paddler.
WR- Aaron Jaminila-GW
All-Island 2nd team as a sophomore. Good route runner and hands. The geckos best returning offensive weapon. He also plays baseball for the high school champion Geckos team.
TE- Makoa Bamba-GH
Bamba returns for his senior year after an honorable mention selection at tight end last season. Bamba is looking for a breakout season and will also play defensive end. He has college height and frame. Island Champion at high hurdles this past season.
OL- Kyle McIntosh-FD
Returning starter who at 5'9 and 254 lbs. brings experience as a starter at tackle and guard.
OL-Jobe Guzman-FD
Guzman is a solid 5'10 and 215 lbs. and could be the best tackle in the league.
OL- Jimmy Green-FD
Green is only 5'10 but weighs 315 lbs. making him the largest player in the league.
OL– Nick Akimoto-FD
Nick has good size at 6'0 and 215 lbs.
OL- Kin Rivera-FD
Takes over for two time 1st team center Jeremiah Pinaula.
Utility-Kein Artero-FD
Artero is small but plays big. He was used at running back, wide receiver, punt returner, kick returner, and defensive back as a freshman. He is only a sophomore.
DEFENSE
DL-Chris Parker-JFK
Parker was 2nd team all island nose guard as a sophomore.
DL- Kanoa Nahoolewa- Simon Sanchez
Kanoa was 2nd team defensive tackle as a sophomore.
DL- Chase Spotanski-JFK
Chase was 2nd team defensive end as a sophomore.
DL- Makoa Bamba-Guam High
Bamba was 2nd team defensive end as a junior.
LB- Austin Peredo-FD
Made big plays as a first-year starter and was 2nd team linebacker as a junior.
LB- Isaiah Reyes-FD
2nd team defensive end as a junior though he is listed as outside linebacker. Won Defensive MVP at all-star game.
LB- Rasean Jacobs-FD
Jacobs was a starter as a sophomore and brings valuable experience to a young panther defense.
CB- Mark Laanan-Tiyan
First team cornerback is the leader on the Titan defense.
CB- Kyler Valencia-FD
Second team cornerback as a junior.
CB- Ross Blas- GW
First team safety returns for senior year.
CB Brandon Kinsella- FD
Second team safety as a junior.
Utility- Noah Diaz- FD
Honorable Mention special teamer also started in the secondary
Other Players to Watch
FD-Giancarlo Abril-K/P, Tatum Aflague-WR, Kai Akimoto-FB, Brian and Nicholas Anderson WR, Jalen Delgado-DT, Deraven Perez-DT, Raven Santiago-LB. Kyler Valencia-CB, Rylan Napoleon-LB.
GW- Jose San Miguel-DT, John Espino-DT, Ricky Macias-QB, Florencio Untalan-QB, Francisco San Nicolas-RB, Kastino Engichy-RB, Keanu Salas-RB.
GH- Caleb Coad-FS, Jeylyn Dowdell-DE, Travon Jacobs-QB, Drew Mestas-C.
JFK- Jonah Hahn-WR/TE.
OH-Jesse Rojas-K.
TH- Kobe Quiambao-QB, Javier Lujan-RB, Fred Lumogda-LB.
SH-The Stanley brothers Noah and Gabriel (sons of former Inarajan all island player Roman Stanley) join the dolphins who have a new coach Jonas Escuadra.

QUICK HITS
Guam MTB National Championship: Edward Oingerang and Jennifer Camacho are your 2023 MTB national champions. Oingerang finished the course in 1:13:24 while Camacho won her second straight title in 54:08.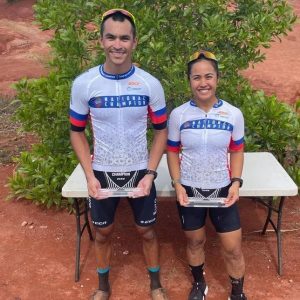 ——————————————
Kobe Miyashita, with St. John's coach Arvin Flores, was named the 2023 IIAAG Middle School Boys Volleyball MVP!