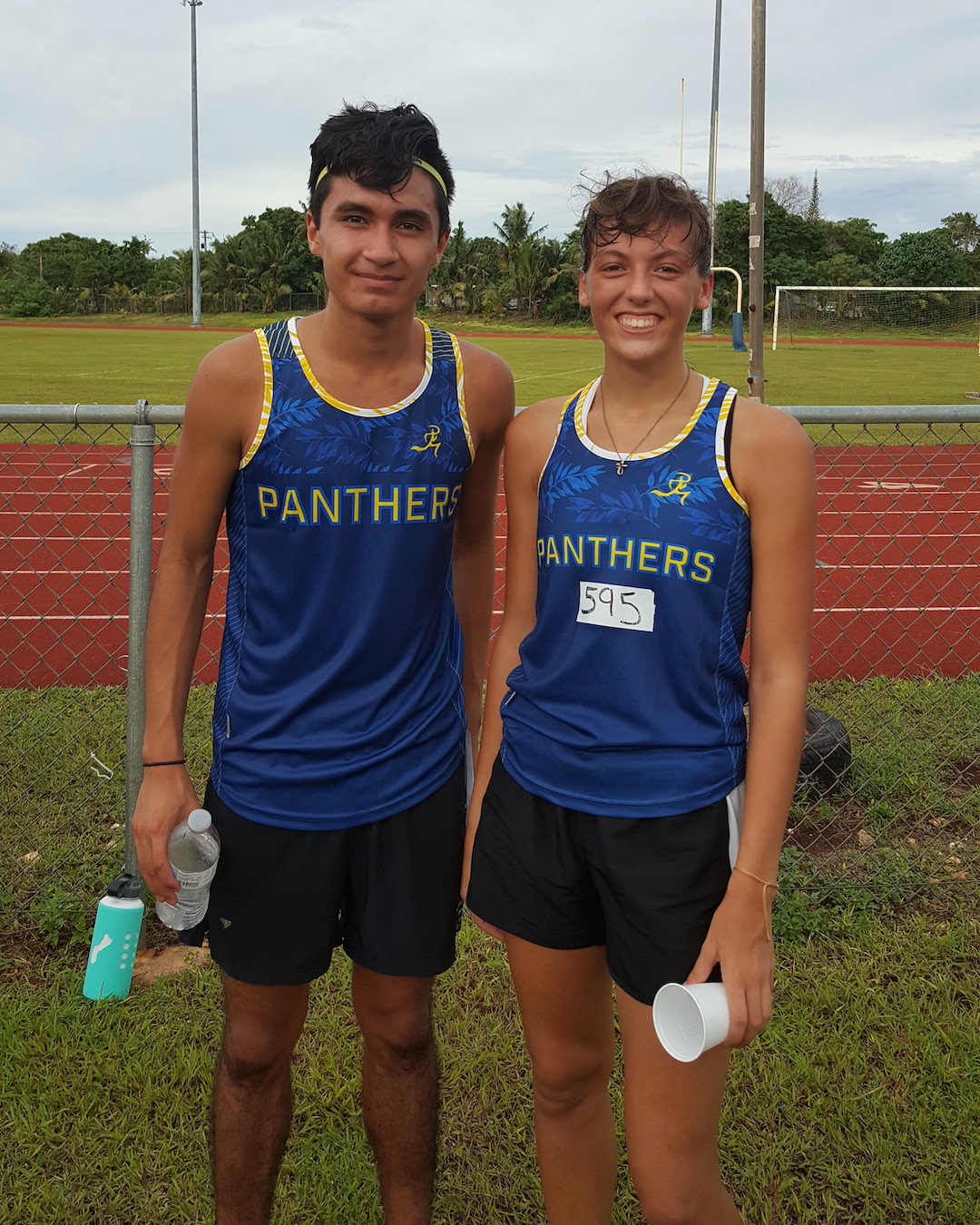 By Jay Leon Guerrero
The 2017 IIAAG held its first Cross Countey meets yesterday to start the season. There were several forfeits in week one but that number looks to decrease with more athletes eligible for the next meet. Students must attend 10 practices before racing and each team must have at least five runners racing to be eligible to win the meet.
The Okkodo Bulldogs and the Guam High Panthers had no issues with eligibility Monday afternoon with a total of 44 total runners lacing up their shoes to take on the Okkodo course that runs around the school campus and ends on the Track.
The Panthers sweeped the dual meet with the girls winning 16-43 and the boys squeaking by with the 27-30 victory.
Panther girls look to repeat
The defending champion Panthers got off to a really good start, finishing 1-2-3-4 to clinch the win. Chey Vick (22:48) finished ahead of teammate and favorite Emma Sheedy (23:09) to help the Panthers cruise to victory. Sheedy got off to a fast start but Vick passed her later in the race. "I passed Emma on the second lap by the baseball field. It helps that she was in front because she did all the hard work, I just played catch up," said Vick. Both runners were encouraging each other and look to work together to accomplish the common goal of a championship despite the friendly competiveness. "We practice together and we are friends".
Isaac is back!
Last season's all island champion and multiple gold IIAAG track medallist Isaac Ventura finished with a time 17:24 and his time was good enough to hold off Okkodo's Zachary Piolo Criss who came in a respectable second with a time of 18:05. Ventura was pleased with the results but he was just happy to run for Guam High and head coach Joe Taitano for his senior season.
Ventura was scheduled to leave off-island for his senior year with his Dad getting a different military assignment at a different location. Fortunately, the Ventura family was notified they were extended for another year on Guam. "When I first heard we were going to leave Guam, I felt bad because I didn't want to leave coach (Joe Taitano) because I've been under his program for three years. When we found out we were staying, I was excited and he was one of the first I called," said Ventura.
Piolo Criss, a junior, came in a second for the Bulldogs nearly breaking the 17-minute mark. "It was quite intimidating out there going against the guy who beat me last year on the track. But I think we did well as a team," said Piolo Criss. "We need to learn to do better with our pace and not to go too hard in P.E. class on the day of the meet," joked Piolo Criss. The Bulldogs start off their season 0-1 but look to improve as the season continues, they finished in third place last year.
The Panthers' Akira Martines (18:27) and Jonathan Harver (18:29) held off Okkodo's Kyle Delos Santos (18:30) to clinch the narrow victory. The Panthers (1-0) will have a home race next Monday vs. the St John's Knights (0-0) and the Bulldogs (0-1) will take on the recently added St Paul Warriors (1-0 Girls, 0-1 Boys) at St Paul.
Here is the top 10:
Boys:
17:24 – Isaac Ventura, Guam High
18:05 – Zachary Piolo Criss, Okkodo
18:27 – Akira Martines, Guam High
18:29 – Jonathan Harver, Guam High
18:30 – Kyle Delos Santos, Okkodo
18:44 – Gerald Pangelinan, Okkodo
19:45 – Nicholas Kefe, Guam High
19:53 – Tyler Atoigue, Okkodo
20:08 – Pedro Atoigue, Okkodo
20:29 – Arwin Oftana, Okkodo
Girls:
22:48 – Chey Vick, Guam High
23:08 – Emma Sheedy, Guam High
23:34 – Sydney Cooper, Guam High
23:45 – Jade Castillo, Guam High
23:50 – Aniah Pangilinan, Okkodo
24:05 – Sameha Wilbanks, Guam High
26:28 – Richella Ragadio, Okkodo
27:01 – Anavey Ventura, Guam High
27:35 – Genesis Aquino, Okkodo
28:10 – Ashley Villanueva, Okkodo
Team results:
Boys:
FD 19, Tiyan 40
Sanchez 15, St Paul 49
Southern 15, Harvest 50 (forfeit)
JFK 15, GW 50 (forfeit)
Guam High 27, Okkodo 30
Girls:
AOLG 15, Tiyan 50 (forfeit)
St Paul 15, Sanchez 50 (forfeit)
Harvest 15, Southen 50 (forfeit)
JFK 15, GW 50 (forfeit)
Guam High 16, Okkodo 43
Bye week:
St Johns

QUICK HITS
3rd place: Big ups to the Para Todu Rugby Club for finishing 3rd out of 16 teams in the Manila 10's Rugby Tournament today. Biba Guam Rugby!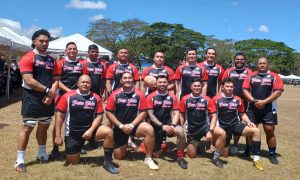 ——————————————
Guam MTB National Championship: Edward Oingerang and Jennifer Camacho are your 2023 MTB national champions. Oingerang finished the course in 1:13:24 while Camacho won her second straight title in 54:08.