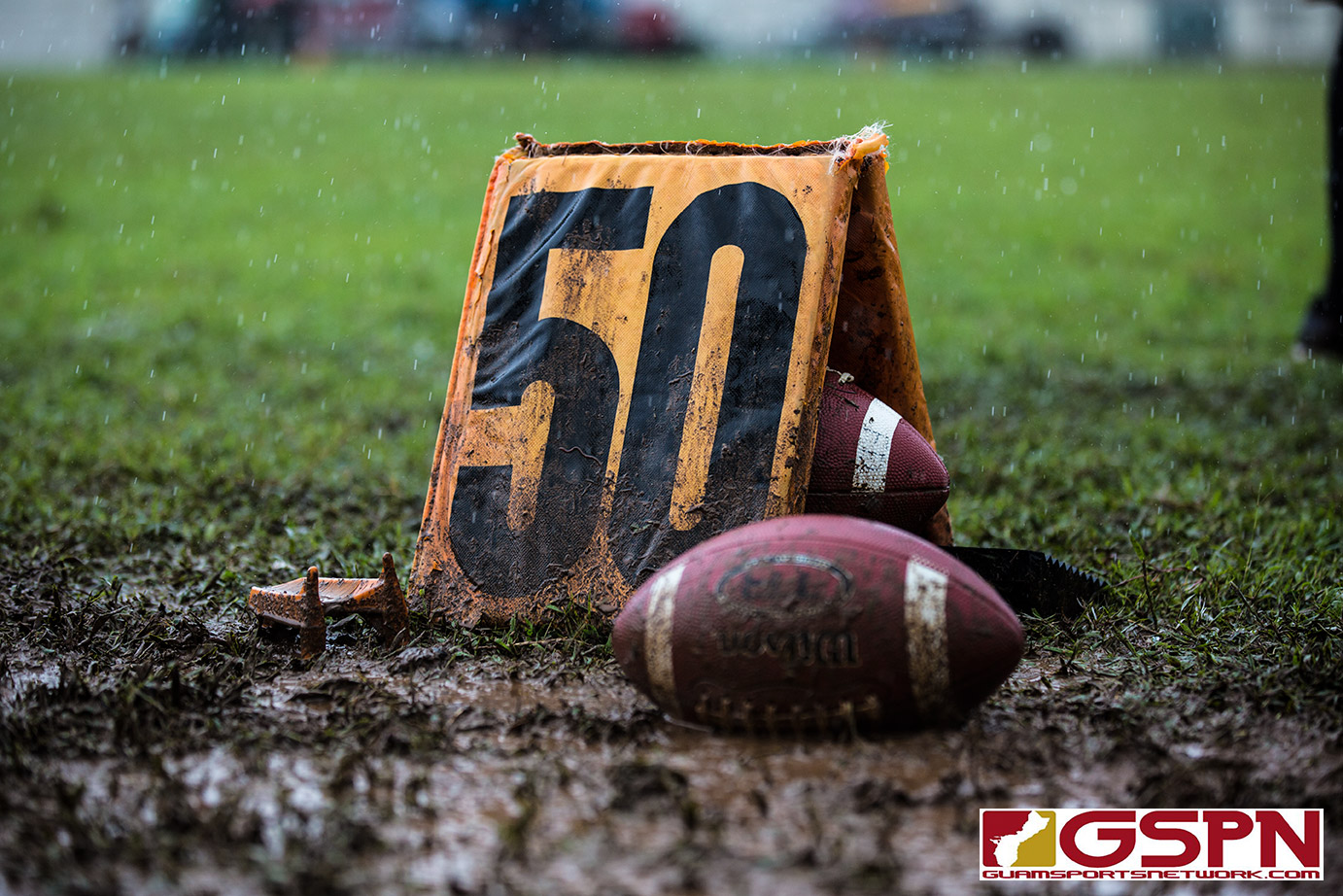 By Robert Balajadia
As quickly as the 2017 sports calendar year had started, it's hard to believe we're already at the midpoint of the football season. Though,  much is to be expected with just an eight-team league.
After four games, three for the Okkodo Bulldogs and GW Geckos, there have been plenty we've learned from the league already. The FD Friars haven't slowed down in their quest for a three-peat, but other teams have improved and are continuing to improve on a weekly basis.
Let's try and answer a few of the leagues hottest topics, like we're playing in one of the plethora of day games this season!
(current standings below)
Who's the team to beat?
The FD Friars have not lost a game in two-and-a-half seasons, including the playoffs. Considering their last loss came against the GW Geckos in the 2014 Championship game, FD has more than got redemption by running off back-to-back titles in 2015-16, all the while looking strong for a three-peat. They are two games away from breaking a 27-game win streak, a record that long stood since the 80's by the GW Geckos.
FD has offensive weapons all over the field and on the sidelines. De'Aundre Cruz is relishing in his return to Guam despite missing Week 1, and he hasn't even been allowed to play an entire game yet due to the Friars already winning by a large margin come the 4th quarter and sometimes second half. Newest member Xavier Naputi has seamlessly fit into Friars offense and quarterback Daniel Phillips is as consistent as ever. Teams have become happy with positive yards gained against FD, which is also very hard to do as they've only allowed one score all season.
What will it take to beat them? Well, their team bus got pulled over which forced them to be 30 minutes late to the season opener. That, so far, has been the most effective way to slow them down.
Which teams are on the rise?
JFK (3-1) and Tiyan (2-2)
Week 1 hasn't looked more different for any team more the Tiyan Titans and JFK Islanders.
For JFK, a Week 1 loss to the FD Friars was all they have to hang their heads on. They've since raddled off three straight wins by handing the Sanchez Sharks their first season loss as well as a big turnaround game where they posted three touchdowns to none against in the second half against the Guam High Panthers last weekend. Running back Justin Camacho is having his best year and tight end Jonah Hahn has come on as of late. Quarterback Allen Blend II shows more comfortability in his first year of running the offense and linebacker Chase Spotanski has become a plug-and-play baller, making an impact in all three facets of the game.
The Titans struggled mightily getting on the same page against the Guam High Panthers in Week 1. Since that loss, Tiyan has been the only team to score on the FD Friars while beating the GW Geckos for the first time in school history. Newest weapon Tyler Pangelinan has shown improvements and his big-play potential every week and quarterback Kobe Quiambao isn't afraid to tuck his head down and power through defensive hits. The running game is not flashy, but effective, and their pass defense is evolving into a "no fly zone" behind corner Mark Laanan.
Who's been the best rookies?
Ricky Macias – GW Geckos QB
Kamerin Toves – Sanchez Sharks RB
In the midst of rebuilding a football program, the GW Geckos and Sanchez Sharks have been gifted two game changers in first year players Rick Macias (younger brother of former Gecko Isiah Macias) and Kamerin Toves (has a twin brother Kameo).
In all fairness, the two were star players in the GNYFF with Macias under the Raiders and Toves under the Saints, who are now the Broncos. But, their transition to the high school league has been impressive still.
All Macias seems to do is throw touchdowns. In a run-dominant league, Macias breaks the mold with how often and accurately he throws during a game. Macias threw for three scores against the Southern Dolphins and even ran a touchdown in. He was held down by the Titans defense, but he bounced back in a big way by throwing three more touchdowns against the Sanchez Sharks. Macias is giving receiver Aaron Jamanila all he can handle, targeting Jamanila over 10 times a game.
There's no better way to break your first game jitters than by scoring a touchdown, but Kamerin found the end zone twice in his debut against the Southern Dolphins and twice more against the Guam High Panthers. Unfortunately, Toves suffered a foot injury against the Islanders in Week 3 and didn't return. He didn't suit up in Week 4 against GW. In the event Toves doesn't make his way back to the field, he and twin Kameo have still clearly given the Sharks football program new life.
Who's the mid-season MVP?
Xavier Naputi – FD Friars Receiver/Returner
This award should just universally be called "The best player on the best team award" because it's never judged in a literal sense, the most valuable player to the program. But that's besides the point.
Xavier 'X' Naputi is dangerous wherever he's at on the field. He took the opening kickoff against the JFK Islanders to the house, his very first touch as a Friar. He's the most dangerous deep threat due to his speed, but he showed a little extra versatility against the Southern Dolphins after he made a leaping grab to snag a wobbly ball over two defenders while keeping his feet inbounds for a score.
Teams wisely don't kick to him during punts and kickoffs since they've widely taken notice of his game-breaking ability. Naputi has been kept out of the end zone once this season, though ironically it was his best game in terms of yardage against the Titans where he grabbed four catches for 112 yards.
What is 'the game to watch' during the rest of the regular season?
Tiyan @ JFK – 3pm October 7th
Grab your popcorn for a wild season finale.
The FD Friars and GW Geckos will mix it up for a traditional end of season clash, but the JFK vs. Tiyan game will be a battle of closely contested programs.
Who are some other top players?
Here's a quick hitter of the leagues top performers in offense and defense.
Quarterback
Daniel Phillips, FD
Kobe Quiambao, Tiyan
Ricky Macias, GW
Runningback
De'Aundre Cruz, FD
Justin Camacho, JFK
Kamerin Toves, Sanchez
Wide Receivers
Xavier Naputi, FD
Aaron Jamanila, GW
Tyler Pangelinan, Tiyan
Linebackers
Chase Spotanski, JFK
Austin Peredo, FD
Raven Santiago, FD
D-Line
Isiah Reyes, FD
Chris Parker, JFK
Makoa Bamba, Guam High
Defensive Backs
Mark Laanan, Tiyan
Brandon Kinsella, FD
Harold Gaerlan, Sanchez
Kicker
Giancarlo Abril, FD
Tyler Pangelinan, Tiyan
Ricky Macias, GW
Utility
Xavier Napui, FD
Tyler Pangelinan, Tiyan
Curtis Affleje, Okkodo

QUICK HITS
3rd place: Big ups to the Para Todu Rugby Club for finishing 3rd out of 16 teams in the Manila 10's Rugby Tournament today. Biba Guam Rugby!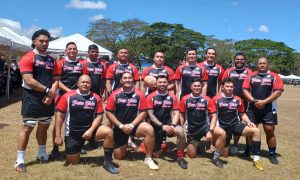 ——————————————
Guam MTB National Championship: Edward Oingerang and Jennifer Camacho are your 2023 MTB national champions. Oingerang finished the course in 1:13:24 while Camacho won her second straight title in 54:08.