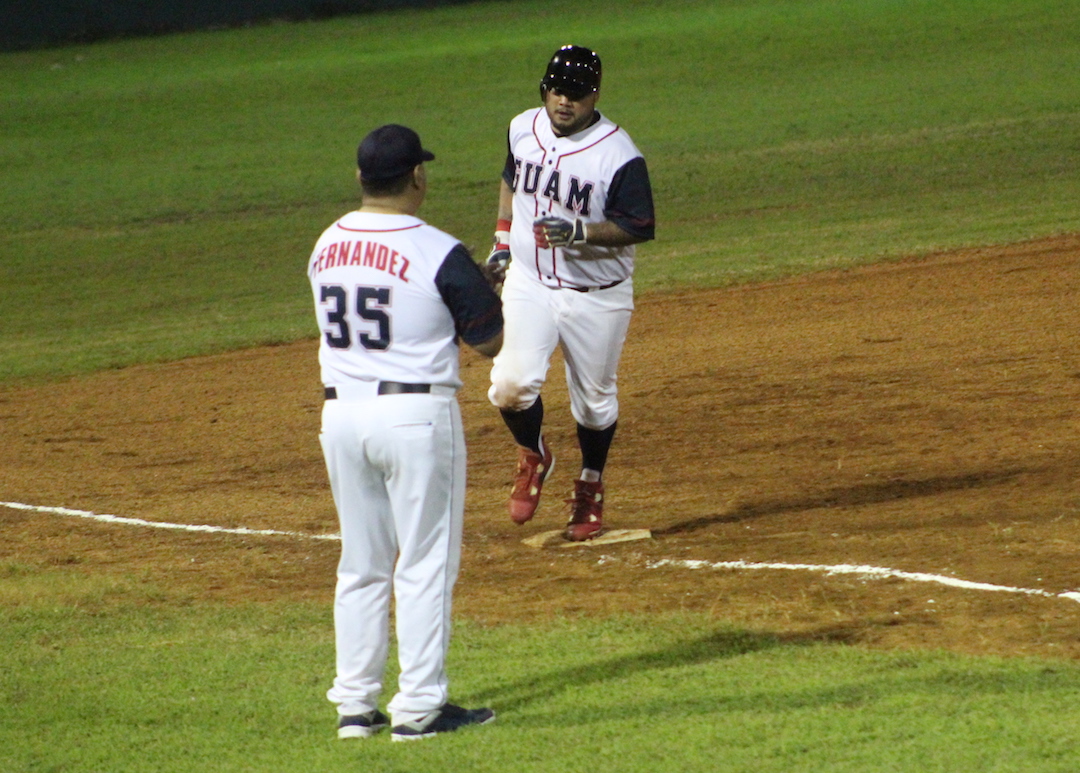 By Robert Balajadia
For the first time since May of 2015, baseball is officially back at Paseo Stadium!
Firing up the Paseo Baseball Stadium lights was the 2017 Micro Classic Baseball Tournament between five teams in Guam, Guam U23, CNMI, Palau and Kosrae which began Tuesday afternoon. Ending the day was a showdown between Guam and Palau where Guam ran away to a 14-1 win highlighted by a two-run homer from Randy Alcantara in the 6th inning.
With Guam holding on to a slim 2-1 lead, Alcantara smashed a pitch from Palau's Pippen Teiich Mitsur to deep right and over the wall for a two-run shot that would spark the team's dormant offense.
"It woke up the sticks," said Alcantara on the home run. "Everyone came in here a little nervous, but I'm just glad I came through today and helped the team. I was very relaxed at the plate."
Guam would turn in four more runs in the inning, two off of errors, to take a commanding 8-1 lead. The offense continued to pour it on in the 7th inning, highlighted by another home run from Mike Bautista who sent a bullet deep left to extend the lead 12-1.
Winning pitcher Freddy Cepeda retired in the 6th inning, ending his night with 6Ks after Guam built a large lead. Cepeda's heroics was put on display in the bottom of the 5th inning where Palau was in a favorable position with the bases loaded and just one out away down 2-1.
Palau's Ray Rumong stepped up to bat with the bases jacked, but a calm Cepeda caught Rumong out swinging. Cepeda then caught Palau's Mesikt Tommy Elbuchel with strikes on three swings to save the inning, giving Guam a big boost of momentum heading into the 6th.
"I'm a veteran so I know what to do, so I'm used to the pressure," said Cepeda. "I have confidence in my defense and everyone was there behind me. It just felt super good to be out there today."
And make no mistake, Guam is hungry to win despite it being just a five-team tourney.
"We're the ones hosting so we want to put our best out and do our best. It's been a while, but it felt so good just to be out on this field again, it's pretty unexplainable. There's no place like home," said Alcantara.
"We have to represent. We have our best out here so we've got to do it. We're here for a reason," added Cepeda.
The Guam team will next play Thursday in a double-header at 11 am and 3 pm while Palau will play a double-header of their own agaisnt Kosrae and Guam U23 at 3 pm and 7 pm Wednesday.
Earlier Scores
Guam U23 10, Kosrae 6
CNMI 3, Kosrae 2
PHOTO GALLERY BROUGHT TO YOU BY:

COMING SOON …
High school girls volleyball playoffs
Brawl 3: Oct 13
Guam's Strongest Man and Woman Competition October 29
QUICK HITS
The Figo Islanders 40s women's softball team took gold in the Senior Softball World Championship in Las Vegas. Figo came out of the loser's bracket and beat the Arizona Belles 17-3 in the AA division championship game Sunday afternoon.
Other Guam teams that played in the 40s tournament were: Team SOTTA (women's) and Bud Light Guam, Friars 671 and Sindalun Guahan (men's).
Sindalu finished a respectable 4th out of 24 AAA division teams.