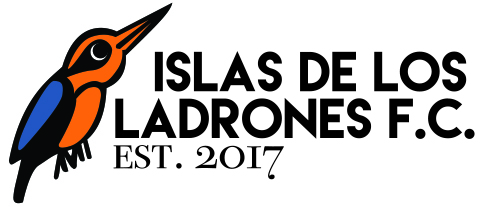 By Patrick Lujan
In the past few years, Jason Cunliffe has been the team captain for the Matao – Guam's National Soccer Team that soared to new heights in the FIFA ladder, all the way to No. 146 in the summer of 2015. (Currently we are #191 out of 211)
Still the lead man on the national team, Cunliffe is entering the next phase of his soccer life with the launching of his very own football club: Islas De Los Ladrones Football Club (IDL FC).
"We have named our club and academy Islas De Los Ladrones (IDL) FC for two reasons," Cunliffe said. "As a student of history and a son of Guam, I have always been aware of the misnomer associated with the Marianas Islands. There are people out there who like to point to this historical name and use it to justify their false misgivings about our islands and our culture.
"For those of us who know, it is simply a misunderstanding which led to the erroneous designation. Our culture is one where we share what we have and the first interaction with outsiders was just that. We were not stealing, but sharing as we provided the voyagers with sustenance and shelter in return. Naming the club such, gives us the opportunity to educate those about the name and correct those whom disseminate such information incorrectly. And then from a competitive stand point, when we step on the field, we are there to take everything from our opponents. We will create an environment where our players will be empowered knowing that they can go get anything they want in life through intelligent, industrious work and that regardless of our size as a nation, we can go toe to toe with the best in the world in any forum."
Cunliffe, who started playing soccer since the age of five, went on to play for Santa Clara University before playing professionally and then coming back home to be the national team captain.
He said it was the shortage of technical expertise on island that led him to venture stateside at the age of 14 for further development.
"We are trying to avoid that by giving kids all the tools they need to succeed here on island."
And it is this experience that has brought Cunliffe to form his own football club in the image he sees fit for the full development of our young soccer athletes.
FORMATION OF CLUB STAFF
Like a true football club, IDL FC has secured a technical director that has a long past with Cunliffe.
Ken Forgarty will fill the position of TD with years of experience in the game, including international (Cayman Islands), professional (Kansas City Wizards of MLS) and in the club landscape (Houston Texans).  
"I personally worked with Ken my last two years with the Texans as he was our trainer when we won our two national championships at the U18 and U19 level," Cunliffe said. "I learned a lot with him and we have kept in touch since. I've always wanted to work with him again and couldn't be happier to be having him join us on Guam. He is ending his tenure with the Texans, last holding the position of Technical Director for them and his resources in the club, college and professional landscape in the U.S. will give our kids the necessary exposure to be successful at those respective levels."
Cunliffe will staff a goalkeeper coach as well, a rare coaching positioned filled on Guam. Johann Noetzel is no stranger to Guam as he was under Gary White's coaching staff in recent years.
"Coach Noetzel has played collegiately for Seattle Pacific University and was drafted by the Seattle Sounders and later had his rights traded to the Dallas Burn of Major League Soccer in 2000. His experience and knowledge will be a huge asset for our club for years to come."
Rounding out the initial FC staff is Guam's own Ian Mariano, who has been a part of the Guam national team program throughout his career, representing Guam at every youth age group and finally reaching the pinnacle of the full men's national team.
"We are very excited to do our part to help take Guam football to the next level. We believe that our athletes are up there with the best in the world and that with the opportunity to get world class training here on island, they will be able to achieve their full potential."
IDL FC will be taking applications starting Nov. 22nd for divisions U6, U8, U10, U13, U15 and U18. You can contact them at [email protected] or call Jason at 486-5270. Spots are limited.

2022 GSPN I MÅS METGOT COMPETITION
I Mås Metgot Athlete Spotlight: April Flores
2022 GSPN I MÅS METGOT COMPETITION
I Mås Metgot Athlete Spotlight: April Flores
2022 GSPN I MÅS METGOT COMPETITION
I Mås Metgot Athlete Spotlight: April Flores
QUICK HITS
Guam boys Kekoa Toves and Matias Calvo went head-to-head on the rugby pitch as American International College took on Dartmouth College, both top-ranked men's rugby programs in the country.
Calvo (FD) is the captain of Dartmouth and scored, but Toves (Sanchez) and his AIC squad came away with the win in Springfield, Mass.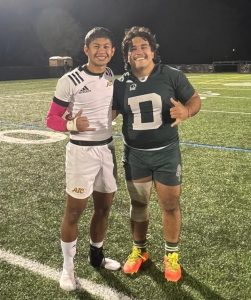 ———————————————–
1LT Belizabeth Nicole V. Rengiil is known to be the first female from Guam and Palau to make the All-Army Women's Rugby Team. She is an active duty Signal Officer with the US Army and is stationed at Joint Base Lewis-McChord in Washington.
Her team won the Armed Forces Women's Rugby Championship with a 4-0 record.
Belizabeth is the daughter of Edwin and Juliana Rengiil with siblings Johanna and Edwin-Isaiah Rengiil from Mangilao.