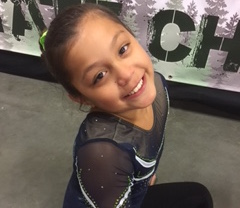 By Robert Balajadia
It was clear since being a toddler that 10-year-old Alyssa Jade Palomo had a future in gymnastics. Parents Michael and Sheila had a feeling that their active toddler, who would find ways to climb out of her crib and over tables and counters, had a higher calling.
Alyssa's Guam roots stem from her parents Michael Palomo USN retired of Mongmong/Toto (Familia Labucho/Checo) and Sheila Palomo.
At just 20 months old, they decided to enrol Alyssa at the Naydenov Gym in Vancouver Washington as part of the Parent and Tot class. Then, they quickly saw the progression.
When Alyssa turned six, she started level 3 Compulsory Competitive Gymnastics where she would get 1st place in Vault and 6th place all around in the WA State Compulsory Meet for her age and level. Just a year later at Level 4 age seven, she earned 2nd place in vault, 3rd place in beam and 5th place overall at another WA State Compulsory Meet.
She would earn 8th place overall at her last meet before moving to a new in October of 2016 called Southern Washington Gymnastics Academy (SWAG), under head coach and owner Paul Rawlings and coach Riss Rodriguez, a OSU Alumni Gymnast.
At age 9, Alyssa began her optional gymnastics career and placed 11th overall at the WA State Optional Gymnastics meet.
The routines, flips and spins that Alyssa goes through is the easy part of the competition; getting over the nerves is the real challenge.
"I get so anxious at the beginning of each competition, but I push through and just go for it! I feel good about myself after I complete my routine," said Alyssa.
Striving to get better
The now 10-year-old Alyssa puts in more time training than ever before, hitting the floor five hours a day Monday-Friday as a level 7 gymnast, working hard as if it were her part-time job.
"Gymnastics is just fun!," explained Alyssa on why she enjoys the sport so much. "I like seeing my friends and teammates because they are like my second family to me."
Alyssa has a wealth of character, which explains exactly why her favorite event is the floor routine.
"I like to show my personality with the music and choreography, but my favorite move is the round off, back hand spring, back tuck."
Palomo has a passion for gymnastics as her parents say she enjoys rock climbing, swimming and also playing soccer.
Alyssa just recently wrapped up an intensive gymnastics training camp at Oregon State University under award winning gymnast Risa Perez. Palomo is determined to use the knowledge she's gained, coupled with hard work, to further herself in the sport of gymnastics all the while representing Guam.
PHOTO GALLERY BROUGHT TO YOU BY:

COMING SOON …
High School Football starts Sept. 29
Brawl 3: Oct 13
Guam's Strongest Man and Woman Competition October 29
QUICK HITS
The Figo Islanders 40s women's softball team took gold in the Senior Softball World Championship in Las Vegas. Figo came out of the loser's bracket and beat the Arizona Belles 17-3 in the AA division championship game Sunday afternoon.
Other Guam teams that played in the 40s tournament were: Team SOTTA (women's) and Bud Light Guam, Friars 671 and Sindalun Guahan (men's).
Sindalu finished a respectable 4th out of 24 AAA division teams.