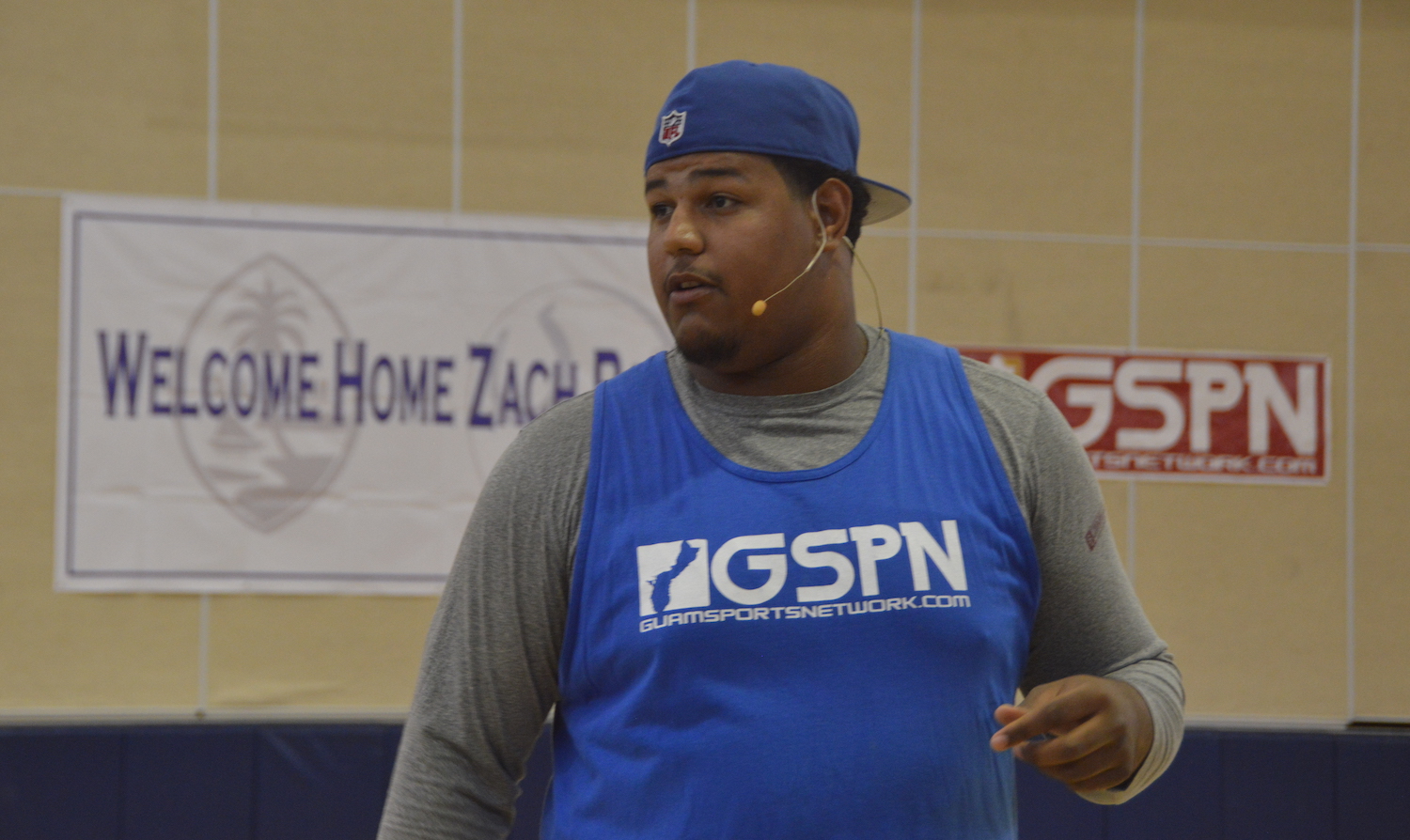 By Robert Balajadia
Guam's young football fans and current players got the chance to learn from the NFL's latest Chamorro Zach Banner Thursday afternoon at the Guam High gym for the first ever Banner Football Festival, that was completely free and open to the public.
Banners week-long homecoming is nearing it's end and the newest Indianapolis Colt made his biggest public appearance while interacting with the youth.
From the minute Banner arrived to the crowd to his exit, he stressed the importance of school and playing sports as a kid for the primary reason to be having fun.
"College, college, college," stated the USC Trojan graduate. "It doesn't matter where you go to school, as long as you get a college education. Now-a-days just having a high school diploma isn't enough."
Zach even gave the kids a little history lesson of his ties to Guam, sharing the story of his single mother and how his grandfather inspired him to represent the Guam flag after every game.
"I could see how much support I was getting from the island so I took it upon myself to represent Guam after every game," said Zach to the crowd.
Nine teams from the GNYFF set up shop in the facility, giving their athletes time to get direct coaching from Banner. Four stations were setup both inside the gymnasium and the turf field at Guam High that made rotations while running football style drills.
Banner allowed members of the GNYFF run the festival given his short-term arrival announcement, but he did promise to bring out teammates next year with a more structured camp.
Racing Banner
At the begging of the festival, Banner challenged the youth members in a race for a pair of his signed cleats. Towards the end of the festival, each team nominated one athlete to compete in a race for the Zach Banner memorabilia.
The two finalists, Keanu Salas from the Raiders and Aiden Lumba from the Steelers both outlasted the pro lineman in the final five yards of the 40-yard dash. Their reward was a cleat each, both signed by Banner!
Banner then concluded the event with an autograph signing and picture taking with each of the teams in attendance.

COMING SOON …
High School Football starts Sept. 29
Brawl 3: Oct 13
Guam's Strongest Man and Woman Competition October 29
QUICK HITS
The Figo Islanders 40s women's softball team took gold in the Senior Softball World Championship in Las Vegas. Figo came out of the loser's bracket and beat the Arizona Belles 17-3 in the AA division championship game Sunday afternoon.
Other Guam teams that played in the 40s tournament were: Team SOTTA (women's) and Bud Light Guam, Friars 671 and Sindalun Guahan (men's).
Sindalu finished a respectable 4th out of 24 AAA division teams.