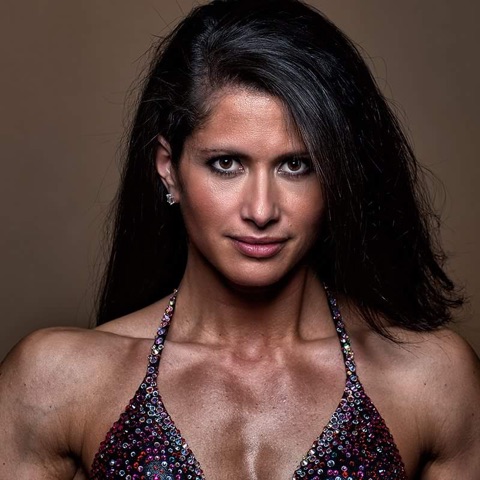 By Ed Chargualaf
Ally 'Sunshine' Chargualaf is a lot of things. An athlete, professional trainer, tougher than nails fighter, mother, cancer survivor and she is a rising star in the sport of competitive bodybuilding.
"I was first inspired to compete when I was 15 years old after I was involved in a serious car accident fracturing C4, C5, C6 and C7 in my neck. I was partially paralyzed on my right side for about six months," Chargualaf described. "During my rehabilitation, my therapist noticed I had above average muscle tone and told me about the fitness competitions she did. I never forgot her."
In 2005, Chargualaf worked backstage at a natural bodybuilding competition and, a year later, she entered her first competition.
The 41-year-old Chargualaf now living in Kirkland, Washington, most recently competed in the 2016 BSN Emerald Cup and placed 4th in the Masters Division and 2nd in the Open Figure C Division. She also was one of the leaders in the campaign for Ms. Health & Fitness.
"I was told that my dad named me Sunshine because our family name is Gualafon which means full moon and the opposite is full sun," Chargualaf stated.
She is the daughter of Enrique "Ricky" Babauta Chargualaf and granddaughter of Jose and Carmen Chargualaf from Santa Rita.
"I definitely want to influence athletes on Guam! I think it's important for everyone to have a mentor, a coach or someone they can identify with and help empower them. Our island might be small but everyone has a huge heart that is filled with loyalty and pride," stated Chargualaf.
Chargualaf is also a peak performance coach and owns PLAY Fitness NW.
"Be a positive role model. People can learn a whole lot from you by simply observing how you behave. They'll pick up information about your ethics, values, and attitudes," Chargualaf said. "They are likely to follow your lead, adapt your approach to their own style, and build confidence through their affiliation with you."
Chargualaf credits her success to her cheerleaders.
"I have three beautiful, talented and amazing kids," Chargualaf said. "I want my children to have a mother that they are proud of. Mikaela Porter (21) will be graduating from Western Washington University in June, Andrew Burden (16) is basically a walking Wikipedia and is already a certified mechanic. Tytin Clancy (8) wants to be a pro baseball player when he grows up."
"Being a single mother of three for eight years has been definitely a hurdle as competing is very time consuming and expensive but I have an amazing support group and my children are my biggest cheerleaders."
"She is highly dedicated to her lifestyle – eating healthy foods, balancing diets and physical exercise," Porter said of her mother. "She likes to stress the importance of being healthy and teaches us how to live that way too but respects us if we choose not to. I'm very proud of all her accomplishments."
"I've had to endure a lot of challenges! I've had neuropathy in my right arm for more than 20 years and also massive chronic pain and arthritis from my neck injury," Chargualaf explained. "In 2007, I had an oophorectomy to remove my left ovary for stage 1 ovarian cancer and, in 2011, I was training for The Emerald Cup and re-injured my cervical spine."
In spite of having herniating her C5 and undergoing an anterior cervical discectomy and fusion, Chargualaf was back in the gym just three months later.
In 2014, Chargualaf was looking to get her pro card but was struck by a car while exiting her vehicle. This injury forced her to take a two-month hiatus from training.
"After my dreams were nearly crushed, I decided to pull up my boot straps and try to compete for my pro card in another competition three months later in Las Vegas," Chargualaf added. "I knew my physique was not the same and the physical and mental pain was very taxing, but I am not a quitter. I forged on only giving myself about five weeks to prepare. I placed 15th out of the nation and got invited to compete at the Arnold Amateur eight months later and could not pass that up."
Chargualaf placed 20th at the Arnold Amateur event.
"I was extremely blessed to compete with people from all over the world."
"My goals are to open up my own training studio where I can share my life lessons and knowledge to help empower not only adults but also our youth through movement, healthy eating habits and healthy mindset. My whole business model is connecting with your mind, body and spirit to live a healthy life with purpose."
-Athletic Accomplishments-
2016 BSN Emerald Cup 2nd Place Open Figure C
2016 BSN Emerald Cup 4th Place Masters over 40 figure
2015 IFBB Arnold Amateur International, Columbus Ohio 20th place Figure
2014 USA Nationals, Las Vegas, NV 15th
2014 Emerald Cup 1st Place open Figure C
2014 Emerald Cup Masters over 35 Overall
2014 Emerald Cup 1st Place Masters over 35
2014 NPC Vancouver USA & Tanji Johnson Classic – 1st Place Open Figure C
2013 NPC Northern Classic – 1st Place Open Figure C
2013 NPC Washington Ironman – 1st Place Open Figure C
2013 NPC BSN Emerald Cup – 7th Place Masters over 35
2013 NPC Vancouver USA & Tanji Johnson Classic -9th Place Open Class B
PHOTO GALLERY BROUGHT TO YOU BY:

COMING SOON …
High school girls volleyball playoffs
Brawl 3: Oct 13
Guam's Strongest Man and Woman Competition October 29
QUICK HITS
The Figo Islanders 40s women's softball team took gold in the Senior Softball World Championship in Las Vegas. Figo came out of the loser's bracket and beat the Arizona Belles 17-3 in the AA division championship game Sunday afternoon.
Other Guam teams that played in the 40s tournament were: Team SOTTA (women's) and Bud Light Guam, Friars 671 and Sindalun Guahan (men's).
Sindalu finished a respectable 4th out of 24 AAA division teams.