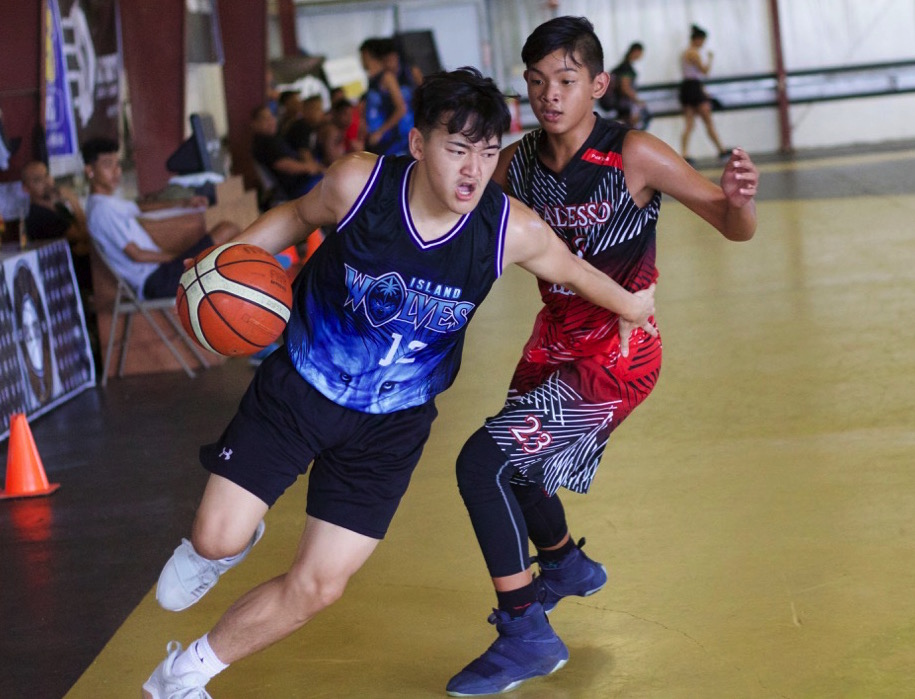 By Jay Leon Guerrero
Summer has come to an end and the youth ballers are getting ready to start a new school year. But before summer ends, the Breyers Youth Summer Showcase had its championship basketball day at the Elite Center in Tiyan.
Here is the recap of championship day Sunday:
8U Division
Island Wolves 44 (Mario Bork 16pts)
Umatac 76ers 28 (Justin Sanchez 20 pts.)
MVP: Mario Bork (Island Wolves)
10U Division
Team Elite 42 (Noah Hernandez 28 pts.)
Island Wolves 36 (Jason Rivera 14 pts.)
MVP: Noah Hernandez (Team Elite)
12U Division
Team Elite 30 (Blaise Ada 13 pts.)
Island Wolves 28 (Zander Sanchez 17 pts.)
MVP: Blaise Ada
14U Division
Team Elite 52 (Jaen Paraliza 15 pts.)
Island Wolves 45 (McGrady Dois 12 pts.)
MVP: Thelo Orichiro
16U Division
Team Elite 59 (Jahmar White 38pts.)
Malesso Rebels 41
MVP: Jahmar White
18U Division
Team Elite 76 (Takumi Simon 17pts.)
WildCats Club 66
MVP: Takumi Simon
Girls 18U Division
Lady Bulldogs 30 (Dannica Cabrera 12 pts)
Team Elite 23
MVP: Dannica Cabrera
Island Wolves
GSPN was able to catch the early 16-and-under consolation game which featured the Wildcats Club and the Island Wolves. Both teams were filled with talent and went back-and-forth to a 22-all tie. Harold Gaerlan had his way in the paint and Tino Buekis hit a deep three-pointer for the Wildcats as the held on to a slim early lead. The Wolves came back to tie the contest with Rasner Dois and Jerry Ngiraremiang both scoring before halftime.
The Wolves entered the second half with the full court press which forced four turnovers that turned into easy points. Ngiraremiang stole the ball twice; scoring an easy lay-in and dishing out an assist to Jobi Andrew to go ahead 28-22. McGrady Dois from the Wolves continued the run with a lay-in and an assist, Westbrook Concepcion pushed the lead to 37-24 with a three-pointer forcing the Wildcats to call a timeout.
The Wildcats regrouped and decided to give the Wolves a taste of their own medicine by going to the full court press. The Wildcats scored five straight points off steals after pressing with Buekis sinking another three-pointer and Nico Bonita swishing a short jumper to ignite a run; trimming the lead to 40-30 with 8:39 left. Nick Panganiban continued momentum for the Wildcats, scoring eight clutch points to cut the lead to 49-45 with two minutes remaining. With 45 seconds left, the Wildcats complete the comeback with Ian Santos making a clutch basket to take the lead 51-50.
Westbrook comes up clutch
The Wolves pushed the ball down court after Santos' bucket put the Wildcats ahead. They quickly moved the ball inside and out with Westbook Concepcion finding some space between himself and the defender. Concepcion then squared up and calmly launched a three-pointer that found the bottom of the net to put the Wolves back ahead 53-51.
The Wildcats had a shot to tie the game but missed on their opportunity as they Wolves grabbed the basketball and pushed the pace back down court with 10 seconds remaining. Again, quick ball movement found Concepcion wide open beyond the arc and he swished the insurance long distance shot to give the Wolves the 56-51 victory and third place.
"I was just feeling it today and I was open so I took the shot," said Concepcion. Concepcion had 13 points and five rebounds for the Wolves. Ngiraremiang had 15 points to lead the Wolves, Andrew contributed 10 points.  "Coach (Leonard Aguon) told us at half time to start the half with our press and it worked in our favor," said Ngiraremiang.  The Wolves finished in third place but take home the experience they've learned playing in the league hosted by Elite Basketball. The league was very competitive and we all became better as a team with the experience," said Ngiraremiang.
Gaerlan had a monster game with a double-double scoring 19 points and grabbing 17 rebounds. Bonita had 12 points, Buekis chipped in eight points for the Wildcats who finish a respectable fourth place in a tough division.
In the 16-and-under championship game, Team Elite's Jahmar White scored a tournament high 38 points to lead Elite over the Malesso Rebels 59-41. White earned the MVP honors for the league.
PHOTO GALLERY BROUGHT TO YOU BY:

2022 GSPN I MÅS METGOT COMPETITION
2022 GSPN I Mås Metgot Competition Recap
2022 GSPN I MÅS METGOT COMPETITION
2022 GSPN I Mås Metgot Competition Recap
2022 GSPN I MÅS METGOT COMPETITION
2022 GSPN I Mås Metgot Competition Recap
COMING SOON …
Sat: Origin Power Lifting Meet 
ISA Girls Volleyball/Boys Soccer Finals
QUICK HITS
Guam runners complete London Marathon. Former Guam top runners Charlie Epperson and Aysha Perez Epperson along with Cameron ONeal completed the 42nd London Marathon.
Charlie 2:47:56
Cameron 2:59:49
Aysha 3:51:04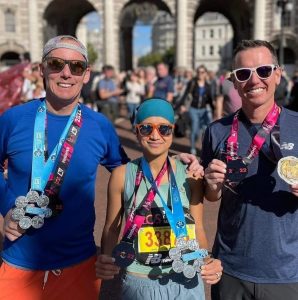 ———————————————–
Trevin Jones drops a unanimous decision 30-25, 30-27, 30-27 to Raoni Barcelos in UFC Fight Night 211 in Las Vegas.