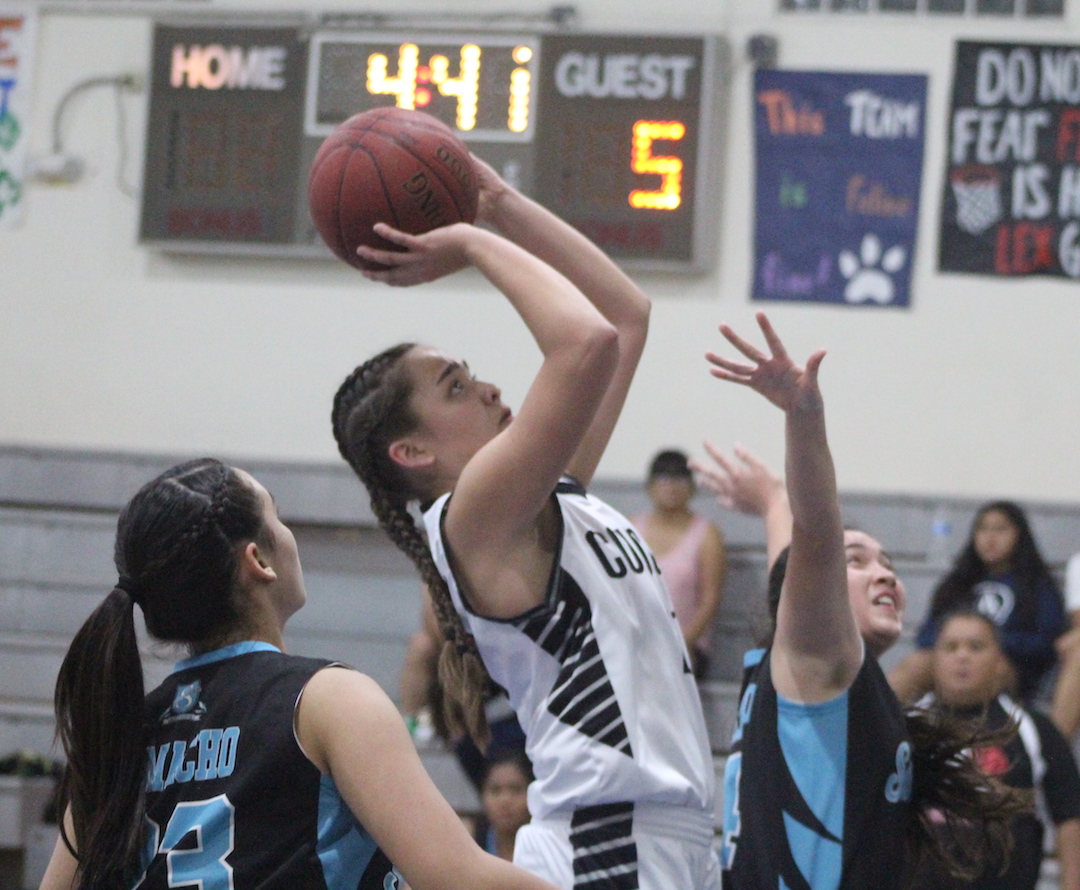 By Robert Balajadia
With the 2017 IIAAG Girls Basketball Season approaching it's playoffs, Tuesday night marked the second meeting between the Academy Cougars and Southern Dolphins.
The Cougars played host in this meeting as they powered through the Dolphins 58-42 while holding off a relentless three-point barrage from Southern in the second half, in turn, handing the Dolphins their first road loss of the season. (previously 6-0)
Cougar center Mia San Nicolas scored 23 points and collected 17 rebounds while teammate Meaghan Cruz added 13 and eight boards respectively. San Nicolas exploded in the second half, but it was Cruz who had it going from the tip as she scored nine points in the opening period.
"I wouldn't have gotten those opportunities if it wasn't for my teammates. I was motivated to work hard for them," said Cruz on her blazing start.
Defense would carry the Cougars into halftime as they held Southern to just three points in the 2nd quarter with Academy enjoying a 29-11 halftime lead.
"We all did our jobs," said Cruz on the efficiency of her teams defense. "When you take care of your own assignments then everything will work out both on offense and defense."
The game plan quickly changed for the Dolphins after Cruz and San Nicolas turned away a wealth of Southern drives to the basket. Southern got hot from behind the arc, netting three straight three pointers courtesy of guard Clowe Mantanona and Pauline Mendiola, to get within 42-29.
Academy didn't panic and instead turned each made three-pointer into a transition bucket with guard Kirsten Silva and Rosita Deunas finding a streaking San Nicolas on back-to-back plays to keep the Cougars well ahead. San Nicolas scored nine of her 23 in the 3rd period.
Southern didn't stop launching shots from behind the arc in the 4th period, but the Cougars calmly let their younger players hold down the final minutes of the game. Mantanona led Southern with 16 points, which included five three pointers.
With the playoffs looming, the Cougars feel like they're hitting their stride at the right time.
"We still have a lot to work on and we still haven't yet played to our full potential yet, but we're definitely getting there," said Cruz.
The Cougars are set for a showdown agains the ND Royals on Friday while the Dolphins try and bounce back against a sparky GW squad.
PHOTO GALLERY BROUGHT TO YOU BY:

COMING SOON …
GUAM SPORTS ON HOLD DUE TO SUPER TYPHOON MAWAR
QUICK HITS
Bishop Obispos beat Mt. Carmel for the IIAAG Middle School Girls Basketball championship 37-25.
—————————————-
The Benavente Roadrunners crushed the Agueda Pirates 17-1 to win the 76 PONY Middle School Baseball League. Rodney San Nicolas was a beat, striking out 13 batters in a complete game while going 4-for-4 at the plate, including a homer and 4 RBI.