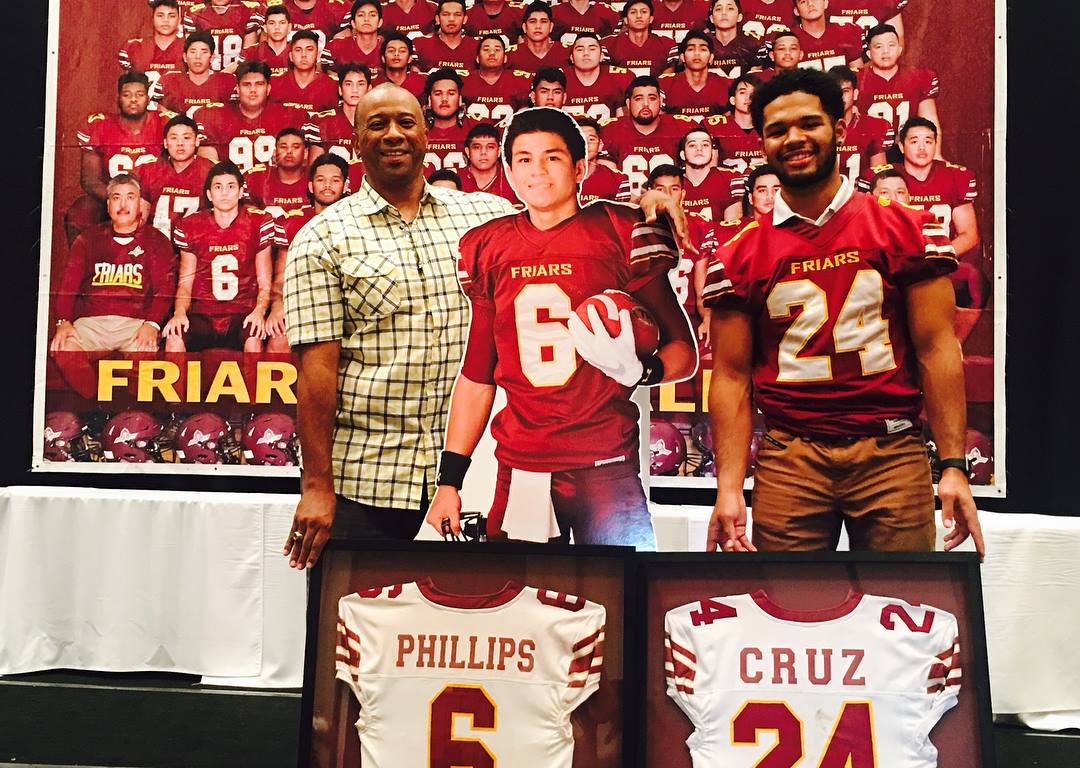 By Michael Cruz
The three-peat and 30-game winning streak was already a huge feat by the FD Friars, but over the weekend the school decided to forever immortalize the jersey's of two players who were there for every step of the ride.
No future Friar will be able to wear #24 after De'Aundre Cruz nor #6 in Daniel Phillips. At the awards banquet hosted for the 2017 team, the school officially retired the pairs numbers.
"It's really an unexplainable feeling. I got very emotional when they presented my jersey retirement because not too many have the opportunity to retire their jersey," said Cruz on the big surprise.
"Before Daniel and I, only five other FD players have theirs retired, and the last time was 20 years ago. So, I'm thankful my coaches brought me in and helped me reach my full potential and my family for always believing and supporting me through the four years."
"It's a great honor and I'm so blessed to be a part of FD's football history. We really did something special in these three years. I'm so fortunate to have such great players and to be coached by the best. The great honor would not have been possible without them," said Phillips on his retired jersey.
De'Aundre Cruz
Cruz was a four year starter as FD's running back. He was named All-Island running back all four years. He should of been a First Team selection his sophomore year (lead the league in rushing). The Friars were 36-3 during his four years. He was the first player in Guam prep history to be recognized by 247 sports after being selected for the Nike Opening Regional in Oakland, California.
https://247sports.com/Player/Deaundre-Cruz-46042914
Accolades, Stats, and Videos
All-Island running back-2014,2015.2016.2017
Offensive League MVP-2016
Over 3000 career yards rushing and 55 touchdowns.
https://www.hudl.com/video/3/4538288/59b1fcb0f31ce52310220374 (Senior Year)
https://www.hudl.com/video/3/4538288/57f40c0a3bd814719cefe036 (Junior Year)
https://www.youtube.com/watch?v=8_4NlDkGKVM (Sophomore Year)
https://www.youtube.com/watch?v=V1_GHDDrlJA (Freshman Year)
Daniel Phillips
Phillips took over the starting position as a sophomore. He never lost a game in three years. Phillips was named All-Island QB three years. He finished his senior season leading the league in passing and winning the MVP of the All-Star game. He also never threw an interception.
Accolades, Stats, and Videos
All-Island quarterback-2015.2016.2017
All-Star Game MVP-2017
Passed for 870 yards and 17 touchdowns his senior year.
https://www.hudl.com/video/3/7808302/59a8bdbb32dc7d303435f57b (Senior Year)
https://www.hudl.com/video/3/7808302/5802de917bddf735c4629fef (Junior Year)

Athletes Birthdays by W5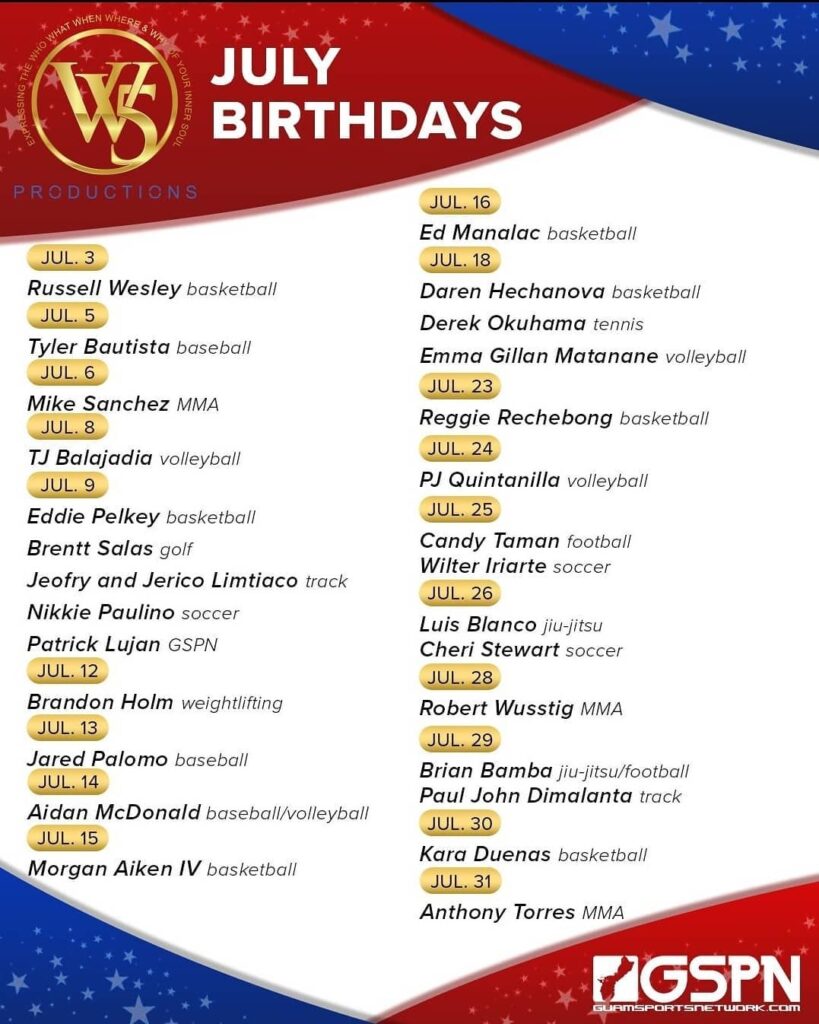 Foody's Fun Facts
Favorites From Year 2
COMING SOON …
2020 Tokyo Olympics
UFC Fight
Aug 1: Trevin Jones vs. Tony Kelley
QUICK HITS
——————————————————–
Guam's Joey Miranda met up with Chamorrita Softball Star Bubba Nickles and Olympic Teammates Dejah Mulipola and Aubree Munro out in Tokyo as we approach the Olympics!
Photo credit: GNOC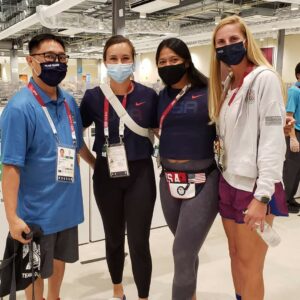 ——————————————————–
Former Guam resident Tre Taylor has committed to play cornerback for the Southwestern Junior College Jags.
Turner attended Harvest and FD before transferring to Hawaii where he played for Saint Louis, the 5th ranked team in the nation.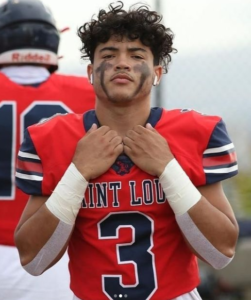 ——————————————————–
The big man Zach Banner getting to throw out the first pitch earlier today for the Pittsburgh Pirates!