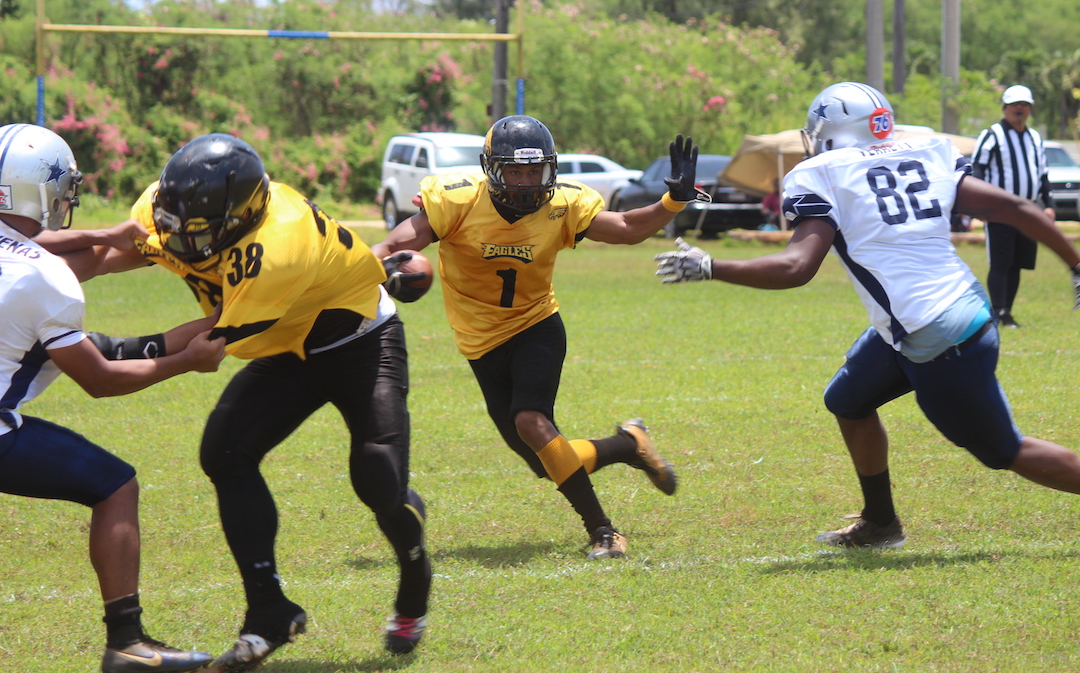 By Robert Balajadia
The top two teams of the Budweiser Guahan Varsity Football League will face each other in the finale April 22 after the Island Eagles and Silver Raiders earned tough semifinals wins Saturday at the Eagles Field in Mangilao.
The Championship game will be played at the Hal Shiroma Field in Dededo under the bright lights at 7 pm.
Eagles 24, Cowboys 0
Last weeks 52-0 blowout was an afterthought with the Southern Cowboys stepping up to put forth a more competitive contest. The Eagles got a first score from quarterback Daray Davis to Kelvy Coney in the opening period, but didn't get their second until late in the 2nd quarter.
An interception by the Cowboys put them at the two yard line where the Eagles swarmed the Cowboys for a safety to take an 8-0 lead.
On the ensuing possession, Coney got loose for a 40-yard bomb to give the Eagles a 15-0 advantage. Then just before the half, kicker Chris Santos nailed a 35-yard boot for a comfortable 18-0 lead.
The 4th quarter score from Davis to receiver Steve Novak from 10-yards out put the Eagles up 24-0, punching their finals ticket for the first time in four years after losing in the semis the previous three.
Raiders 26, Outlaws 13
The three-time defending champs were tested early, but the veterans managed to rally to knock off the upstart Outlaws with late touchdown scores.
Raiders quarterback Danny Manibusan tossed two touchdowns and running back Jesse 'Pumpy' Manglona scored two from the ground to pace the high-profile offense.
Outlaw quarterback Ben Whittaker tossed a pair of scores himself, hitting Osie Cruz and Chew Bravo for big-play touchdowns.
Manibusan hit receiver Tyler Santos from 20 yards out for an early score, but the Outlaws answered with Cruz on a 60-yard score.
Then the Raiders turned to the ground game with Manglona and Hosea Ware setting up Manglona's sweep score from six yards out late in the second period. The Raiders enjoyed a 13-6 lead at the half.
Whittaker then hit Bravo on a catch-and-run with Bravo shedding off some Raiders on his way to a 70-yard score to tie the game at 13.
Manibusan then hit receiver Storm Rosario in stride late in the 3rd from 40 yards out for a 20-13 advantage. The Raider defense denied the Outlaws on fourth down to set up their fourth touchdown of the game with 'Pumpy' scoring from two yards before the 3rd quarter ended.
The Outlaw offense got into the red zone lane, but a pass breakup from Ryan 'Bigs' Biggler on 4th down kept the Outlaws from putting anymore points on the board.
PHOTO GALLERY BROUGHT TO YOU BY: