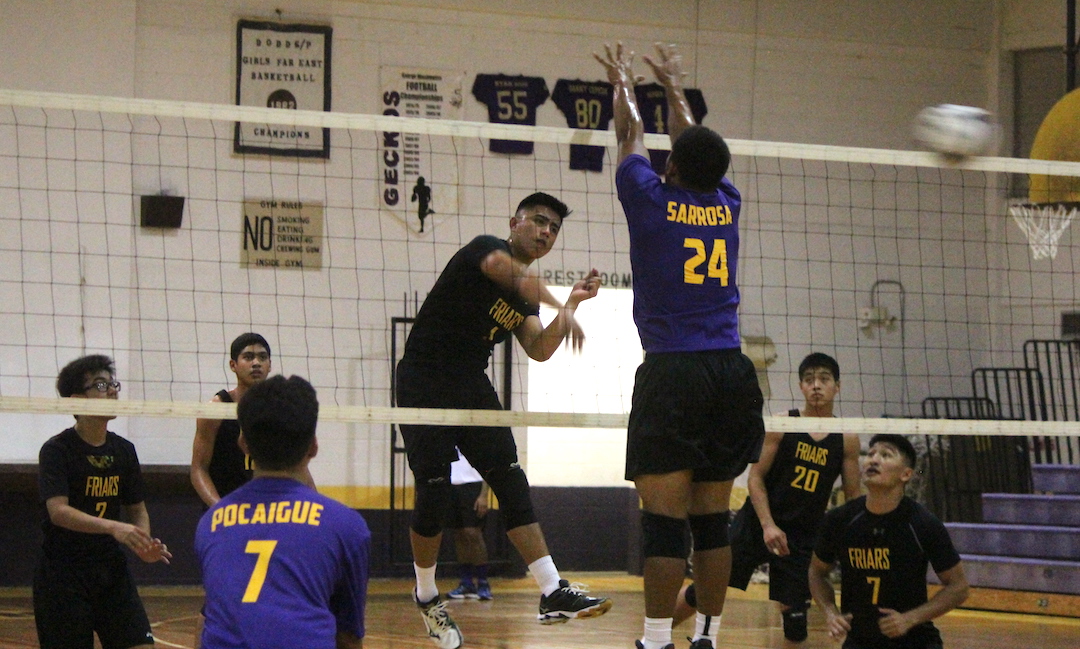 By Jay Leon Guerrero
The last time the GW Geckos and the FD Friars played against each other on the volleyball court, it was for the IIAAG boy's championship. The Geckos were heavily favored to win the boys championship last year but suffered an upset defeat in four sets. The highly anticipated rematch was scheduled for Saturday morning (due to FD's Prom later that evening) and the result was the same.
The Friars handed the Geckos their first defeat of the season, beating GW in straight sets (25-12, 25-18) on their home court. Sophomore sensation Aidan McDonald was phenomenal for FD, recording a game high eight kills to lead the Friars (4-1) to victory. The Geckos (2-1) had no answer to FD's huge rotating front line of McDonald, Leon Shimizu, and Kyle Gaitan.
"Today we were focusing on our plays and passing. Our passing was good today and it helped our setter," said Gaitan.
Gaitan was efficient during the game with crisp passing to setter Logan Pangelinan which in turn set up accurate sets to the hitters. Gaitan started the game in the back and later rotated his way to the front for three kills for the game.
First set:
GW's Jarred Sarrosa put the Geckos on the board early with a kill to start the game. FD quickly countered with setter Pangelinan going to McDonald for a kill to tie the contest. FD went on a 4-0 run behind a kill and a block from middle man Brandon Mendiola; forcing head coach Antonio Torres II to call a timeout.
FD continued to roll after the timeout to go ahead 15-5 behind kills from Shimizu and Gaitan. Jeremy San Agustin from GW recorded two aces to try and start a rally for the Geckos as they cut the Friar lead to 15-7. GW's Kyle Barcial followed up with a middle kill to get the Gecko crowd cheering.
Despite GW's comeback attempt, FD stepped up their defense later in the match with Rico Castro, Mendiola and Shimizu getting up high to form a wall, blocking three Gecko kill attempts as the Friars cruised to a 25-12 first set victory.
Second set:
FD quickly jumped out to a 5-2 lead with McDonald hammering down another pair of kills to start the second set. GW got consecutive service aces from Rene Picayo to pull within a point. GW looked to take their first lead but was again denied by Castro as FD pulled ahead 15-12.
Sarrosa looked to fire up the Geckos, pulling his team to within a point with an emphatic kill and a block to trail 14-15. But it seemed every time the Geckos looked to start a run, the Friars answered. Shimizu recorded another clutch kill and Noah Diaz followed up with one as well as the Friars went ahead 19-15.
FD's jump serving specialist Vince Leon Guerrero recorded an ace to close out the contest as FD clinched the straight victory.
McDonald had eight kills and two blocks, Mendiola and Shimizu each recorded three kills for the Friars. Castro had a game high three blocks for FD. Sarrosa had four kills, two blocks and an ace for the Geckos. Barcial and Kyler Diego each recorded two kills for GW
The Geckos suffered their first defeat of the season and drops to 2-1, FD moves into third place in the league with a 4-1 record. The Friars lone defeat came at the hands of the undefeated Harvest Eagles
"We learned so much from the game against Harvest. We were focusing on trying too hard to win against them (Harvest) and we weren't having fun," said Shimizu. Shimizu said his team is more relaxed when they cheer up each other. "We just need to continue to work together and have fun, when we are out there having fun we are at our best."
Gaitan agreed with Shimizu and also pointed out that his team needed to better in defense. "We need to touch up in our defense, so far we are making some adjustments and we are getting better," said Gaitan.
The JV Friars remained perfect for the season, improving to 6-0 after defeating the Geckos (25-13, 25-13). The JV Geckos suffered their third loss of the season and drop to 1-3.
PHOTO GALLERY BROUGHT TO YOU BY:

QUICK HITS
The Guam Smokin' Hot women's softball team captured first place in the Asia Cup Softball Championships 2023 in Bangkok, Thailand.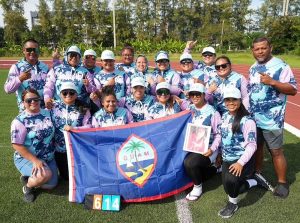 ——————————————————-
Roque Martinez gets the unanimous decision win Saturday night in his debut fight in South Korea's Black Combat promotions.
The 37-year-old controlled the tempo all three rounds and bloodied his opponent with some 3rd round ground and pound.