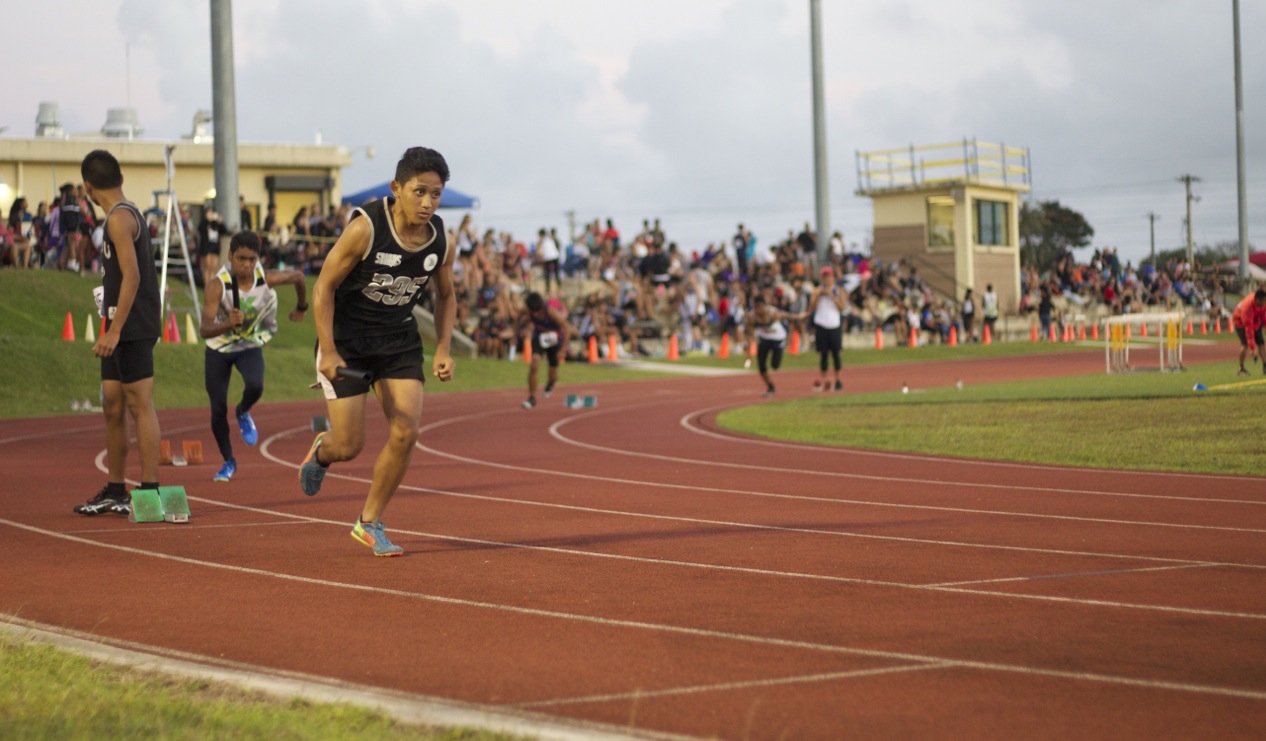 By Jay Leon Guerrero
The IIAAG held its second meet at the Guam High Track Friday night with over 300 athletes participating in 16 events.
The defending champions from last season picked up where they left off with strong performances. The Okkodo Bulldog boys and the Guam High girls looked to defend the titles and made a strong statement in meet two.
Emma Sheedy and Alyssa Tatum led the way for the Panthers, winning their respective races to help Guam High in their journey to repeat as champions.
"We have more girls that came out for track this season compared to last year," said Sheedy.
The Panthers are led by head coach Joe Taitano. Sheedy said her team, for both boy's and girl's, have a good shot of doing well next month at the all-island meet because of coach Taitano.
"He really pushes to do better. He's always there giving us pep talks before each practice and also gives us high fives after our respective events," said Sheedy.
Sheedy won the 800 and 400 meter distance races, teammate Alyssa Tatum won the 1500 and3000 meter distance races. Both teammates broke high school records last week at meet one (at Guam High) with Sheedy breaking 1500m record and Sheedy breaking the 3000m record.
"Before the season, Alyssa and I called each other and started training after school. We were talking and said to each other wouldn't it be cool if we both broke a record on the first meet! When we actually did it, it was pretty cool," said Sheedy.
Sheedy said she credits the supporters for cheering on the entire team on their home track.
"It helps that we race here at our home school, Okkodo (last year's host) is quite far and more supporters stay after school and watch us because it's close by."
*UPDATE: Guam High Panther Alyssa Tatum broke the 1500m record set by Sheedy last week (5:05.9) with Tatum coming in (5:05.85).
The Bulldogs' Athan Arizanga won the 400m and tied for first in the high jump in meet two. Arizanga said his team, led by coach Desmond Mandell III, is excited for the season and they all look to improve as the season progresses.
"Our team is strong, but we look to get even stronger. We should all improve, I have a lot of faith in my team," said Arizanga. "From here until the all-island meet, the team will look to get better and get their PR's (personal record) to improve every week."
For results for meet 2, click the following link:
http://live.milesplit.com/events?mk=7acc9d4f-5059-4380-a8b5-11ec1c4126ea
PHOTO GALLERY BROUGHT TO YOU BY:

QUICK HITS
The Figo Islanders 40s women's softball team took gold in the Senior Softball World Championship in Las Vegas. Figo came out of the loser's bracket and beat the Arizona Belles 17-3 in the AA division championship game Sunday afternoon.
Other Guam teams that played in the 40s tournament were: Team SOTTA (women's) and Bud Light Guam, Friars 671 and Sindalun Guahan (men's).
Sindalu finished a respectable 4th out of 24 AAA division teams.