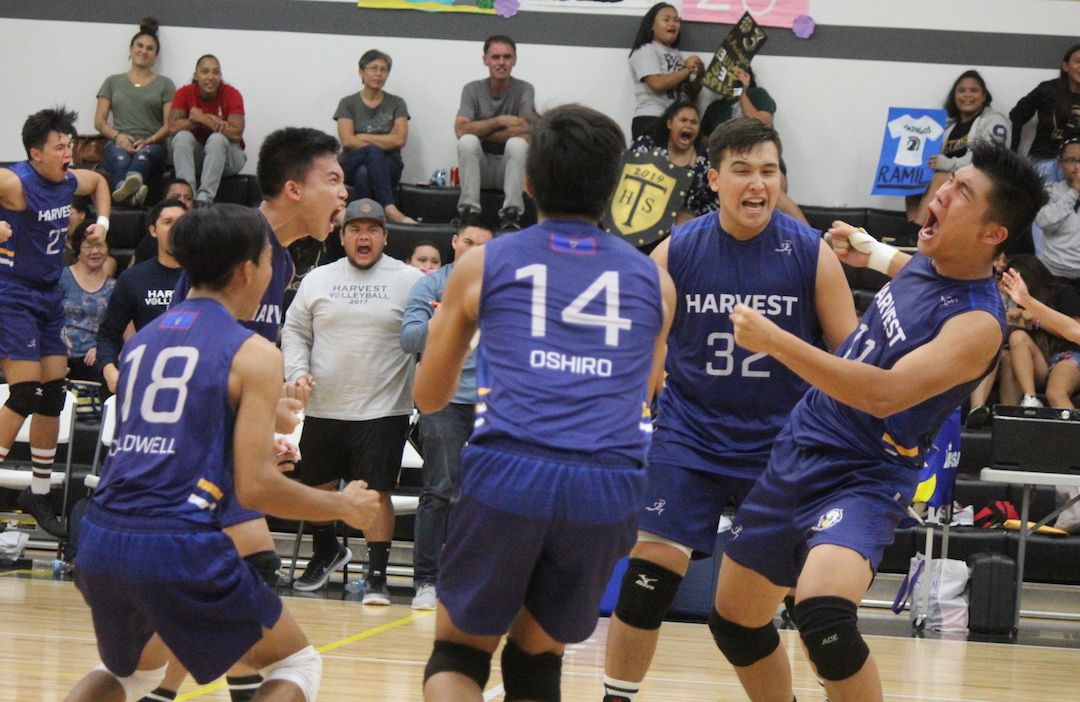 By Patrick Lujan
A midseason clash featuring the top two unbeaten teams played out as expected.
The pre-season champion Tiyan Tiyans (5-0) hosted the high-flying Harvest Eagles (6-0) Friday night in a showdown of talent-loaded teams.
The Eagles dug deep to pull off a 25-20, 27-25 win in which both sets saw a combined 31 ties and 10 lead changes.
"It was good for our young team to work through that close battle, especially when the game was in the 20s," said Harvest head coach Kevin Inafuku. "Tiyan was picking up all our shots. They were playing great defense."
In the opening set, the widest margin early on was four points when the Eagles pulled away from a 6-6 to take a 10-6 sparked by back-to-back kills from senior Sean Evans and sophomore Jacob Oshiro.
Tiyan, however, would claw back as both sides went back and forth to a 20-20 deadlock.
It was then that the Eagles struck hard with Evans behind the service line to score the final five points. Evans capped off the set with a fast knuckleball serve that left the Titans defense helpless.
"It was huge," the Harvest coach said about winning the opener. "We built momentum and had that safety under our belt to be a little more aggressive in the second set."
The second frame was much like the first as the two teams once again battled to a 20-20 tie.
Tiyan, in fact, had set point at 24-22 before the Harvest senior duo of Evans and Kobe Sotelo banged away two kills in a row to tie it up once again.
An Evans cross-court kill edged the Eagles ahead 26-25 before 6-foot-5 middle blocker Allen 'King' Kong brought the house down with a monstrous block for the win off an overpass.
"I did not see that last block as the last point of the game," King Kong said. "I saw it as another opportunity for me to give my best as my role of middle blocker for the team."
Coach Inafuku said the senior leadership of Evans (9 kills) is going to be critical down the stretch of the regular season and into the postseason.
"He brings good composure, he's smart in his shot selection and really helps the guys," Inafuku said about his four-year varsity player. "He's like the glue that keeps everyone together. I really rely on him for that leadership."
LAST HURRAH FOR INAFUKU
After 14 seasons of leading the Eagles to three championship games and one title in 2010, Coach Inafuku will be packing up and heading to Salt Lake City in June.
Inafuku started the volleyball program at Harvest in 2003 and will leave it all behind as he takes his missionary work to Utah along with his wife Missy and young children.
1st Set
Eagles def Titans 25-20
Kills: Harvest 12 (Evans 4, Sotelo 3, Oshiro 2, Wong, Mitchell, Caldwell), Tiyan 9 (Padigos 3, Manglona 2, Hagel 2, Santos, Ericsson); Blocks: Harvest 0, Tiyan 2 (Padigos, Manglona); Aces: Harvest 3 (Evans 3), Tiyan 1 (Padigos); Unforced Errors: Harvest 5, Tiyan 7; Service Errors: Harvest 3, Tiyan 2.
2nd Set
Eagles def. Titans 27-25
Kills: Harvest 14 (Evans 5, Sotelo 3, Mitchell 3, Oshiro, Kong, Caldwell); Tiyan 10 (Padigos 3, Manglona 3, Ericcson 2, Santos, Aguon); Blocks: Harvest 3 (Kong 2, Sotelo); Tiyan 1 (Ericcson); Aces: Harvest 1 (Keith), Tiyan 2 (Hagel, Padigos); Unforced Errors: Harvest 10, Tiyan 5. Service Errors: Harvest 2, Tiyan 3. T-:41
JV SCORE
Tiyan def. Harvest 21-25, 25-12, 25-14
PHOTO GALLERY BROUGHT TO YOU BY:

QUICK HITS
The Figo Islanders 40s women's softball team took gold in the Senior Softball World Championship in Las Vegas. Figo came out of the loser's bracket and beat the Arizona Belles 17-3 in the AA division championship game Sunday afternoon.
Other Guam teams that played in the 40s tournament were: Team SOTTA (women's) and Bud Light Guam, Friars 671 and Sindalun Guahan (men's).
Sindalu finished a respectable 4th out of 24 AAA division teams.