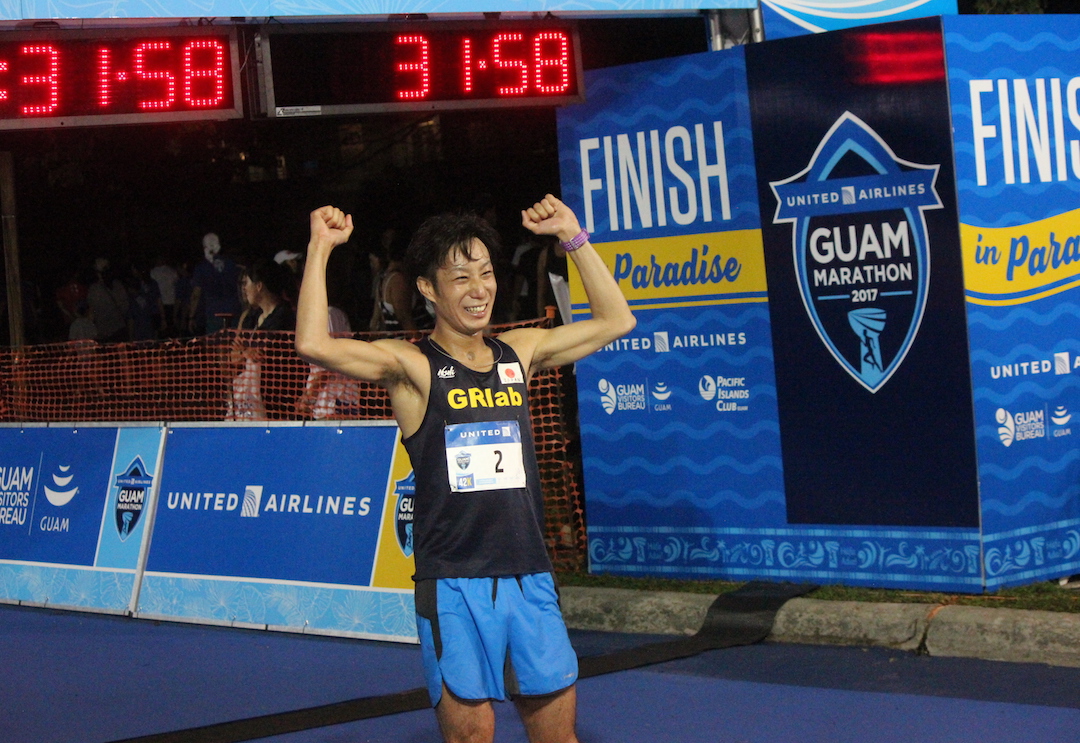 By Mike Nauta Jr.
(complete results can be found : HERE)
Early Saturday morning nearly 4300 runners from Guam and around the world made their way down to Ypao Beach Park to participate in the United Airlines Guam International Marathon. With four different races taking place in the same morning, it was a spectacular event that showcased all sorts of talent and experiences. Things kicked off with runners starting off under a brightly lit blue tunnel and the full marathon (42k) runners going first and every hour thereafter followed by participants in the 21K, 10k, and 5k.
"Guam is a beautiful place and we have many things to offer," said Derek Mandell. "This morning's event was a very organized and planned out event that not only or local but also our international community was able to witness."
In the longest race of the morning, Japan's Hiroki Nakajima went through the course to outdo all competitors in the 42k and clocked in a time of 2:30:33. Nakajima beat his nearest competitors Satoshi Emoto and Yusuke Inose by more than five minutes. Emoto and Inose cruised down the painted blue road and passed the finish line in 2:36:29 and 2:46:26.
While the battle for second place in the women's division was separated by seconds only, Sunghwa Ryu made sure that she would finish the race ahead of the competition. Ryu finished (3:01:58) just a little over three hours after the sound of the gun. A little over 30 seconds was the difference between second place finisher Tomomi Inoue (3:13:25) and Azusa Nojiri (3:13:58).
Before the start of the race one of Guam's race ambassadors Manami Iijima was looking forward to a good finish in the half marathon. While not able to finish with another top finish, Iijima was a spectacular runner and did the island well after finishing her 13-mile race in 1:28:29. Iijima's time finished six minutes behind eventual winner Maria Yano.
"Minami did us and the island proud as she ran a great race and as an ambassador she represented spectacularly," said running legend Marie Benito. "It's only a matter of time before Minami reaches newer and greater heights in the sport."
Rounding out the top three for the women was Eri Sakaguchi. Sakaguchi completed the course in 1:30:34.
"This was my third time running the race and to be an ambassador was an honor," said Iijima. "I told myself to just go out and do my best and the rest will take care of itself. Congratulations to everyone who participated and played a part of this big event."
In the men's side of the race Shun Gorotani bested the entire field and was first to cross the finish line. Gorotani's time of 1:09:17 beat out Masaru Harada (1:14:35) and and Byung-do Lee (1:21:47).
Guam's very own Derek Mandel was the first local to finish in the half-marathon for the men.
10k Results
It was a first and third finish for the Guam ladies as Yumika Sugahara and Rhea Macaluso clocked in at 44:03 and 45:06, respectively. Finishing in second was Yuki Suzuki with a time of 45:19. For the men it was Rui Yamagishi, Masayuki Sanada, and Ryan Matienzo who rounds out the top three spots.
5K results (Men)
First place – Masafumi Fukase
Second place – Yosuke Yamazaki
Third place – Christopher Wallwork
5k results (Women)
First place – Tomoe Yokoyama
Second place – Rissa Eilmes
Third place – Genina Piolo Criss
PHOTO GALLERY BROUGHT TO YOU BY:

COMING SOON …
High School Football starts Sept. 29
Brawl 3: Oct 13
Guam's Strongest Man and Woman Competition October 29
QUICK HITS
The Figo Islanders 40s women's softball team took gold in the Senior Softball World Championship in Las Vegas. Figo came out of the loser's bracket and beat the Arizona Belles 17-3 in the AA division championship game Sunday afternoon.
Other Guam teams that played in the 40s tournament were: Team SOTTA (women's) and Bud Light Guam, Friars 671 and Sindalun Guahan (men's).
Sindalu finished a respectable 4th out of 24 AAA division teams.