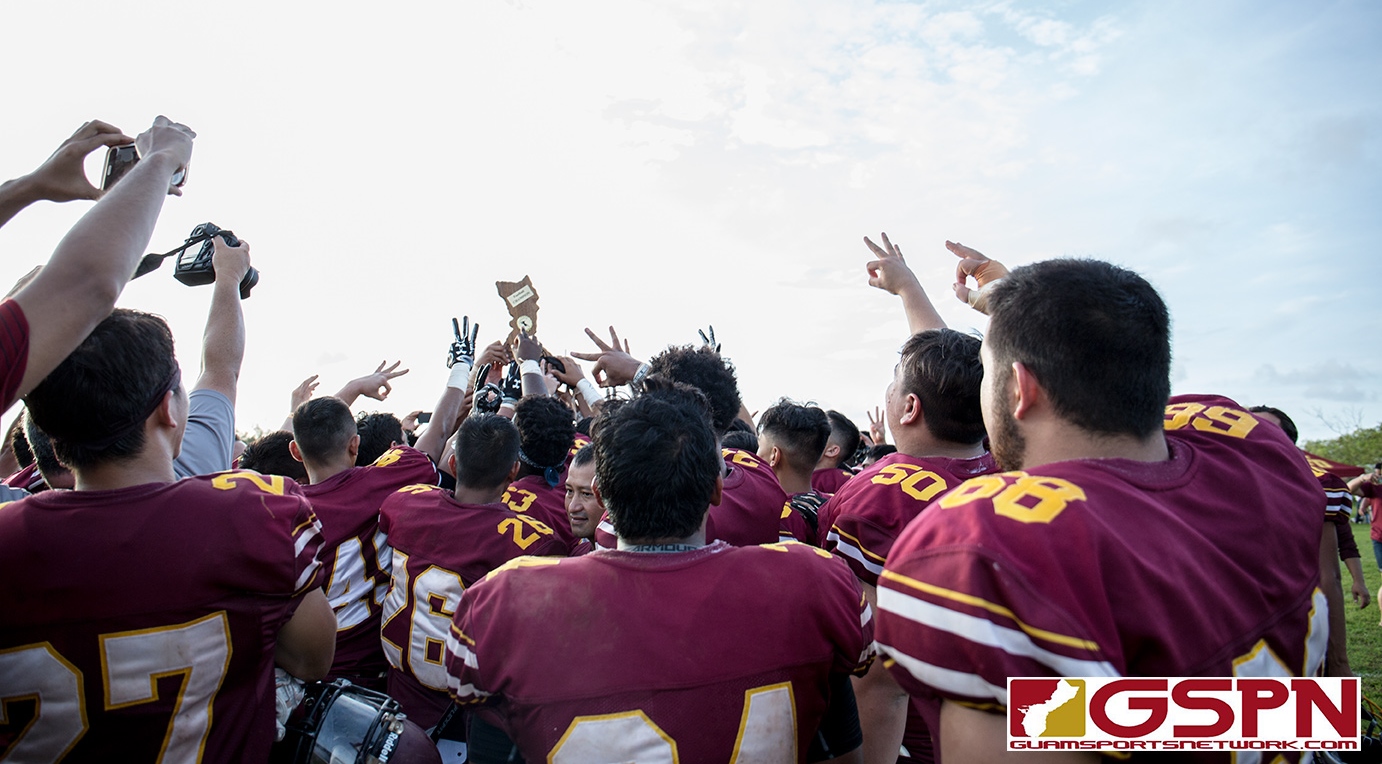 By Patrick Lujan
Three straight undefeated seasons. A record 30 games and counting. When will the FD Friars football dynasty come to an end? Or after such a dominating season, when will it at least be challenged again?
The Friars steamrolled through the 2017 season, outscoring the competition 397-18. Let that soak in a bit.
In fact, two of the three touchdowns scored against FD were from Notre Dame. That's right, Notre Dame High School.
Since ND doesn't have a football team, their students are free to play for any team. Nico Velez scored off a deflected pass for the Tiyan Titans early in the season and Dillon Parke returned a fumble for a score for the Southern Dolphins against the Friars fourth stringers. JFK's Jonah Hahn was the only other player to find the end zone against FD in the 60-6 semifinal game.
FD will be losing a load of talent to graduation (24 seniors). Offensive weapons De'Aundre Cruz, Daniel Phillips and Xavier Naputi carried the bulk of the scoring this season. Those are big holes to fill.
Even the defensive side will lose some big key players in Raven Santiago and Isaiah Reyes.
So GSPN ventured to ask opposing coaches to share their thoughts on how to catch up with the Friars dynasty, under the condition of anonymity.
'SCHOLARSHIPS'
The most common cause for the Friars success, in the eyes of the opponents, is FD's access to scholarships. (Dang Elitists!)
"Give out scholarships to attend public school," one assistant coach joked.
"Take away their Jones Scholarship," chimed in another school's coach.
"Like FD needs money," joked another coaching staff. "Meanwhile, my public school team is funded by me."
GSPN looked into this 'scholarship' angle just to get clarity.
According to FD Principal Tony Thompson, there is only one football scholarship sponsored by Triple J Auto Group. That scholarship is awarded to only one incoming freshman coming from a public school who would normally not have the financial opportunity to attend the all-boys private school. After the freshman year, that student would no longer be eligible for that scholarship. The Triple J program is in its second year of existence.
NUMBERS
Despite an enrollment of only 431 students, FD never has a shortfall of interested football players. In fact, they have to make cuts to the team and even have a 'practice squad', a luxury not afforded by almost every other school on island.
"There's a big difference when you have 70+ kids competing not only for a starting position but for a spot on the team as compared to not having enough kids to safely participate or be called a team," a public school coach with decades of experience commented. "We barely make 20 at the beginning of the season. We take anybody: four-foot freshmen who are under 100 lbs and never played  youth league."
STAYING WITH A PROGRAM
Program and coaching consistency has been a common denominator for success on Guam.
Bruce Meno has been steering the FD ship for six seasons, going to the championship the last four and winning the last three. The Friars have 13 in their school history. The redundancy is there as former head coach and the foundation of the FD championship era Tony Posadas still assists the team.
GW's Ryan Rios has been with the Geckos for 16 years (two prior to that as an assistant) and has seven championships – including four in a row. The Geckos have been in the championship game 15 of those 16 years. CRAZY!
Sanchez's Jimmy Naholowaa has been running the wish bone with the Sharks for about 25 years with eight sole or shared titles.
"Good structure, good foundation and the players are going to have to start from when they were sophomores and play all three years with that same program with the same coaches and not leave to go play with a powerhouse team like FD," said a coach going through a new program. "This is my opinion. If you want to build a program, you got to start from the bottom and continue to keep putting in every year as long as you're the head coach of that same program."
"The consistency of coaching in the public school system," said a public school coach. "The only three schools to ever have consistency and a program in place is Sanchez, GW and FD. All have had success in the past and present."
ALL GOOD THINGS COME TO AN END, DON'T THEY?
If anything, pure optimism and sure wishful thinking can do the trick, too.
"FD's reign will come to an end next year," assured the optimistic coach. "It's in the numbers. Let's look at what will not be back next year: starting QB (best feet of any QB the last six years), RB (glad to see him go!), deep threat MVP, key O-line (they are just big for no reason; who has kids that big?), key D-line (ID check on the front four). They play like they have bills to pay and kids to feed. That spells young, inexperienced players in key positions. For me as an opposing coach that has suffered at the hands of FD, that spells blitz city on every play. We're coming!"
Another coach simply put it, "All good things must come to an end."
'PLAYERS WIN CHAMPIONSHIPS'
At the end of the day, it boils down to the boys on the field.
"It's not about the money, though it helps," said the seasoned coach. "GW and Sanchez prove you don't need money to win championships. FD and Sanchez prove you don't need a field to win championships. It is always the players themselves who win championships."
Can the young Friars keep the locomotive going or can the league catch up sooner rather than later?
Stay tuned in 2018!
In the meantime, catch the Triple J High School All-Star Game on Saturday, Nov. 11th at Angels Field at 6:30 pm. In case you're guessing, 22 of the 56 all-stars come from FD – 10 on the Mustangs and 12 on the Raptors.
See you there.

QUICK HITS
Guam MTB National Championship: Edward Oingerang and Jennifer Camacho are your 2023 MTB national champions. Oingerang finished the course in 1:13:24 while Camacho won her second straight title in 54:08.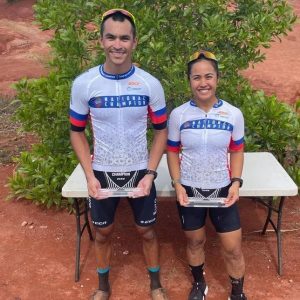 ——————————————
Kobe Miyashita, with St. John's coach Arvin Flores, was named the 2023 IIAAG Middle School Boys Volleyball MVP!