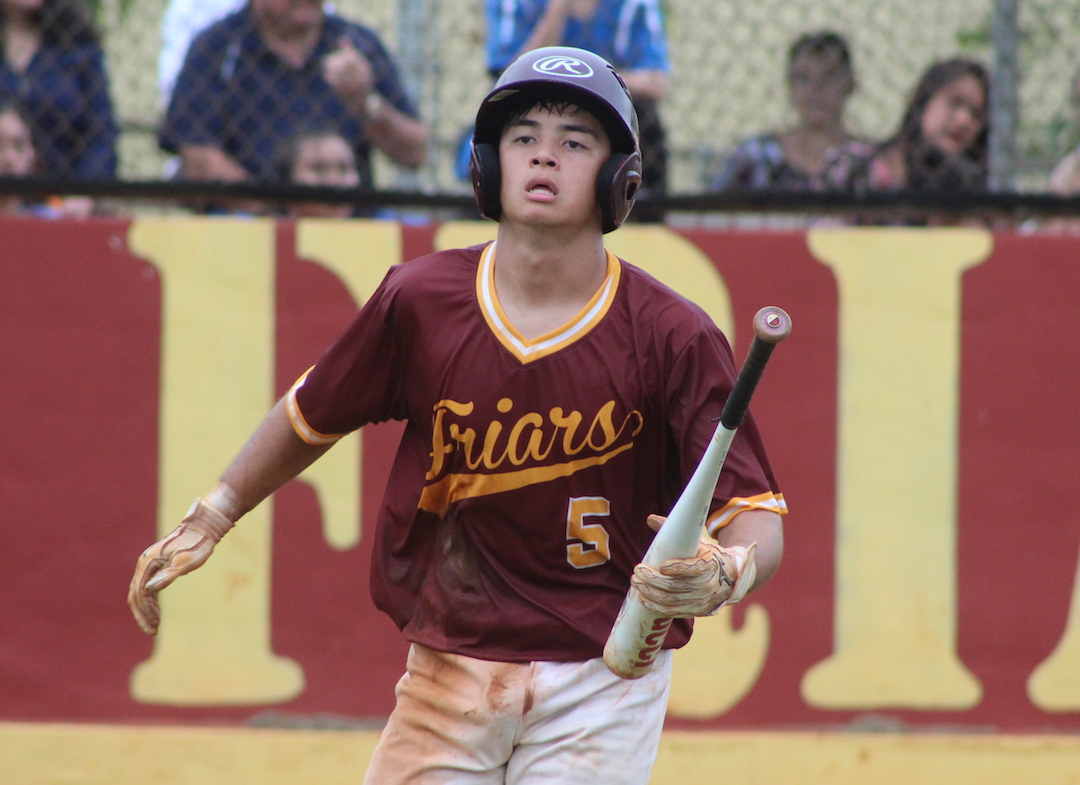 By Robert Balajadia
The FD Friars picked up a quality win over last years defending champion GW Geckos in the IIAAG's young 2017 baseball season Wednesday at the Friar Field in Tai. FD rode a momentous wave in the 2nd inning after Cooper Paulino smashed a ball deep right for a three-run triple with the bases jacked to propel the Friars in their 9-0 win.
Winning pitcher in Friar Ethan Lizama earned 7k's while Geckos Athan Yatar takes the loss with 4k's. GW was also without notable stars Isaiah Nauta and Aaron Jamanila for their contest against the Friars.
Paulino's shot disrupted an early pitching duel between the Gecko senior Yatar, by way of St. John's, and the Friar freshman Lizama. Both pitchers earned two strikeouts before FD's strong 2nd inning where they took control of the game.
The win shows up big in the box score, but Friars coach Pat Leon Guerrero assures their outing Tuesday is nothing to write home about.
"This game won't mean much at the end. We'll see [GW] again and they'll be a better team when we do," said Leon Guerrero.
Leon Guerrero's biggest takeaway is the confidence boost the win gives to his young players like Lizama.
"We have a lot of young players and we try to expose them to high school baseball; it's a different animal. Ethan was focused today and hopefully it carries over. Hopefully [Ethan] stays focused and hopefully he rubs off on the other freshman and sophomores to make them want to come out and play with more intensity and attitude," added Leon Guerrero.
Friar runs
Paulino was the benefactor in the 2nd inning, but his big play was set up by a pair of walks from Yatar. Kobe Martinez used a sacrificial bunt to advance teammate Jake Carbullido to 3rd base with next batters Ethan Lizama and Mason Pablo drawing walks to load the bases for Paulino.
Paulino dialled up a perfect shot deep right that sailed over the Gecko outfielder for a three-run triple to take a 3-0 lead. Friar Enrique Untalan cashed in an RBI and an error a play later allowed the Friars to tack on another score for a 5-0 lead.
The Geckos were working on their response in 3rd inning, but a pop fly from Gecko Jarron Gumataotao ended their chances leaving Yatar and teammate Joey Young stranded on first and second.
GW's defense kept FD off the board in the 3rd with their offense knocking on the door once more in the 4th.
In the top of the 4th, the Geckos got a hit from Calvin Aguon and two walks to load the bases. Gecko Tyler Arceo smacked a ball to right field, but right outfielder Mason Pablo made a diving grab while making a heads up throw to catch the Geckos out at first base.
Lizama saved face in the inning with a strikeout, his 5th, to close the door on GW once more.
In the bottom of the 5th with two outs away, Untalan hit a drop ball right over the short stop for a two-run double to add to FD's total 7-0. Martinez added the final runs in the 6th inning off a two-run double of his own before the Umpire called the game due to loss of light.
FD will host the JFK Islanders on Saturday while GW will try to bounce back against the Tiyan Titans.
PHOTO GALLERY BROUGHT TO YOU BY:

QUICK HITS
Guam MTB National Championship: Edward Oingerang and Jennifer Camacho are your 2023 MTB national champions. Oingerang finished the course in 1:13:24 while Camacho won her second straight title in 54:08.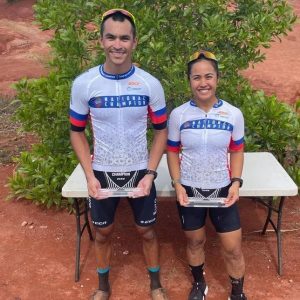 ——————————————
Kobe Miyashita, with St. John's coach Arvin Flores, was named the 2023 IIAAG Middle School Boys Volleyball MVP!