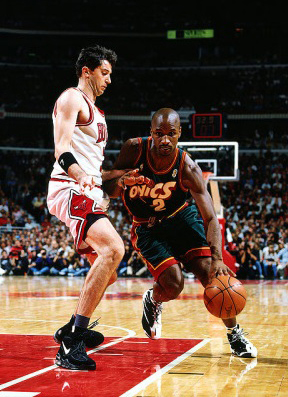 PRESS RELEASE – For the first time ever, the Jr. NBA Program is coming to Guam.
The 2017 Holiday Camp sponsored by TakeCare and FHP will host NBA veteran Vincent Askew to launch the Jr. NBA Guam from December 26 to 29 at Tamuning Gym.
"I am so excited to get to Guam and work with the kids," Askew said. "Basketball is my passion. I love teaching basketball at all levels and sharing my experience and knowledge as a coach, pro player and student-athlete to anyone who wants to learn."
Askew spent 12 years in the NBA and was well known for playing with the Seattle Super Sonics (1992-96) alongside Gary Payton and Shawn Kemp. In 1996, the Sonics advanced to the NBA Finals against Michael Jordan and the Chicago Bulls but lost the series in six games.
Askew's list of basketball achievements goes back to a NCAA Final Four appearance as a freshman with Memphis State University 1984-85 and drafted #39 in the 2nd round by the Philadelphia 76ers in 1987.
For the younger generation who are not too familiar, you can find him on NBA2K wearing a Sonics uniform.
After 14 years of running adult and youth basketball programs all year round, ACAS Program Director Elsa Ulloa knew it was time to take youth basketball to the next level. The result was months of due diligence and connecting with the right people in the industry that ultimately led Ulloa to the NBA corporate office in New York.
"I shared with the Jr. NBA coordinator that the basketball culture on our island is alive and vibrant, convincing them that Guam would be a good fit for their brand," said Ulloa. She goes on to say that it was a process to get GuamBasketball.com authorized to run Jr. NBA programs. "Representing a global brand like the NBA comes with responsibility. Communicating with New York is important and happens daily. The end result was worth all the work and we are happy to welcome the Jr. NBA and Vincent Askew to Guam," stated Ulloa.
Visit www.guambasketball.com and click on Jr. NBA Guam for details and to download registration form.
The Holiday Camp is for 6 to 14 years. Askew, together with local and off island college student-athletes, will be working with registered campers.
Slots are limited. Early registration fee $275 by Friday, December 8. Registration fee is $300 thereafter.
Deadline to register is December 15. Campers receive 8 hours total Jr. NBA training, Jr. NBA T-Shirt*, Jr. NBA Basketball*, purified water, equipment and tons of fun! (*while supplies last) Session I 10 am to 12 pm for ages 6 to 10 years. Session II 2-4pm ages 11 to 14 years. Email [email protected] or call 646-5211.
2017 Holiday Jr. NBA Guam Camp Leader Profiles 
Jr. NBA Guam Camp – Head Coach
Vincent Askew – 6'6 from Memphis, Tennessee. NBA Veteran Player with a passion for giving back to the community. With over 20 years of education and experience playing and coaching at all levels, he has devoted most of his post-NBA career finding ways to positively influence athletes in the U.S. His objective is to spark the inner-fire that drives the next generation. www.skews24-7sports.com
Jr. NBA Camp – Assistant
Rodrigue Ebondo – 6'7 from Democratic Republic of Congo, Africa. A student-athlete plays the guard/forward position for Centro Escolar University (CEU) in Manila, Philippines. Ebondo also plays for Philippine Basketball Association (PBA) D-League Cafe France. Cafe France is a CEU school based team winning a championship title in 2015. This will be Ebondo's second visit to Guam.
Jr. NBA Camp – Assistant
Christian Kakonda – 6'11 from the Democratic Republic of Congo, Africa a student-athlete plays the center position for University of Santo Tomas (UST) Growling Tigers in Manila, Philippines. Kakonda was on Guam for 2015 and 2016 basketball camps. Kakonda has absorbed and adjusted to our island culture and is appreciated by many local parents for working with their child.
Jr. NBA Camp – Assistant
Boyd "Geno" Andersen – 6'1 from Knoxville, Tennessee. A college student-athlete who plays the guard position for the University of Guam (UOG Tritons). Andersen presently lives on Guam and brings his experience working with youth camps in the U.S. and competing in International Leagues. Andersen is a certified fitness trainer and works one on one with clients as a personal trainer.
Jr. NBA Camp – Assistant
Brian Kami – 5'10 from Guam. A college student-athlete who plays the guard position for the University of Guam (Tritons Club Team). Kami is born and raised on Guam and brings his experience working with youth camps and clubs at Tamuning Gym for the past 3 years. As a club coach Kami is experienced working with kids ages 6 to 14.
Jr. NBA Camp – Basketball Club Volunteer
Island Chiefs Basketball Club – President, Clare Agualo is providing volunteer camp staff and hospitality logistics for NBA Veteran Vincent Askew, college student-athletes in Manila and local college student-athletes for the duration of their stay.

QUICK HITS
The Guam Smokin' Hot women's softball team captured first place in the Asia Cup Softball Championships 2023 in Bangkok, Thailand.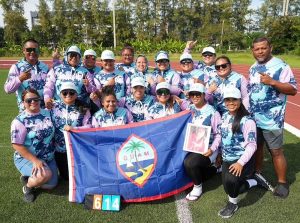 ——————————————————-
Roque Martinez gets the unanimous decision win Saturday night in his debut fight in South Korea's Black Combat promotions.
The 37-year-old controlled the tempo all three rounds and bloodied his opponent with some 3rd round ground and pound.