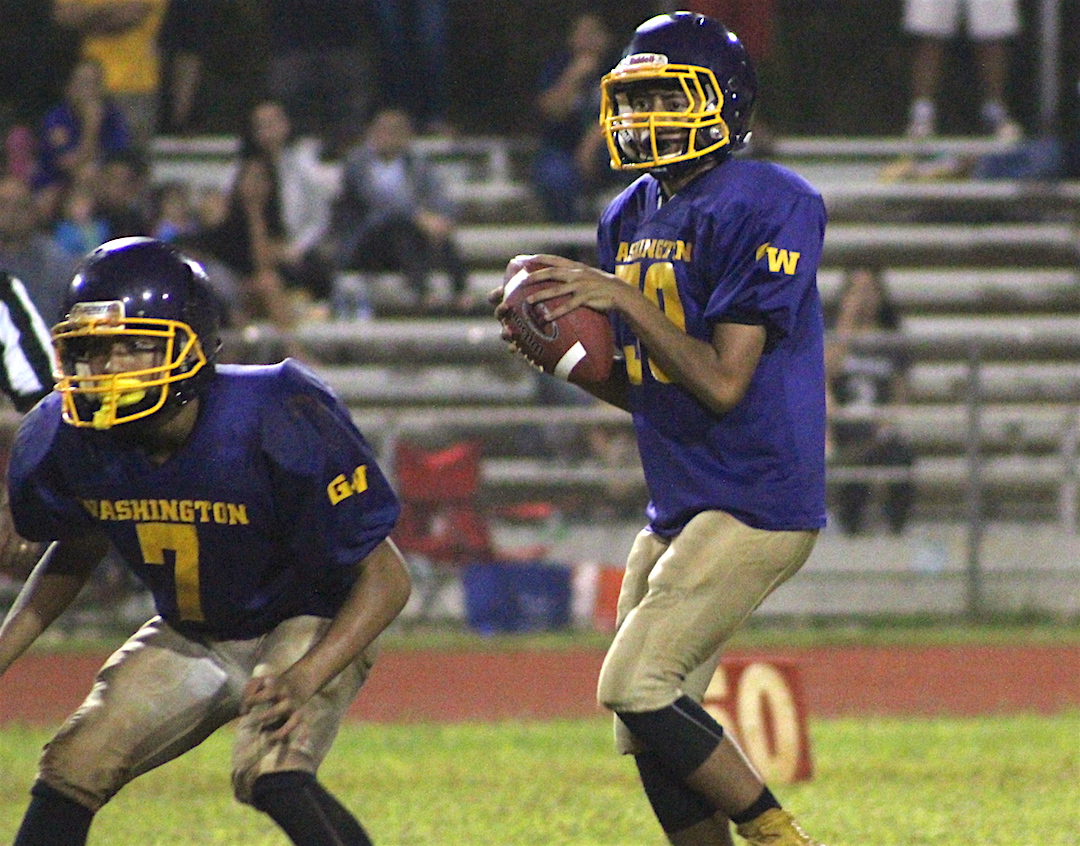 By Jay Leon Guerrero
The GW Geckos bounced back after an embarrassing loss last week to improve to 2-1 in IIAAG Football league. The Geckos exploded on offense after trailing early to defeat the Simon Sanchez Sharks 34-14 at the Okkodo Field. After winning their first two games of the season, the Sharks dropped two in a row and fall to 2-2.
Aguon scores 3 different TD's
Calvin Aguon had three different touchdowns against the Sharks; a 75-yard kickoff return, a 10-yard rushing TD and a six yard TD reception from quarterback Ricky Macias to help the Geckos avoid their first back-to-back losses in more than three years. "That loss last week motivated all of us to work together as unit to take that 'W' tonight," said Aguon.
Aguon's teammate, Aaron Jamanila, also had a huge day on the field. If Jamanila was on your fantasy football team, congratulations – you win! Jamanila had six catches for a league-high 155 yards and a touchdown. Jamanila also recorded five tackles and forced a fumble on defense.
"That loss (against Tiyan) motivated the team, it gave us something to work for," said Jamanila. "There's more games left to play and our goal is to get better towards the end of the season."
Sharks score first
The Sharks rattled the Geckos to open the contest, scoring on their opening drive. Jimmy Naholowaa's squad started on their own 20 yard and plowed their way to a touchdown 14 rush plays later. Joshua Sablan scored from eight yards out to set the tone for the game. Jeremiah Sablan rushed in for the two point conversion to take an early 8-0 lead.
Aguon returned the ensuing kickoff from 75 yards out as the Geckos trailed 8-6 after a failed two point conversion. "After they scored, I just wanted to help my team and looked for the hole on the return," said Aguon. Aguon followed his blockers and dashed down the left sideline for the TD.
The Sharks bit right back in the second quarter as their wishbone offense looked unstoppable early. Jeremiah Sablan broke free from 40 yards out for the Sharks to increase their lead to 14-6 after a failed two point conversion.
Gecko Air Attack
Macias connected with Jamanila for a huge 36-yard gain that help set up Aguon's rushing TD on a reverse play to trail 14-12. The Geckos caught a break again on special teams, recovering the football at the Shark three yard line that set up a quarterback run by Macias to go ahead 20-14 after a successful two point conversion (Macias rush) to lead at halftime.
The halftime speech by GW head coach Ryan Rios motivated his team to continue their momentum going into the second half. Macias connected with Jamanila for a 15-yard touchdown to go up 27-14. The Sharks were unable to move the chains and the Geckos had possession going into the final period.
Macias looked to put up insurance points but was picked off by Shark safety Rico Gaerlan to stop the drive. The interception was Gaerlans second straight INT in as many games. Gaerlan also had an INT last week against JFK.
The Gecko defense marched back on the field and got some key tackles to give their offense the ball back with six minutes left in regulation.
This time, Macias sealed the victory with his final touchdown of the evening (a six-yard TD pass to Aguon) to end the game up 34-14. Macias credits good blocking from his offensive line which gave him enough time to make accurate passes.
Unlike their game last week, Macias was not sacked for the contest. "I have to thank my line tonight, they did a great job," said Macias. Macias completed 7-of-12 passes for 161 total yards and he also rushed for a TD.
Jeremiah Sablan rushed 18 times for 104 yards with a touchdown. Joshua Sablan had 25 total rush attempts for 87 yards, also scoring a TD. The Sharks were without their top running back Kamerin Toves who was out with an injury.
Kameo Toves, Clayton Cepeda, and Gavin Bejerana each recorded four tackles to lead the Shark defense. Bejerana also had two tackles-for-losses (TFL), Gaerlan had the lone interception.
Jose San Miguel led the Gecko defense with a game high eight tackles (2 TFL). Jose Taitingfong III and Rico Mangilag each recorded five tackles for GW. The victory for GW sets up a showdown for sole possession of second place next week against JFK. The Sharks will look to upset the Friars next week.
PHOTO GALLERY BROUGHT TO YOU BY:
Calvin Aguon snags a touchdown grab late in the 4th quarter, the final score for the Geckos. (photo by Robert Balajadia)

QUICK HITS
Guam MTB National Championship: Edward Oingerang and Jennifer Camacho are your 2023 MTB national champions. Oingerang finished the course in 1:13:24 while Camacho won her second straight title in 54:08.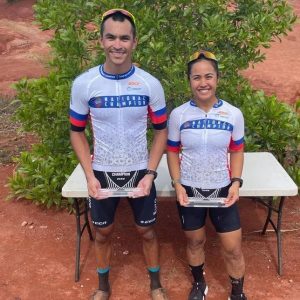 ——————————————
Kobe Miyashita, with St. John's coach Arvin Flores, was named the 2023 IIAAG Middle School Boys Volleyball MVP!