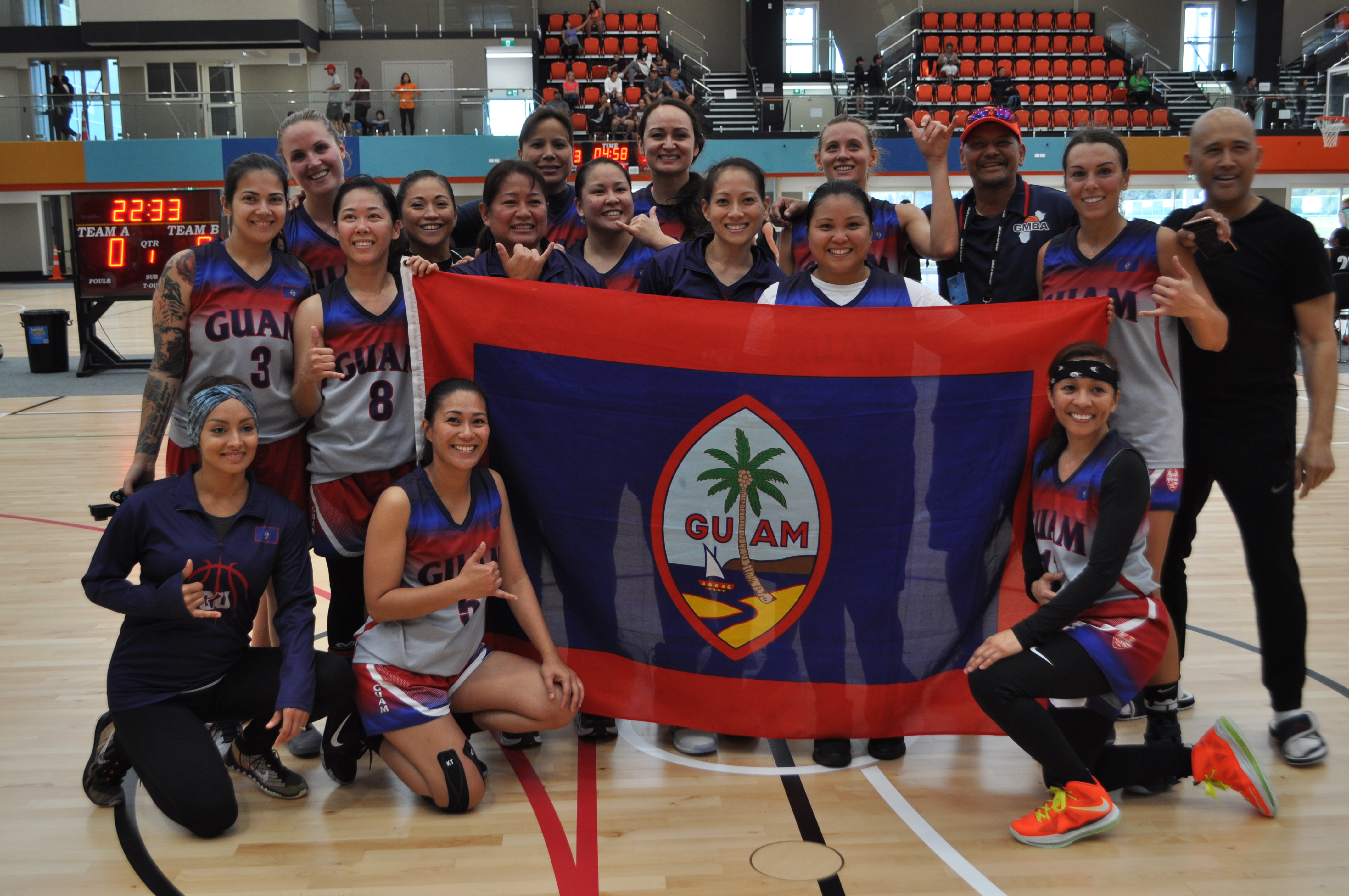 (Auckland, New Zealand)  Team Guahan holds off the Melbourne Joycies for another win in the C Division Women 30+ at the World Masters Games 2017 (WMG2017) in Auckland, New Zealand. At
3:00pm
, at the Bruce Pullman Park in Takannini. Guahan notched a close win over the Joycies, 42-39 to advance to the Gold Medal game. Guahan improves to 4-0, and will face Kete ki te Kete (1-3) at
10:30 am
,
Friday, April 28, 2017
.
In the C Division Women's 40+ match at
10:30am
between Team Guam and the Morehu Bullets, it was the Bullets getting fired up to beat Team Guam, 81-23. Team Guam is now 0-4 and will face the Morehu Magic (2-2) at
3 pm
.
Gepan (0-4) will play a Round Robin match in the C Division Men's 40+ against XXX ORPN Stars (1-2) at
3 pm
,
Saturday, April 29, 2017
.
The GMBA Boleros pulled away in their C Division Men's 50+ match against the Napier Sun Hawks, taking the convincing 53-37 win and improve to 4-1. The Boleros will face the Nova Scotia Seawolves in a Semi-Final match at
12:00pm
,
Friday, April 28, 2017
.
The Super Lolos from Guam in the C Division Men's 60+ dropped their last game of the WMG2017. The Shannon Dodgers beat the Super Lolos, 67-35. Palakse lost their final game by default to the Samurai Senior Ballers, 20-0, with members of the team coming over to play in the Super Lolos game against the Shannon Dodgers.
The schedule for
Friday, April 28, 2017
, is as follows:
CW30+:
10:30 am
,  Guahan (4-0) vs. Kete ki te Kete (1-3)
CW40+:
3 pm
, Team Guam (0-4) vs. Morehu Magic (2-2)
CM40+: BYE, Gepan
CM50+:
12 pm
, GMBA Boleros (4-1) vs. Nova Scotia (4-1)

QUICK HITS
The Figo Islanders 40s women's softball team took gold in the Senior Softball World Championship in Las Vegas. Figo came out of the loser's bracket and beat the Arizona Belles 17-3 in the AA division championship game Sunday afternoon.
Other Guam teams that played in the 40s tournament were: Team SOTTA (women's) and Bud Light Guam, Friars 671 and Sindalun Guahan (men's).
Sindalu finished a respectable 4th out of 24 AAA division teams.