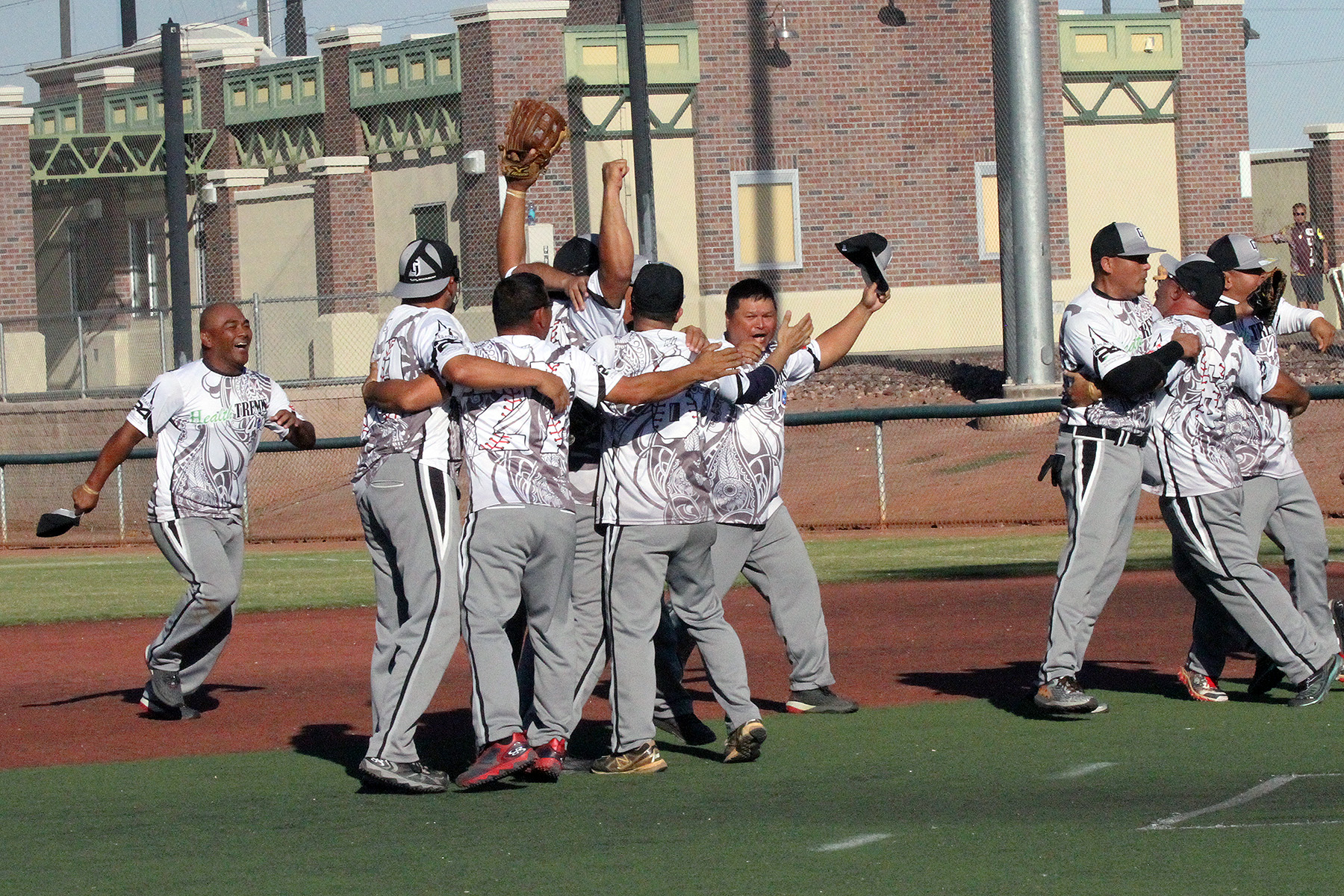 By EDDIE SIGUENZA
LAS VEGAS, Nevada — "Hayi, hayi, hayi? Guam, Guam … Guam!"
That little island in the Pacific Ocean thrusted itself into the sports world limelight Oct. 8 when it captured — in historic fashion — the 2017 Las Vegas Senior Softball/United States Senior Softball World Masters Championship in the Men's 40-over AAA division.
Bud Light Guam, the two-time defending bronze medalist, became historic champions when it defeated Color By Design (CBD) (Maryland) 18-16 in the gold medal game. The Big League Dreams complex erupted when Guam outfielder John McDonald caught the final out, and the pro-Guam crowd rang a Chamorro chorus of "Who, who, who? Guam Guam … Guam" followed by the Finohge Chamorro, Guam's national anthem.
"This is something very monumental, something very significant," said USA Senior Softball national director Dave Dowell. "Only once has a non-continental U.S. team won our world tournament, and they were from Canada. This is the first time it's ever been done in the 40-division. It's unbelievable and extremely an honor to Guam."
"It came down to the last inning again," said Bud Light Guam head coach Robert Meno. "It came down to the boys showing a lot of heart. They wanted to do this for Guam. The island can really be happy. We're going to show the excitement when we get home."
The clinching victory didn't come easy. Guam was up 18-9 entering the last inning. Color By Design — the East Coast national Triple-A champions — rallied to close the gap and even had the tying run at the plate. But at the final out, Guam's six-year journey to win the softball world title (the inaugural team began in 2012) was celebrated with U.S. Senior Softball executives awarding the Guam unit with certificates, world champion rings, and a two-foot trophy.
"It's just the maturity of the team," said Russell Maratita, one of a handful of players who remain from that 2012 squad. "We've been here long enough to know it takes a lot of mental toughness to get to that next level. We worked hard to make sure we were prepared."
The team dedicated the win to former coach Pete Torres, whose wife is currently battling cancer, Maratita explained. He added that the victory couldn't come without the support of hundreds of Guam fans who travelled to Las Vegas from different parts of the nation as well as home.
"It was a whole Guam community effort for us," said Maratita. "We couldn't ask for greater support."
Keith Hattig, Peter Concepcion, Herbie Hattig, Peter Aguon, Mike Cepeda and Maratita are the original players from that first masters squad who rostered this year. Meno and Aguon took the coaching roles and successfully planned how to use newcomers Jess Sablan, John McDonald, Tony Yatar and Joe "Cockroach" Rivera into the system with other veterans.
"We've been trying to get over that bronze medal hump," said Aguon. "This really means a lot to all of Guam. The only thing we're representing is Guam."
Two days earlier, U.S. Senior Softball executives honored five Guam teams with Sportsmanship Awards, another first for the Islanders.
Guam ended the three-day tournament 7-1. Bud Light Guam launched itself into the gold medal game with a 20-19 thriller over No Limit (California), the West Coast national Triple-A champions. In the double-elimination championship, Color By Design came back for a 21-20 win. That forced the final "if" game which Guam won.
"This is why you're here. This is what we play for: One game," Dowell said to the Guam players before the final contest. "Play awfully hard. It's one game for everything."
Bud Light Guam bested 32 teams in its division. More than 600 teams make up senior softball in various age divisions including a women's category.
PHOTO GALLERY BROUGHT TO YOU BY:

QUICK HITS
Guam MTB National Championship: Edward Oingerang and Jennifer Camacho are your 2023 MTB national champions. Oingerang finished the course in 1:13:24 while Camacho won her second straight title in 54:08.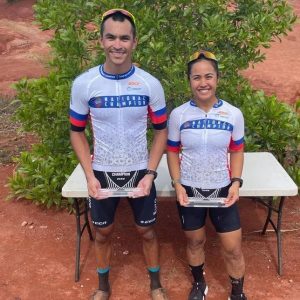 ——————————————
Kobe Miyashita, with St. John's coach Arvin Flores, was named the 2023 IIAAG Middle School Boys Volleyball MVP!