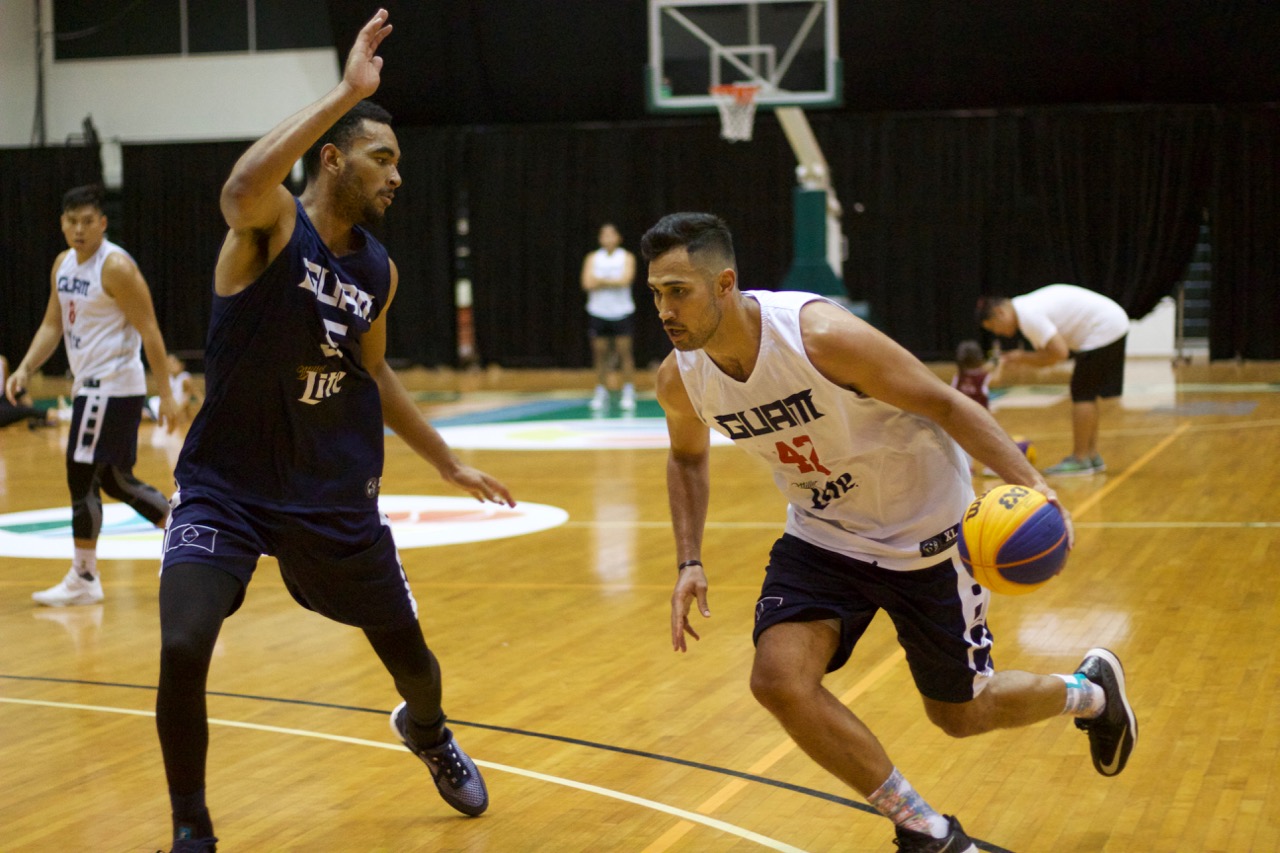 By Jay Leon Guerrero
With the Olympics introducing 3-on-3 Basketball as a new medal sport, the Guam Basketball Federation held a huge event Saturday at the UOG Calvo Field House to help the local athletes prepare for a different style to the game of basketball.
The men and women competed on opposite sides of the court in the regular pool play which consisted of six teams to determine the champion. The top four men and women teams battled in a single elimination format. The entire national basketball team pool played in the event with the coaches picking the teams to make the event equal. Also joining the event were members of the GBA's KFC Bombers and the UOG Tritons.
Both championship games were exciting with each team winning by one point.
Women's Final
The team of Derin Santos, Lindsey Wilson, Kat Castro and Rosita Duenas won the women's 3X3 team event with a hard fought 7-6 win over the team of Kali Benavente, Brianna Benito, Chloe Miranda and Alana Salas. With less than a minute remaining, Santos scored in the paint to go ahead 7-5.
Benavente scored with 20 seconds left to cut the lead to 7-6. Santos tried to score again but missed the running lay-in as Benavente grabbed the rebound. Benavente had two open looks to win the game with shots beyond the arc but came up short as time expired.
"We had a really rough start, losing our first and third game in Pool play but got stronger as we played more games together," said Santos. Santos said her team was using the experience for the upcoming Asian Indoor Games scheduled for September in Turkmenistan.
Santos, Duenas, Wilson and Mia San Nicolas will represent team Guam in September as Guam participates in the Indoor Games along with other sports for the first time.
"Surprisingly, the 3-on-3 pace is faster; the change of possession is quick so we have to adapt to that. We also need to work on our pick-and-roll offense because we don't have the height," said Santos.
The Men's final
It was another Guam National Team final with the team of Russ Wesley, Jonathan Galloway, James Stake and Mekeli Wesley winning the tournament over Tai Wesley, Willie Stinnett, and Earv Jose. All three Wesleys are brothers.
With 1:34 left in regulation, Galloway made a lay-in and was fouled to put his team up 10-6. Tai Wesley then took over the game sinking a shot behind the arc for two points (3-pointers in 3 X 3 games are counted as two points) to cut the lead to 10-8.
Tai Wesley scored again and was fouled, tying the contest at 10-10 with less than 20 seconds remaining. Russ Wesley had the ball in his hand and was heavily guarded by Stinnett to look for the winning basket. Russ Wesley looked to take Stinnett to the post but instead shot a short fade away that found the bottom of the net with five seconds remaining to go up 11-10. Tai Wesley quickly put up a shot, but it was no good as the final buzzer sounded.
"Willie (Stinnett) was guarding me tough the whole game and I knew in my head there was about five seconds left on the clock. I picked my spot where I wanted to put up a shot, leaned my shoulder in to him to create some space and let it fly," said Russ Wesley.
Russ Wesley went against his brother Tai Wesley in the final and there was some sibling rivalry going on in the game.
"It was fun playing against my brother, it got heated but that's what we've been used to growing up."
Mekeli Wesley suffered a minor injury in the semifinal game and did not play the championship game.
The Wesley brothers joined the Guam National Team in the Philippines to play exhibition games against top teams in the country. The defending Pacific Games gold medalists look to win another gold in 2019 but the host country for the Games is yet to be determined. "I heard it was possible that it may be hosted on Guam. It would be so nice to play here at home where we all grew up," said Russ Wesley.
Slam dunk contest
The fans were treated to a slam dunk competition with Team Guam members Ben Borja and Jonathan Galloway joining KFC Bomber Ledget Glover as participants. All three dinners wowed the crowd with Galloway edging out Glover as the winner.
PHOTO GALLERY BROUGHT TO YOU BY:

2022 GSPN I MÅS METGOT COMPETITION
I Mås Metgot Athlete Spotlight: Tim Nauta
2022 GSPN I MÅS METGOT COMPETITION
I Mås Metgot Athlete Spotlight: Tim Nauta
2022 GSPN I MÅS METGOT COMPETITION
I Mås Metgot Athlete Spotlight: Tim Nauta
QUICK HITS
Guam boys Kekoa Toves and Matias Calvo went head-to-head on the rugby pitch as American International College took on Dartmouth College, both top-ranked men's rugby programs in the country.
Calvo (FD) is the captain of Dartmouth and scored, but Toves (Sanchez) and his AIC squad came away with the win in Springfield, Mass.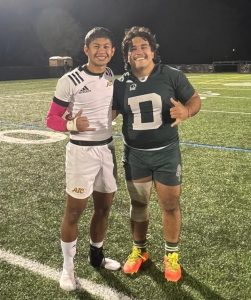 ———————————————–
1LT Belizabeth Nicole V. Rengiil is known to be the first female from Guam and Palau to make the All-Army Women's Rugby Team. She is an active duty Signal Officer with the US Army and is stationed at Joint Base Lewis-McChord in Washington.
Her team won the Armed Forces Women's Rugby Championship with a 4-0 record.
Belizabeth is the daughter of Edwin and Juliana Rengiil with siblings Johanna and Edwin-Isaiah Rengiil from Mangilao.