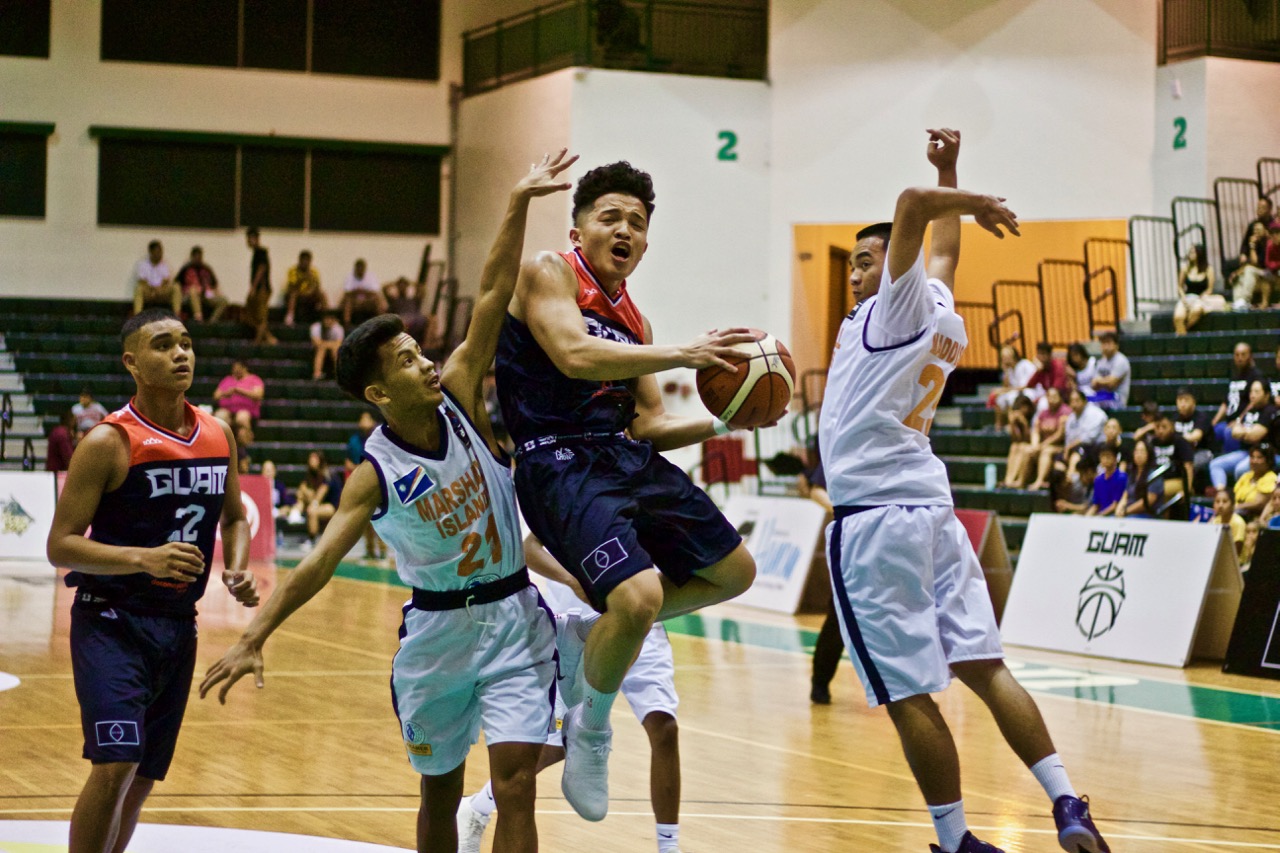 By Robert Balajadia
The highly anticipated U17 FIBA Oceania Championships tipped off at the UOG Calvo Field House Monday morning with both Guam teams making their debut in the evening.
Guam's U17 girls struggled mightily with the height and length of New Zealand, suffering large loss 139-34 in Group B. The U17 boys played a strong first game by more than tripling up on the Marshall Islands 151-34 in Group A.
New Zealand dominates Guam girls in debut
Aimee Jessica Book scored 20 points and grabbed 6 rebounds to lead New Zealand in their one-sided scoring spree 139-34 over Guam.
From the opening tip, it was clear New Zealand had the upper hand over the much smaller Guam team. After 6'4 center Charlotte Elizabeth Whittaker won the opening tip for NZ, Lauryn Hippolite soared in for an easy bucket within the first three seconds of the game.
Hippolite added three more points via and-one while the NZ full-court press gave them a 6-0 lead in the games first minute. Guam's Elysia Perez would score on an and-one of her own to get within 8-3, but the field goal would be just one of two made baskets for the home team in the period.
New Zealand raced out to a 37-6 lead to end the first.
NZ would continue their dominant scoring in the paint, holding down Guam to just six points in the second period for a 65-12 halftime lead.
Book did most of her scoring in the 4th period as the younger Team Guam members struggled with turnovers leading to the runaway score.
Perez would lead Guam with 11 points.
New Zealand will play New Caledonia tomorrow while Guam looks to rebound against Palau.
Guam smothers Marshall Islands for Day 1 win
Nathaniel Kyle Gaitan and Jason Diaz each scored 22 points in Guam's huge 151-34 win over the Marshall Islands. The transition scoring and forced turnovers allowed Guam to hold a 34-0 lead over the Marshall Islands in the opening period to blow the game open.
Marshall Island point guard Justin Stoval gave his team some life in the 2nd quarter with a quick 5-0 run where they managed to score 19 points after scoring just two in the 1st. Guam kept their foot on the gas pedal, out-racing the Marshall Islands to a 77-21 halftime score.
Guam continued to shine after emptying their bench, giving Guam' Jin Han his first win as a FIBA head coach.
Dylan Maddison led the Marshall Islands in scoring with nine points.
Guam will face New Zealand next while the Marshall Islands will face Taiti.
Full Scores
U17 Boys Group A:
Guam 151, Marshall Islands 34
New Zealand 106, Tahiti 36
U17 Boys Group B:
Australia 155, New Caledonia 32
Samoa 126, Palau 48
U17 Girls Group A:
Australia 163, Tahiti 13
Samoa 120, Marshall Islands 12
U17 Girls Group B:
New Zealand 139, Guam 34
New Caledonia 118, Palau 29
PHOTO GALLERY BROUGHT TO YOU BY:

COMING SOON …
High School Football starts Sept. 29
Brawl 3: Oct 13
Guam's Strongest Man and Woman Competition October 29
QUICK HITS
The Figo Islanders 40s women's softball team took gold in the Senior Softball World Championship in Las Vegas. Figo came out of the loser's bracket and beat the Arizona Belles 17-3 in the AA division championship game Sunday afternoon.
Other Guam teams that played in the 40s tournament were: Team SOTTA (women's) and Bud Light Guam, Friars 671 and Sindalun Guahan (men's).
Sindalu finished a respectable 4th out of 24 AAA division teams.