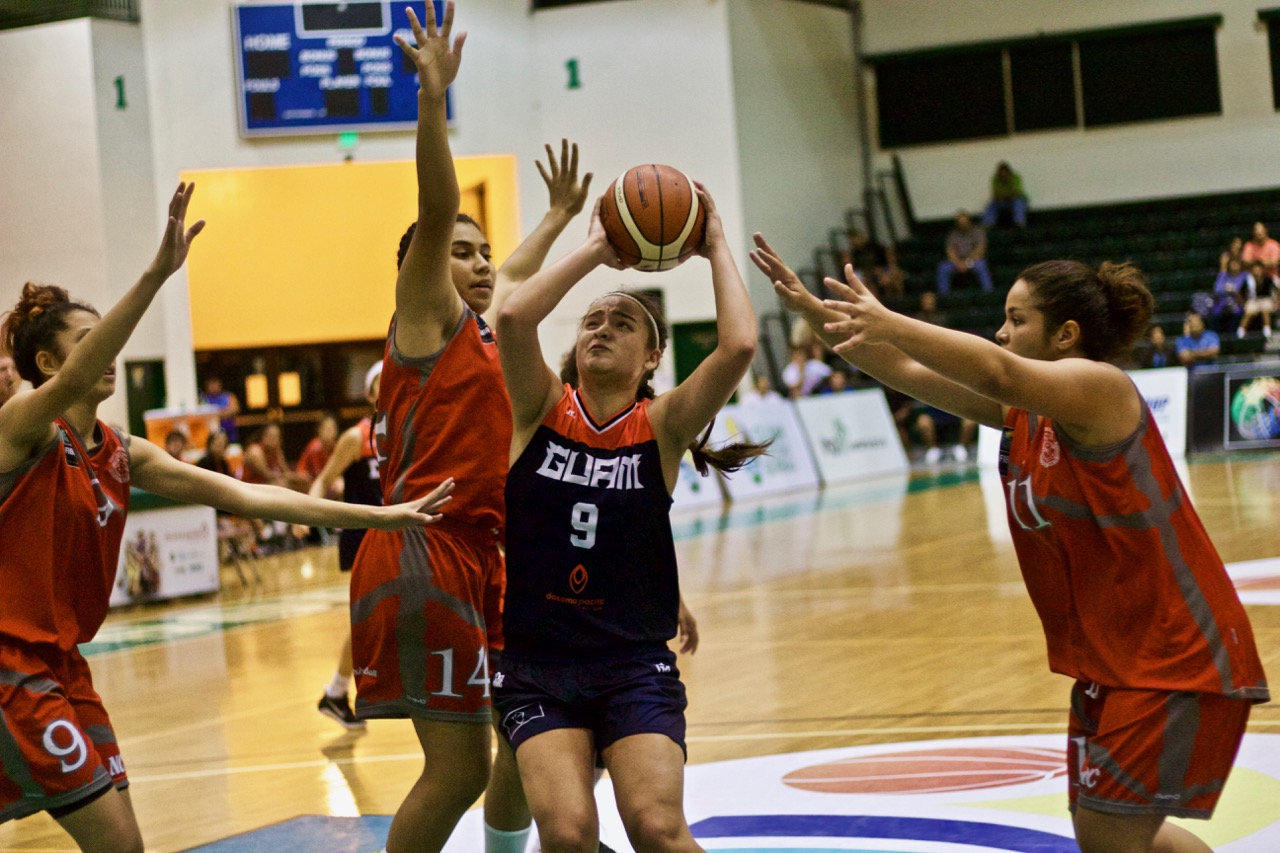 By Robert Balajadia
Pool play in the U17 FIBA Oceania Championships wrapped up Wednesday evening and both Guam teams picked up Day 3 wins to advance them to the semifinals on Friday. The men's team took care of business against Tahiti winning 118-76 while the ladies earned a thrilling win over New Caledonia behind a monster game from Mia San Nicolas 79-71.
Guam advances to the medal rounds and both squads will face off against the tourney top guns Australia for a spot in the championship!
San Nicolas dominates against New Caledonia
Guam's Mia San Nicolas had missed a whole year of basketball after tearing her ACL, forcing her to forfeit her sophomore season in 2016. Her stellar outing so far in the U17 FIBA Oceania Championships are a clear indication that she's back!
San Nicolas scored 29 points while collecting 22 rebounds and swatted away five shots to anchor Team Guam, scoring 16 of her 29 in the final period. Teammate Haley Senne scored 18 points and was a heckler on defense with four steals.
"We knew that this game was important, so we knew that we needed to play hard and work as a team. I just attacked the basket every chance I had. I couldn't have done it without my teammates and my coaches," said San Nicolas
"I guess waiting to heal from an injury does a little more than just be extra motivated," said head coach Eddie Pelkey on San Nicolas' big night. "Mia was on the 2014 team that won bronze so she understood what it meant to fight. When your biggest player performs like that, it's infectious, in a good way. The players we produce are hard working and are willing to make sacrifices. I was very confident heading into the tourney and I'm still confident about everything we can accomplish."
With the score neck-and-neck heading into the fourth with Guam up 55-54, San Nicolas took control. New Caledonia's Leilani Tartas and San Nicolas went on their own personal runs after the two answered each others baskets with a San Nicolas layup giving Guam a 63-58 lead.
San Nicolas shouldered the scoring load, scoring 10 of the teams first 12 points before getting a quick break midway through the period with Guam clinging to a 69-65 lead.
San Nicolas checked back in at the 4-minute mark and put away New Caledonia by scoring six of Guam's final eight points. Cassandree Canaldo led New Caledonia with 13 points while Tartas added 12.
Guam will now face off against Australia on Friday for a spot in the finals!
"Australia is going to be a completely different battle, but we're going to use that game as a learning experience," said Pelkey.
Guam mens team in high spirits heading into semis against Australia
Guam took care of business against Tahiti with their intentions clear on advancing to the medal rounds.
Guam's Alschea Grape played beyond just a floor general, collecting 15 points to go along with seven steals and assists while pulling down six rebounds. Jason Diaz and Takumi Simon led Guam with 17 points and Nathaniel Kyle Gaitan corralled a double-double with 12 points and 11 boards.
"It was a must win today and it just brings us closer to our goal, which is to win a medal. I was focused more on getting my teammates going and playing whatever role I needed to for the team," said Grape.
Tahiti's Arutahi Teore had a big night leading all scorers with 31 points.
Guam now earns a one-day rest with their win, but not resting was their full-court press as it helped balloon a 25-17 1st quarter lead to a 64-36 halftime advantage in no time.
Even with the lopsided game on hand, Team Guam continued to dive for loose balls, one of which resulted in a Jahmar White corner three-pointer for a huge 77-38 lead.
"We play hard until the end, no matter the score. We've improved a lot during this tournament and I feel we're at our peak right now," said Gaitan.
Standing in their way now are the power houses from down under who are averaging a 122-point win differential in the tournament thus far. But after proving plenty against New Zealand, Guam's in high spirits heading into Friday.
"We know they're the biggest team and very fundamentally sound. We're going to try and create some havoc on defense and just play Guam basketball. I expect these boys to try and be better than they were in their last game every time they step on the court," said head coach Jin Han.
FRIDAY SEMIFINALS at UOG Calvo Field House
1 pm Australia vs. Guam (girls)
3 pm New Zealand vs. Samoa (boys)
5 pm New Zealand vs. Samoa (girls)
7 pm Australia vs. Guam (boys)
Day 3 Full Scores
U17 Women's Group A
Tahiti 101, Marshall Islands 33
Australia 111, Samoa 27
U17 Women's Group B
Guam 79, New Caledonia 71
New Zealand 135, Palau 8
U17 Men's Group A
New Zealand 125, Marshall Islands 33
Guam 118, Tahiti 78
U17 Women's Group B
Australia 142, Samoa 34
New Caledonia 65, Palau 41
PHOTO GALLERY BROUGHT TO YOU BY:

QUICK HITS
Guam MTB National Championship: Edward Oingerang and Jennifer Camacho are your 2023 MTB national champions. Oingerang finished the course in 1:13:24 while Camacho won her second straight title in 54:08.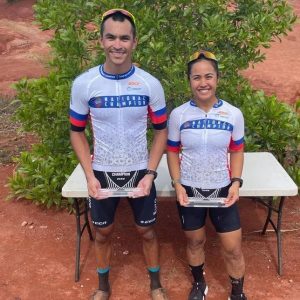 ——————————————
Kobe Miyashita, with St. John's coach Arvin Flores, was named the 2023 IIAAG Middle School Boys Volleyball MVP!