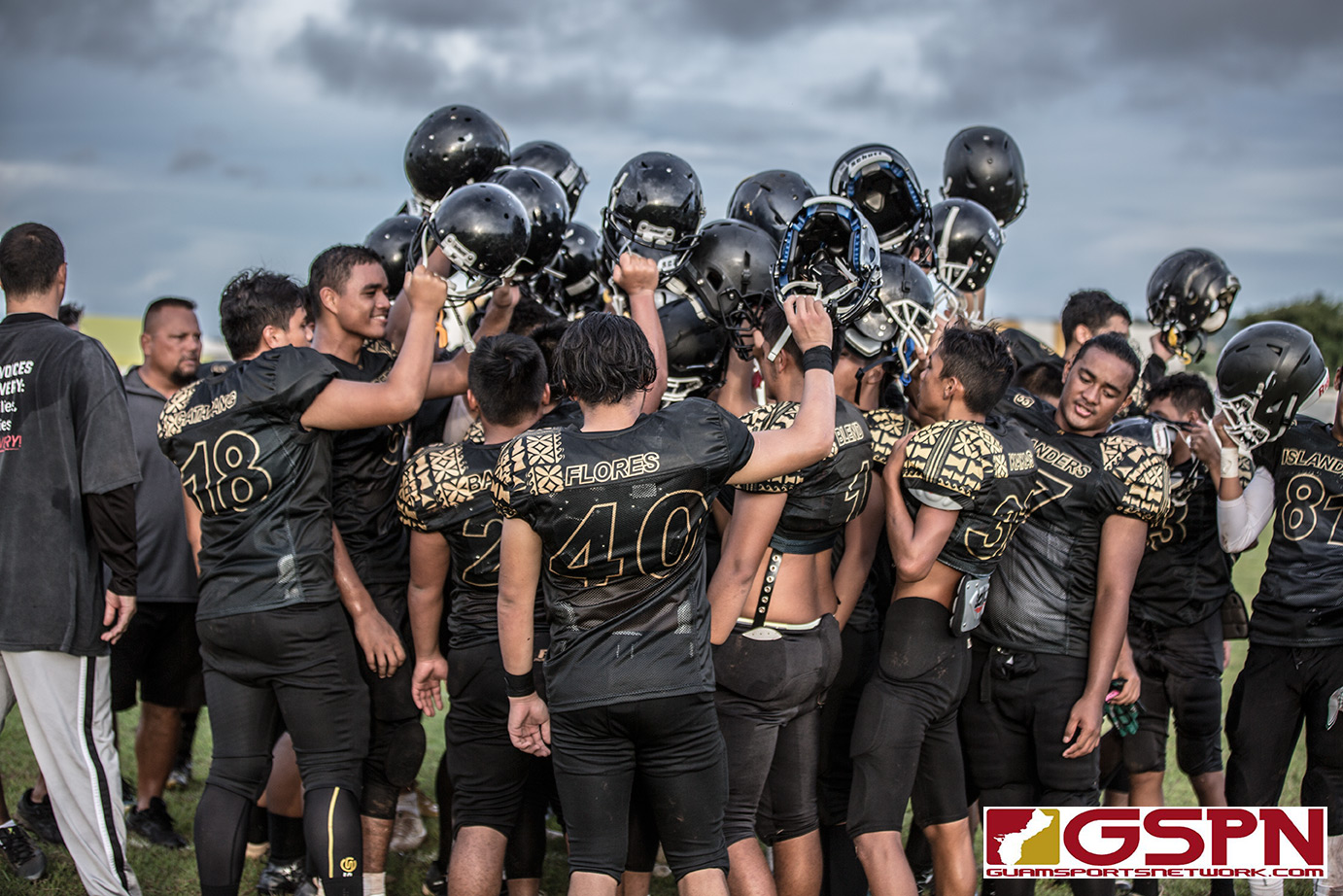 Jay Leon Guerrero
The Simon Sanchez Sharks marched onto the JFK Islanders' home field with an undefeated record and ton of confidence with a pair of impressive wins to open their IIAAG Football season. They looked unstoppable early, scoring easily on their first drive of the game and it looked like it was going to be a long day for the Islander fans. But that was not the case.
JFK dug deep and stepped up on both defense and offense to hold the Sharks to that lone first quarter touchdown and managed to come from behind to win the contest 12-8.
"Our team improved from our previous game," said Islander Justin Camacho who scored both touchdowns.
After losing their first game of the season to the FD Friars, the Islanders are now on a two game winning streak and improve to 2-1. The Sharks suffer their first defeat of the season and are now 2-1.
Sharks Bite first
The Sharks looked flawless and slowly plowed their way into the end zone with star running back Kamerin Toves scoring a touchdown in the opening drive and also rushing in for the two-point conversion to lead 8-0.
The Islanders quickly countered and went to Camacho who managed to break a few tackles for a huge 45-yard gain to bring the Islanders into the red zone. Two plays later, Camacho scored a six yard touchdown but the two point conversion was no good as they trailed 8-6.
The defense on both sides came up big in the second and third quarter with either team able to score. The Sharks' Jake Uncangco picked off JFK quarterback Allen Blend II in the second quarter to give the Shark offense good field position at the JFK 12-yard line. The Sharks looked to increase their lead with good field position, turning to running backs Toves and Jeremiah Sablan.
The Sharks, however, got stuffed backwards with Lawrence Tisalona recording a pair of tackles and Aiden Quitugua making a key tackle behind the line of scrimmage on fourth down to keep the score at 8-6 by halftime.
The Sharks received the ball entering the third period and they turned to running backs Toves and Sablan. Both backs took turns on run plays, recording two first downs to enter Islander territory. But the Islander defense was stingy, Chase Spotanski made a key tackle at the line of scrimmage and defensive lineman Shaun Parker recorded a sack to force the Sharks to punt.
Blend began to find his rhythm with short gain pass completions to Juan Sarmiento and Jonah Hahn to help JFK enter Shark territory. But the drive was stopped with Kameo Toves and Kanoa Nahoowela making plays on defense to stop the Islanders on fourth down, just missing the first down by inches.
The Sharks got the ball back due to loss of downs and turned to Kamerin Toves to help advance the ball. Unfortunately for the Sharks, Kamerin Toves suffered a knee injury looking to gain extra yardage and was forced out of the game.
The Islanders took over after the Sharks were unable to get a first down and went to Camacho once again for a big play. Camacho broke tackles on a run play and found daylight on the left sideline for a 48-yard gain. Two plays later, JFK offensive coordinator Brian Hahn called a play for Camacho who dashed into the end zone from 10 yards out to give JFK a 12-8 lead. The two point run attempt was stopped.
The Sharks started to mix up their plays on offense with a Willie Booker catching a pass and Kameo Toves rushing for a pair of first downs to once again find themselves on the Islander 30 yard line.
Quitugua forces turnover
The Islanders needed a big play on defense and Quitugua answered the call with a forced fumble. Quitugua rushed from the weak side and managed to record a tackle, forcing a fumble to give the Islanders possession with under four minutes remaining. The Islanders were unable to burn valuable time off the clock and were forced to punt with under two minutes remaining.
The Sharks had a shot to win the game but the 'Hail Mary' pass was well defended by Sarmiento and Quintin Kakas to give the Islanders the much needed victory.
Kamerin Toves rushed for 73 yards on 18 carries before the injury. His status for the next game against the GW Geckos is questionable. Kamerin Toves lead the IIAAG in scoring with 5 touchdowns.
Sablan rushed for 51 yards on 19 carries. Kameo Toves had a team high nine tackles with one tackle-for-loss, he also rushed six times for 17 yards.
JFK's Lawrence Tisalona lived up to his "LT" initials (Lawrence Taylor) and recorded a game high 10 tackles with one tackle-for-loss (TFL).
"After they scored, I got mad and wanted to make plays. I gave 110 percent from then on out for my team," said Tisalona.
"I knew our defense would hold it down because we made the necessary adjustments to the way they run the ball," said Camacho.
Camacho rushed for 111 yards (2TDs) on just seven carries and also caught a pass for eight yards. Blend completed 5-8 passes for 30 yards and an interception. Spotanski rushed seven times for 20 yards and also had eight tackles on defense.
Quitugua rushed four times for 18 yards and had five total tackles on defense which included a pair of TFL's and a forced fumble.
"After they scored, our coaches told us to keep our heads up; it was just one score and we were still in this game," said Quitugua.
Quitugua said his team is happy with the win and he is hoping to continue their winning ways. "We still have a lot of work to do but we will be fine if everyone does their job and we execute."
The Islanders will face the Guam High Panthers next week.
PHOTO GALLERY BROUGHT TO YOU BY:

QUICK HITS
Guam MTB National Championship: Edward Oingerang and Jennifer Camacho are your 2023 MTB national champions. Oingerang finished the course in 1:13:24 while Camacho won her second straight title in 54:08.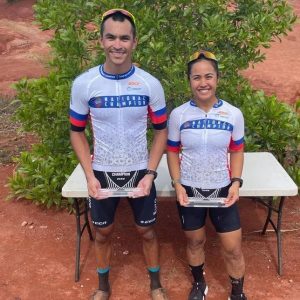 ——————————————
Kobe Miyashita, with St. John's coach Arvin Flores, was named the 2023 IIAAG Middle School Boys Volleyball MVP!