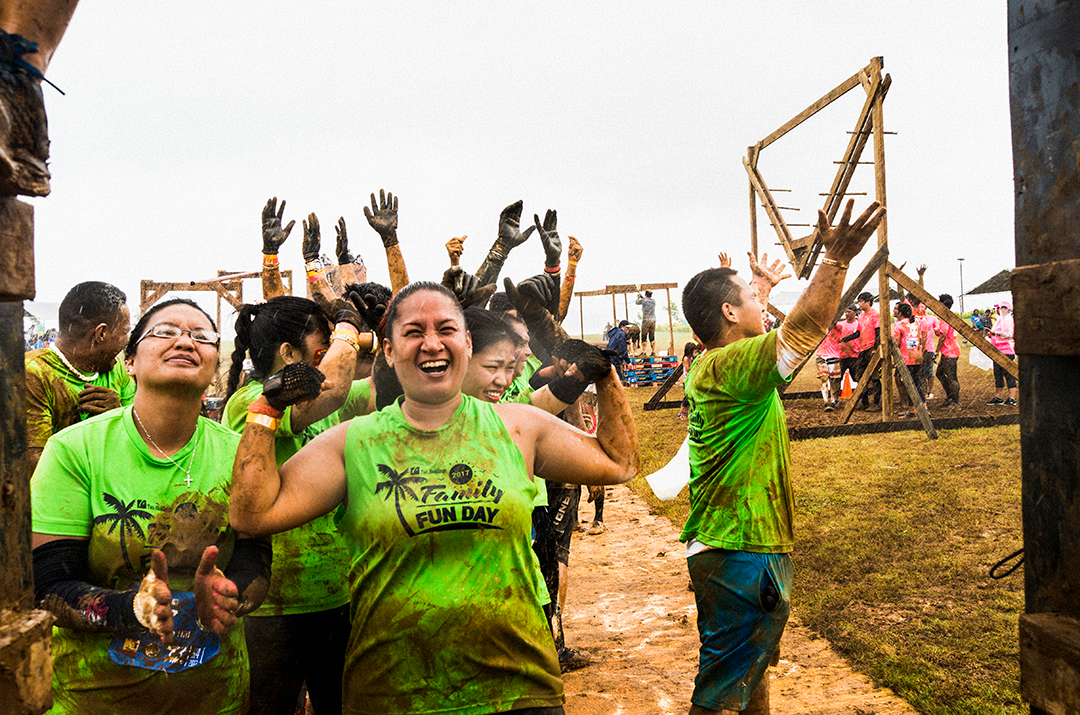 KONQER Sports Successfully Completes Expansion into Palau, Saipan — Returns to Guam for Finale.
Tumon, GU – KONQER will complete its 2017 three-country event circuit with its third annual obstacle course challenge on Sunday, Oct. 15 at Gov. Joseph Flores Memorial Park, according to KONQER Sports CEO Kaz Endo.
"Two islands KONQER'D, one to go," said Endo. "We have had a busy year with expansion into both Palau in June and Saipan in September, and we are looking forward to bringing the finale to our own backyard on Guam."
KONQER's inaugural event was held at the Guam International Raceway in Yigo in 2015, and 2017 marked the first year the brand expanded regionally to Palau and Saipan.
"There were some people who thought I was crazy to try and attempt putting on three events in a year, let alone in places that are unfamiliar with our brand and this type of event," said Endo. "But with the support of the local communities, we were able to complete the events successfully, with even more momentum for next year."
Similar to Guam Visitors Bureau's support of KONQER Guam, the other events were strongly supported by both Palau Visitors Authority (PVA) and Marianas Visitors Authority (MVA).
"It exceeded our expectations, given that it's new to Palau," said Kadoi Ruukled, PVA marketing and research manager. "We are going to do this every year and turn it into one of our signature events that locals and tourists alike will enjoy."
Despite getting a rainy and windy start courtesy of a tropical depression moving through the area, KONQER Saipan was also deemed an event worthy of repeating in 2018.
"We initially target 250 participants, but we registered 497 this past Saturday," said Chris Concepcion, MVA managing director. "We are very happy with our partnership with KONQER Sports, who helped put this thing together."
KONQER Guam – Storm the Bay is set for Sunday, Oct. 15 at Gov. Joseph Flores Memorial Park at Ypao Beach, and participants can look forward to more than two dozen manmade obstacles and localized challenges for people of all ages and fitness levels.
Various divisions allow participants to tailor their KONQER experience, including the Enduro solo timed division for the most competitive athletes, the Completion division for those that just want to have fun and complete the course either solo or with a team, the Sprints division, for those who want to try their hand at the 15 manmade obstacles only, and the Business League, open to all businesses who would like to submit a 10- person team to compete for the top times.
Individual registration is currently $100 per person, but, in order to encourage families to take on the KONQER course together, kids age 14 and under can participate completely free of charge, and students ages 15 to 17 receive deep discounts on registration fees.
Online registration is available at konqersports.com, and registrants may use the promo code STORMTHEBAY to receive 25 percent off registration fees for a limited time.
"KONQER Guam will include a lot of surprises for our KONQER Brigade, and we are looking forward to hosting some of our Brigade members from Palau and Saipan to our island to compete," said Endo. "Admission to the park is free, and we will have food trucks, live entertainment, the KONQER Beer Garden, and we encourage everyone to come out on event day and cheer on our Brigade as they take on the obstacle course."
KONQER is presented by Guam Visitors Bureau, and sponsored by Bank of Guam, IT&E, Coors Light, Hanom Water, Mountain Dew, Go Pro and Trivision Media Group.
For more information, visit konqersports.com on contact Kelli Wedd at [email protected]
PHOTO GALLERY BROUGHT TO YOU BY:

COMING SOON …
High School Football starts Sept. 29
Brawl 3: Oct 13
Guam's Strongest Man and Woman Competition October 29