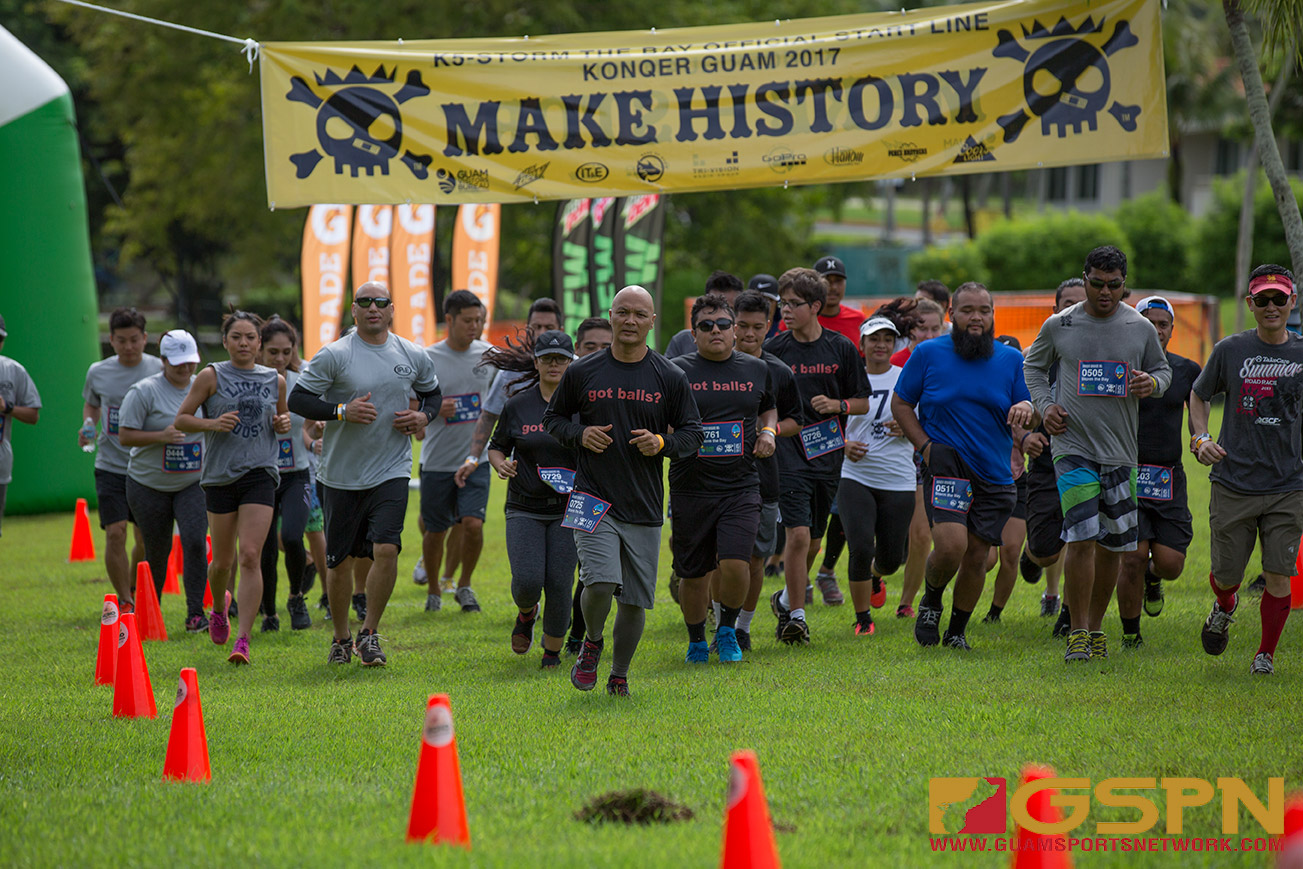 By Robert Balajadia
How did you KONQER your Sunday? If you spent it down at Ypao, then chances are you've had enough physical activity for the day, or week even.
The Konqer obstacle course made its way back to Guam and debuted it's course on Sunday, October 15th after setting up shop in Palau and Saipan over the recent months. The event had been dubbed as "Guam's Biggest Playday", but it was way more than just your average play-date.
GSPN suited up six competitors, which is known as a brigade around the KONQER scene, as CEO Patrick Lujan, writer Alex Cole 'Rambo' Kim, photographer Raine Delos Reyes, writer John Wesley, Eileen Balajadia (wife) and myself, Sports Director Robert Balajadia.
The course began with a 2k run from Ypao to Fujita Beach to test your cardio, which was a challenge for those in less than running shape. And the only water station in sight was right at the 2k mark where you begin your beach run.
At the end of the beach run you'd hit, what Eileen stated was her favorite part, a two-person paddling station around a short set of buoys. Waiting for you as you finished your paddles where the tire flips in the sand as that each GSPN team member powered through.
Then came the bigger obstacles.
GSPN came across the first obstacle the team wasn't too keen on doing, a wobbling bike ride on a 4×4 beam. Each course offered 10 burpees as a substitute for not completing the course and the Team decided to put their bellies to the floor.
A sand-crawl under thin wire got the team messy, and a packed wall featuring a rope descend forced the team to do more burpees. Lujan impressed the crowd as he pipe crawled with the drop beeing 10-feet below with no safety net.
Running up the see-saw planks was Patrick Lujan's favorite moment, considering he did it twice. GSPN came across another crawl station and the team, under instruction from the boss, did the crawl from our backs? Spontaneous and innovative.
Next was the climb up the halfpipe. Lujan and Delos Reyes made it up with ease, but the rest of the team couldn't make it up forcing another set of burpees.
A thin chain climb led the group into Hanzo's Obstacle, which only needed one member of the team to finish. Luckily, the army-ready Delos Reyes kept the team from doing burpees that round. A short climb to ring a bell followed by a last set of tire runs had was all that stood between the finish line as the brigade wrapped up their first KONQER experience.
Cool shirts, a refreshing Coors Light (for those of age), and great scenery were taken in by the exhausted GSPN Brigade. Except for Raine of course, he looked like he was ready for another go. We might need to pay a little more attention to the FD Golf teams conditioning program.
Check out the AWESOME photos captured by GSPN's Michael Ebio below!
PHOTO GALLERY BROUGHT TO YOU BY:

COMING SOON …
High School Football starts Sept. 29
Brawl 3: Oct 13
Guam's Strongest Man and Woman Competition October 29
QUICK HITS
The Figo Islanders 40s women's softball team took gold in the Senior Softball World Championship in Las Vegas. Figo came out of the loser's bracket and beat the Arizona Belles 17-3 in the AA division championship game Sunday afternoon.
Other Guam teams that played in the 40s tournament were: Team SOTTA (women's) and Bud Light Guam, Friars 671 and Sindalun Guahan (men's).
Sindalu finished a respectable 4th out of 24 AAA division teams.