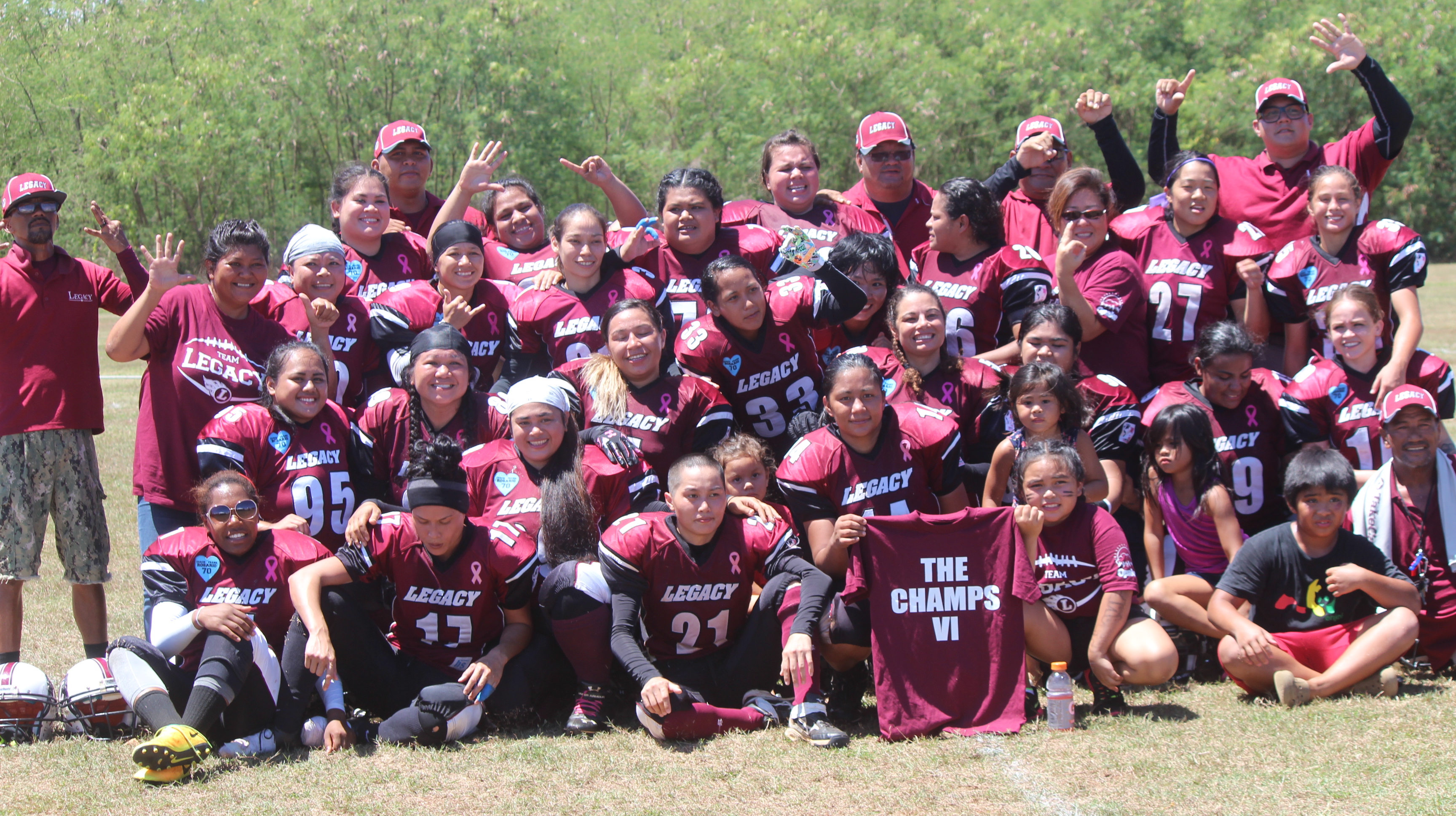 By Cole Kim
For the sixth straight year Team Legacy stands atop the GWTFL.
The top two teams of the 2017 GWTFL season, the Stunnerz and Legacy, faced off for the championship title on late Sunday morning. An explosive game from Rookie of the Year Jalana Garcia powered Legacy in their 34-8 win over the Stunnerz.
The Legacy attack started right from kick off. The Stunnerz kick went directly to Team Legacy's own Garcia, who returned it all the way to the end zone for a 70-yard kickoff return touchdown. This gave Legacy the lead in the very first few seconds of the ball game. The two point attempt was held back by the defense, however.
When the Stunnerz offense had the ball in the 1st quarter, the Legacy defense shut them down, forcing them to punt on fourth down.
"We knew they liked to hit it up the gut and we had three good variables, and they like to run on the outside," said the Legacy defensive coach, "I'm very proud of my defensive ends and my corners."
After the previous punt, Legacy had the ball again. After producing 14 team rushing yards, Garcia punched in another huge touchdown run with 45 yards. This made the score 12-0, Legacy with a comfortable lead.
The Stunnerz turned up the heat when they hit the offensive side of the ball again still in the opening period. Jacklyn Cepeda caught a 33 yard bomb from the quarterback for a touchdown. The Stunnerz earned the two point conversion, making it a 12-8 ballgame with Legacy still in front. This concluded the first quarter of the game.
Team Legacy had the ball to begin the second quarter. They earned another touchdown when Dana Benavente ran 13 yards to the end zone. Legacy then earned the two point conversion, making the score 20-8, a dominant lead for Team Legacy.
Legacy owned the ball for the majority of the last quarter. Jalana Garcia punched in her third touchdown of the game in a twenty yard run, making the score 28-8 after the two point.
The Stunnerz had the ball for a very short amount of time before turning it over in the final minute of the game.
Legacy sealed their win after Ashley Arceo ran two yards into the endzone in the final seconds. The score after this was 34-8.
"We all came out to play today, so it was just who wanted it more," said running back Jalana Garcia, "It was a great experience."
PHOTO GALLERY BROUGHT TO YOU BY:

QUICK HITS
The Okkodo Bulldogs secured third place at the Far East Division I Girls' Basketball Tournament in Camp Humphreys, South Korea. Jasmine Samson and Haley Cabrera were named All-Tournament selections in recognition of their hard work on the court. Vaysia Blas won the 3-point shooting contest. The Bulldogs played nine games in three days with a squad of eight:
Erin Moldez
Jasmine Samson
Haley Cabrera
Sharm Tauiwei
Hanna Meinik
Jordyn Zacarias
Jordin Hernandez
Vaysia Blas