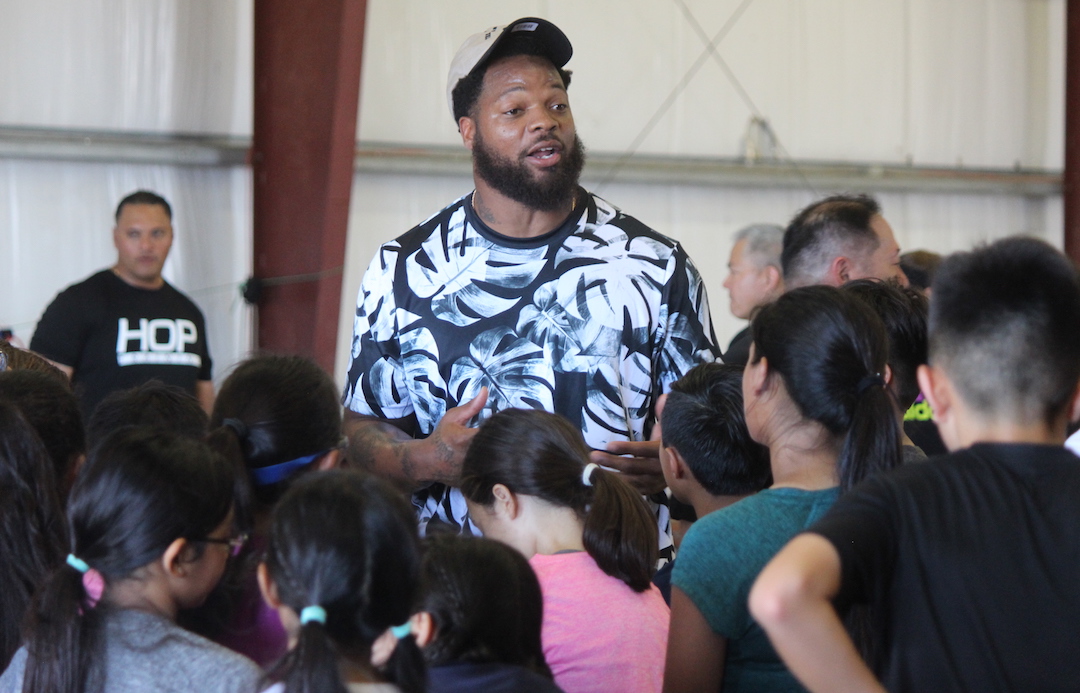 By Robert Balajadia
Seattle Seahawks superstar defensive end Michael Bennett has made his way to Guam for the first time. Bennett is on island as part of the Guam Strength and Agility Training (GSAT), a three-day training session that wraps up on Sunday, April 30th.
The clinic is taking place at the Guam Elite Basketball Academy gym in Tiyan where just over 90 kids have committed their weekend to the grind. Bennett, along with former Denver Bronco Ma'a Tanuvasa and the Hawaii Optimum Performance Team, got a first-hand look at the willing Guam youth in two different age groups with two different agendas on Saturday and Sunday.
"These kids have a lot of promise, fight, hustle and dedication. What's great here is the parent involvement because every great young athlete needs great parents to get to another level. I see all of that and I see a great community," said Michael on his first impression with the kids.
Guam Beats
The first thing Michael Bennett will share with his teammates and peers about Guam is going to be the people. Bennett's reception since landing on the island has been well received, and not just by the local Seahawks fans. The "Hafa Adai Spirit" and island hospitality has given Bennett plenty to smile about.
"The first thing I'll always mention is how the people here were so great and that the hospitality is second to none. I'll share how receptive people were, how they invited me into their houses, how they cooked for me and how they showed me around. The people here treat you well," said Bennett.
The most surprising thing to the Super Bowl Champion and #59 rated player of the Top 100 in NFL players in 2016 was just how well Guam knew sports. He thought the fact there were plenty of Seahawks fans on Guam was cool enough, but the overall following of everything going on at the national level really was an eye-opening experience.
"Sports transcends everything and I think I'm just becoming notice of how much sports means to everyone around the world. It's the only time people can come together to agree on something. It's crazy to know that everyone [on Guam] knows all the players, the dances and know everything we are doing out there," said Bennett.
Although, Bennett has taken notice of the tropical weather like most; oh the humidity!
"I can't lie, it's hot here!," laughed Bennett. "I feel like the sun is on the ground and every time I wake up the sun is talking to me. But I think I love that about Guam and the ocean is so clear, it warms my heart."
And of course, the food on Guam has rested well with Bennett and he's more than excited to have his tastebuds venture forth.
"I never thought I'd eat Jamaican Food on Guam and my food was on fire!," said an excited Bennett. "I love food and food invites you to someone's culture and I'm so excited to break bread and getting to know the people. Everyone has been showing me great accommodations and holding me down."
Chamorro NFL Pro: Zach Banner
The 2017 NFL Draft is in full effect and Bennett was tracking who his Seahawks were selecting to be his new teammates. This draft has major implications for Guam and Chamorros as Zach Banner, who reps his Chamorro heritage often, is expected to get selected in the later rounds.
*UPDATE: Banner was drafted in the 4th round by the Indianapolis Colts!
Bennett, a defensive end, and Banner, an offensive lineman, are destined to face each other at some point in an NFL game. When told about Banner's history and him being one of the small lists of Chamorros to play in the league (Steve Rivera and Mossis Madu), Bennett said Zach has set a new level for those like him to achieve.
"I feel bad for any offensive lineman that has to go against me, so my condolences go out to him if he has to line up against me," said Bennett with a smile. "He'll be that person that everyone will always remember and I think he'll inspire more kids and people from Guam to compete at that level."
How Bennett got to Guam
This story began with a minor tragedy and unfolded during family vacation in 2016
Paul and Aurora Vibar were aiding daughter Amaya in her recovery from surgery. The volleyball star from St. John's was in full rehabilitation mode and mom felt it was vital for her to get workouts done while on vacation. Dad Paul reached out to Hawaii Optimum Performance and managed to get Amaya in for some workouts.
It just so happened that a handful of NFL stars, mostly Chargers and Seahawks, were working out with Hawaii Optimum Performance and Paul and Amaya joined in for what many would consider a once-in-a-lifetime opportunity. Paul started to pitch to the NFL stars that a lot of athletes on Guam don't get the opportunity to learn from active professional athletes and that it would be great for them to get a similar experience.
Bennett was sold on the idea, asked where and when, and was even more excited after hearing about the food.
PHOTO GALLERY BROUGHT TO YOU BY:

QUICK HITS
The Figo Islanders 40s women's softball team took gold in the Senior Softball World Championship in Las Vegas. Figo came out of the loser's bracket and beat the Arizona Belles 17-3 in the AA division championship game Sunday afternoon.
Other Guam teams that played in the 40s tournament were: Team SOTTA (women's) and Bud Light Guam, Friars 671 and Sindalun Guahan (men's).
Sindalu finished a respectable 4th out of 24 AAA division teams.