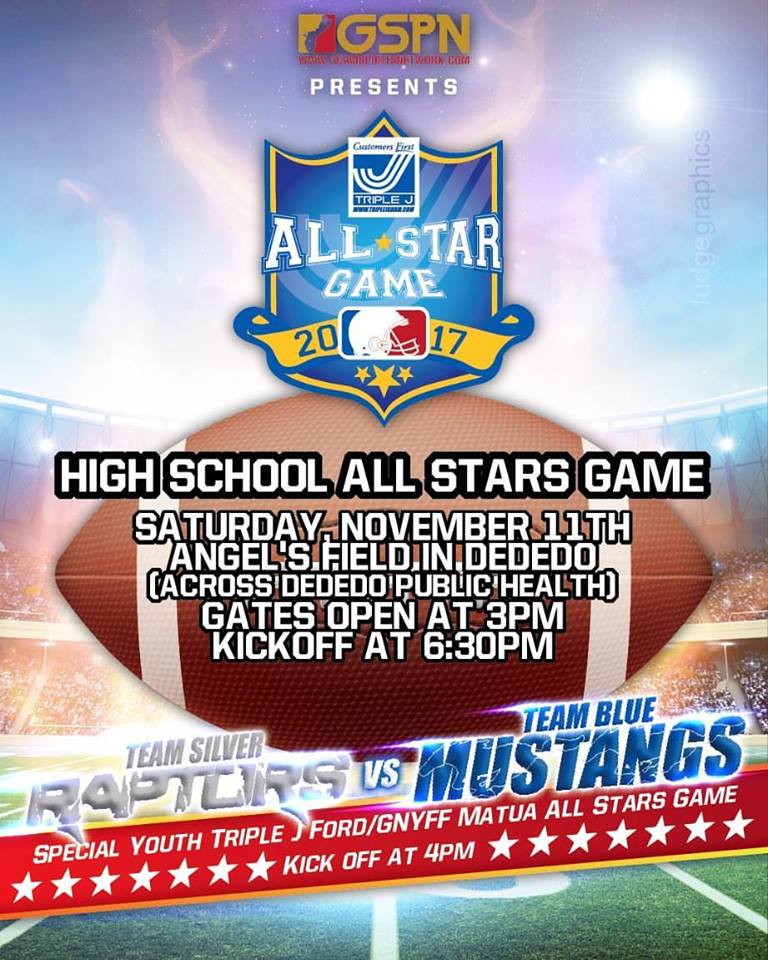 By Robert Balajadia
GSPN's presentation of the 2017 Triple J High School Football All-Star Game is just a mere week away! The third annual event is set to take over Angel's Field Saturday November 11th with an evening full of activities, like a GNYFF Matua All-Star Game at 4 pm, before the games kick-off at 6:30 pm.
The previous two years have seen the IIAAG's Championship coaches take the mantle of the Raptors and Mustangs in FD's Bruce Meno and GW's Ryan Rios, but both coaches have elected to handoff the All-Star Game coaching duties to JFK and Tiyan after reaching the title for the third straight time in the All-Star Game era.
Both coaching staffs met last week to draft their teams, so let's take a quick look at their selections!
Mustangs (Titans coaching staff)
Friars – x 11
Geckos – x 8
Titans – x 4
Panthers – x 3
Islanders – x 1
Sharks  – x 1
The Mustangs knew exactly what direction they wanted take their football team after drafting the league's top quarterback along with the league's top two pass catchers. FD quarterback Daniel Phillips already has great chemistry with league MVP in receiver Xavier Naputi, but at his disposal is Gecko receiver Aaron Jamanila, who has dominated just about every team he's faced (except FD) with touchdown catch after touchdown catch.
They are also protecting their assets with a bulky line and a speedy defense to try and pave the way for their aeriel attack as well as the league's best kicker in Giancarlo Abril if the game calls for field goals.
The past two All-Star Games were won on passing touchdowns so the passing game has proven to be a winning strategy!
#1 pick – Xavier Naputi (WR/FD/12th)
—
#4 pick – Daniel Phillips (QB/FD/12th)
#5 pick – Aaron Jamanila (WR/GW/11th)
—
#8 pick – Giancarlo Abril (K/FD/12th)
#9 pick – Mark Laanan (CB/Tiyan/12th)
—
#12 pick – Kai Akimoto (FB/FD/12th)
#13 pick – Kobe Onedera (DL/FD/11th)
—
#16 pick – Kin Rivera (C/FD/11th)
#17 pick – Jimmy Green (OT/FD/12th)
—
#20 pick – Raven Santiago (LB/FD/12th)
#21 pick – Jaylen Dowdell (LB/Guam High/12th)
—
#24 pick – Jose San Miguel (OG/GW/11th)
#25 pick – Makoa Bamba (LB/Guam High/11th)
—
#28 pick – Jon Espino (LB/GW/11th)
#29 pick – Nick Akimoto (OG/FD/11th)
—
#32 pick – Christopher Parker (OL/DL/JFK/12th)
#33 pick – Andrew Blas (WR/Tiyan/11th)
—
#36 pick – Christian Cabrera (NG/U/GW/11th)
#37 pick – Resean Jacobs (U/Guam High/11th)
—
#40 pick – Nathaniel Pinaula (S/FD/11th)
#41 pick – Davin Benavente (DE/GW/10th)
—
#44 pick – Javier Lujan (RB/Tiyan/12th)
#45 pick – Jerome Quichocho (LB/GW/11th)
—
#48 pick – Keanu Salas (CB/GW/10th)
#49 pick – Rickey Macias (QB/GW/9th)
—
#52 pick – Joshua Sablan (U/Sanchez/10th)
#53 pick – Zavier Cruz (OG/Tiyan/11th)
—
#56 pick – Tatum Aflague (WR/FD/12th)
Raptors (Islanders coaching staff)
Friars – x 12
Sharks – x 5
Islanders – x 4
Geckos – x 3
Titans – x 3
Dolphins – x 1
Defense wins championship games and the Raptors are built like defense also wins All-Star Games. Taking the defensive MVP in JFK Islander linebacker Chase Spotanski with the first pick followed by the league's most dangerous runner in De'Aundre Cruz set the tone for their team's direction. Scooping up a wealth of the FD Friars defensive line puts the pressure on the passing game of the Mustangs.
The ball carriers for the Raptors are of the best in the league and their strategy to take all the running backs before the Mustangs could get any has loaded the tailback position. Receivers Tyler Pangelinan, Calvin Aguon and Jonah Hahn have proven to be great vertical threats if and when the Raptors decide to go airborne.
They have enough runners behind them to run all game long, like they very much intend to!
#2 pick – Chase Spotanski (LB/JFK/12th)
#3 pick – De'Aundre Cruz (RB/FD/12th)
—
#6 pick – Kobe Quiambao (QB/Tiyan/12th)
#7 pick – Tyler Pangelinan (WR/Tiyan/12th)
—
#10 pick – Kamerin Toves (RB/Sanchez/10th)
#11 pick – Fred Lumagda (LB/Tiyan/12th)
—
#14 pick – Rylan Napoleon (DT/FD/11th)
#15 pick – Isaiah Reyes (DE/FD/12th)
—
#18 pick – Justin Camacho (RB/JFK/12th)
#19 pick – Joshua Relativo (C/Sanchez/10th)
—
#22 pick – Brandon Kinsella (S/FD/12th)
#23 pick – Noah Diaz (CB/FD/11th)
—
#26 pick – Jobe Guzman (OG/FD/12th)
#27 pick – Calvin Aguon (RB/GW/12th)
—
#30 pick – Kyle Mcintosh (OT/FD/12th)
#31 pick – Kyler Valencia (CB/FD/12th)
—
#34 pick – Jake Uncangco (OG/Sanchez/12th)
#35 pick – Hanson Ignacio (OT/Sanchez/11th)
—
#38 pick – William Rios (DE/GW/10th)
#39 pick – Jaylen Delgado (DT/FD/12th)
—
#42 pick – Daraven Perez (NG/FD/12th)
#43 pick – Jonah Hahn (TE/JFK/12th)
—
#46 pick – Evan Bejerana (CB/JFK/12th)
#47 pick – Austin Peredo (LB/FD/12th)
—
#50 pick – Kein Artero (RB/FD/10th)
#51 pick – Ethaniel Cali (OT/GW/11th)
—
#54 pick – Atdao Natividad (P/Southern/12th)
#55 pick – Kameo Toves (FB/Sanchez/10th)

QUICK HITS
3rd place: Big ups to the Para Todu Rugby Club for finishing 3rd out of 16 teams in the Manila 10's Rugby Tournament today. Biba Guam Rugby!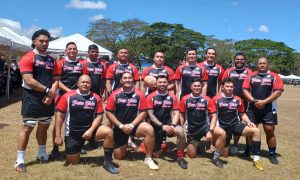 ——————————————
Guam MTB National Championship: Edward Oingerang and Jennifer Camacho are your 2023 MTB national champions. Oingerang finished the course in 1:13:24 while Camacho won her second straight title in 54:08.