By Robert Balajadia
When the Academy Cougars won the 2015 IIAAG girls basketball title after dominating the league with a +20 win margin all season, their future was clear: then freshman center Mia San Nicolas was a transcending star and then sophomore power forward Meaghan 'Ming' Cruz was the perfect compliment for a tandem that was going to set the tone for the Cougar program for the next few years.
But when the Cougars tipped off their 2016 season, neither one of the leagues biggest players, on a physical and skill level, were on the court and they weren't going to be for any game that season.
Both San Nicolas and Cruz tore their ACL forcing them to miss a whole year of basketball. Mia injured her right knee playing soccer for the Cougars and two months later, Cruz busted her left knee playing volleyball and both injuries required surgery.
"I didn't really know how to go through it because it was the hardest thing I've had to deal with," said San Nicolas on her reaction to her injury.
"It was depressing," admitted Cruz. "Knowing that Mia was going through it as well was comforting to me, but it didn't change the fact that I was really down and depressed."
It was so hard for the girls to let their head coach Eddie Pelkey know the bad news that they elected not to be the bearer.
"My dad took care of telling coach," said Mia.
"My doctor (Luis Cruz) told him," said Meaghan.
Pelkey's reaction was not basketball related.
"What can I do to put them in the right hands and right medical personnel and how else can I help them?," said Pelkey on his instant reaction. "Basketball, at the end of the day, is second to everything. I care about these players as people and I was only concerned about their mental and physical well being. I could care less about a basketball season at that point."
In the blink of an eye, the Cougars lost two vital pieces before they could even begin their 2016 championship defense. Guard Rosita Duenas and Cam Hatori took the lead to wedge the Cougars into one of the top five teams in 2016, but they fell in the playoffs to the ND Royals with both San Nicolas and Cruz helpless on the sidelines.
"We would look at coach in some of the timeouts and just ask if we could go on the court and just stand there or set picks or do something! We felt so helpless. But when we lost, coach pulled me aside and said 'remember how this feels', which really stuck with me," said Cruz.
Despite being injured, the girls were present for every single game. And instead of sulking for too long, the girls turned their attention towards recovery where they admitted to actually enjoying physical therapy.
"It was the closest thing to basketball we had so we were motivated," said Cruz.
Back on track
Fast forward to 2017 where the Cougars are rocking a league best 14-1 record. San Nicolas is averaging 23.6 points per game and 15 rebounds while Cruz is averaging just over 13 points and 10 boards a night.
It helps that San Nicolas stands a solid 6'0″, the tallest player in the league, while Cruz is right around 5'10", but their game is even bigger than their height difference amongst the league.
Mia is comfortable going coast-to-coast after pulling down a rebound, which tells you a great deal about her ball handling given she's adept at finishing in transition, à la LeBron James style without the dunk. She's got a nifty spin move in the post that you're not used to seeing in the ladies game and she's a knock-down free throw shooter for good measure.
"You have a player in Mia, who is arguably the best in high school, it gives the other girls a bunch of confidence. Having Mia allows us to open up the playbook a lot more," said Pelkey having Mia back.
Meaghan is the best passer on the Cougars and is also a stalwart on defense with her ability to reject shots back at opposing teams. You'll often see the Cougars utilize Cruz's playmaking ability as she directs traffic from the high post, but she's also willing to put the ball on the floor and bully her way to the bucket.
"Ming is more of a mid-range player. She is the best passing big I've ever coached [male and female] and her and Mia have such a good relationship on the court. Ming also takes on the leadership role and having both of them back gives us a different flavor," said Pelkey.
Bond stronger than their repaired ACL
The tandem had developed a strong bond since being teammates and their recovery process only helped strengthen it.
Mia knows where Cruz likes to receive entry passes and what side of the basket she prefers to attack as well as what playlist Cruz uses to get into game-mode, which surprisingly was old-school rap.
Meaghan can almost throw a pass to San Nicolas with a blindfold on and knows where Mia likes to feast in the paint, as well as where she prefers to feast off the court, which happens to be Taco Bell.
"Sometimes when we catch ourselves arguing on court, we'll stop and look at each other like 'what are we doing?'," laughed San Nicolas.
It's also clear that Meaghan is the teams comic-relief with another skill of hers being able to diffuse a tense situation with just a few words or actions.
"Ming is the life of the party. Basketball isn't as fun when she's not around," said San Nicolas.
"If anything, we probably missed her personality the most on the court," said Pelkey.
Mia is quite the opposite as she often just lets her numbers speak for her. San Nicolas doesn't overtly celebrate her achievements and doesn't dabble much in her defeats.
The Cougars only loss in 2017 came at the hands of the St. Paul Warriors in double overtime, but Mia had not lost a IIAAG basketball game since her 6th grade year which made their mid-season 'L' a big deal in the eyes of the media. But after the streak was broken, San Nicolas wasn't phased in the slightest.
"The streak had to end sometime," was all Mia needed to say.
"Mia is the stern one of the team and we need someone who's always that focused," said Cruz.
The girls also stated that winning the 2017 title is the goal, but it isn't quite 'title or nothing'. They're more concerned about leaving their best on the court regardless of the outcome, and given what they've endured on their comeback, the two are just enjoying every minute of basketball they can.

QUICK HITS
3rd place: Big ups to the Para Todu Rugby Club for finishing 3rd out of 16 teams in the Manila 10's Rugby Tournament today. Biba Guam Rugby!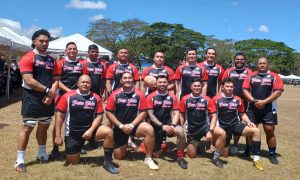 ——————————————
Guam MTB National Championship: Edward Oingerang and Jennifer Camacho are your 2023 MTB national champions. Oingerang finished the course in 1:13:24 while Camacho won her second straight title in 54:08.