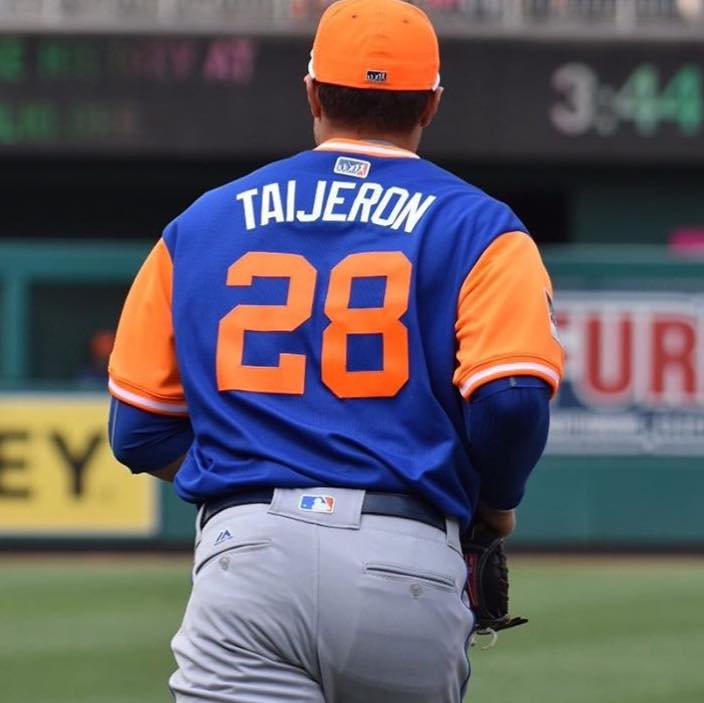 By Patrick Lujan
Chamorro Pride resonates all the way from the Big Apple as Guam blooded rookie outfielder Travis Taijeron recently fulfilled every child's dream of making the big leagues with the New York Mets.
Taijeron, who's a descendant of Vicente Taijeron from Malesso, is a 6-foot-2 225 lb. power hitting outfielder who spent six years in the minor leagues before getting the call up on Aug. 26th.
FAMILY TIES
Travis' grandfather Vicente grew up in Malesso before serving in the U.S. Navy from 1940-1970. He is known to have written an autobiography called 'No Man's World' where he gave an account of his life as a child then his experiences serving during WWII, including being on three ships when they sunk under his feet.
Vicente met Travis' grandmother (ironically) in New York City before having four children (three boys, one girl); one of the four is Travis' father Manuel.
Travis' great-grandmother is from Agat, where his Auntie Rose Olis still resides today.
Manuel Taijeron married his wife Katie and they have two kids: Travis and Tori Francis. Older brother Shaun is from Manuel's first marriage.
Travis married his new bride Dayna last fall.
Did you track all that? Feel free to read that over again!
BASEBALL CAREER
Taijeron was drafted in the 18th round by the Mets in 2011 out of little known Cal Poly-Pomona. The 28-year-old was born in La Mesa, CA and worked his way through the minor leagues where he recently spent three years at Triple A Las Vegas, averaging .275 and over 20 homers a year.
Just over the weekend, Taijeron hit his first major league home run at Citi Field! (watch it here)
"It felt really good," Taijeron said. "It's a good feeling always, the first one, and hopefully more to come."
Only the second Chamorro known to make it the big leagues besides JR Hattig, Taijeron took time out of his busy schedule to answer some questions from GSPN.
GSPN: Growing up, how much were you taught about Guam from your family?
Travis: Whether I was aware of it or not, I was exposed to the culture just by spending time with my Chamorro family. My grandfather who grew up there passed away before I was born so I never got to hear his stories about growing up on the island first hand, but my father did tell them to us as we grew up.
GSPN: Do you communicate with any of your family on Guam?
Travis: I personally don't but my father does keep in contact with them.
GSPN: How much of Guam do you carry with you as a professional athlete?
Travis: I feel that I carry a lot of Guam with me through my grandfather and father. Without their strong character and pride, I wouldn't be in this position today. 
GSPN: Your grandpa wrote a book about his experiences during WWII. Have you ever read it? If so, what's your thoughts?
Travis: Yes, I read my grandfather's book No Man's World. It was the first time I was able to see Guam through someone's eyes who actually lived there. I read it when I was in middle school so I was more intrigued by the war stories and adventures, but now looking back on it as an adult, I appreciate the amount of perseverance it took to survive the war and three sinking ships all while sending money back home to his family. 
GSPN: What other sports did you play growing up and what made you stick to baseball?
Travis: I also played hockey, soccer and football growing up. I stuck with baseball because I truly loved the sport and saw it as something I could do and enjoy for a lifetime.
GSPN: Six years in the minors before finally getting called up. What were you doing when you got the call?
Travis: I was in the clubhouse, had just gotten done hitting in the cage when I was called into my manager's office to get the news.
GSPN: How much of a relief was it to finally make it to the majors?
Travis: It was more than a relief, it was an accomplishment. It was something I had worked my entire life for and in that moment my dream became reality.
GSPN: Now that you're there, what is your mindset to stay?
Travis: I just need to remind myself that this is the same game I have been playing my entire life. Keep it simple and enjoy every second of it.
GSPN: Have you gotten your first major league paycheck yet? Any plans with the first one? 🙂
Travis: Not yet! With the first one I plan on paying off some minor league debt.
GSPN: How did it feel to get your first major league hit?
Travis: It was a relief and (hopefully) the first of many. (see video here)
Taijeron is interested in taking up GSPN's offer to come to Guam in the off season, depending on whether he's required to play winter ball for the Mets. Stay tuned!
OTHER KNOWN PRO BASEBALL CHAMORROS 
Keith Hattig, INF
James Guerrero, INF
Pete Perez, P
Trae Santos, INF

QUICK HITS
Guam MTB National Championship: Edward Oingerang and Jennifer Camacho are your 2023 MTB national champions. Oingerang finished the course in 1:13:24 while Camacho won her second straight title in 54:08.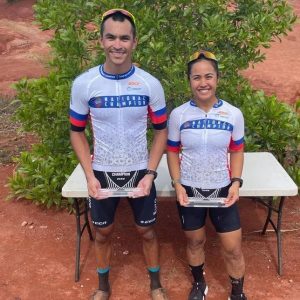 ——————————————
Kobe Miyashita, with St. John's coach Arvin Flores, was named the 2023 IIAAG Middle School Boys Volleyball MVP!