The annual FD Alumni Basketball Tournament is rendering it's single-elimination playoffs, separating the title contenders from the pretenders.
Sunday's action involved a handful of lopsided games with the usual suspects moving on to the final week of play.
Scores
2006 – 53, 91 – 32
Steve Sablan and AJ Reyes scored 13 each as the five-time champs cruised to another second round win.
1996 – 42, Cream Team -40
Luis Blanco scored a game-high 20 to outlast the 'Cream Team' and Steve Baza's 13 points.
2010 – 102, 92 – 66
Chris Ueki's monster 26-point night and a three-point barrage from Earvin Jose (21 points) gave 2010 the large victory over 92.
09-45, 2012 – 44
Dom Sablan's 24 points and work from the free throw line allowed '09 to post a strong comeback, knocking off Glen Gogue 14
02/04 68, 08 – 57
Sean Perez had the green-light all night, scoring 26 points to overcome a big day from 08's Jason Baza who scored 25 points.
75 – 33, 07 – 37
The host class of '07 used a team effort to knock off the veterans and Dr. Bob LG's 9-point nigh.
16 – 63, 12 – 40
Devin Sudo scored 13 points to hand 2012 a loss in their double-header. Cam Eusebio scored 11 points to lead 2012.

QUICK HITS
The Guam Smokin' Hot women's softball team captured first place in the Asia Cup Softball Championships 2023 in Bangkok, Thailand.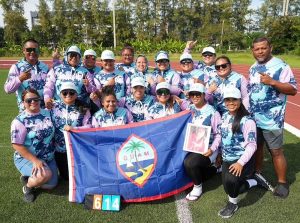 ——————————————————-
Roque Martinez gets the unanimous decision win Saturday night in his debut fight in South Korea's Black Combat promotions.
The 37-year-old controlled the tempo all three rounds and bloodied his opponent with some 3rd round ground and pound.