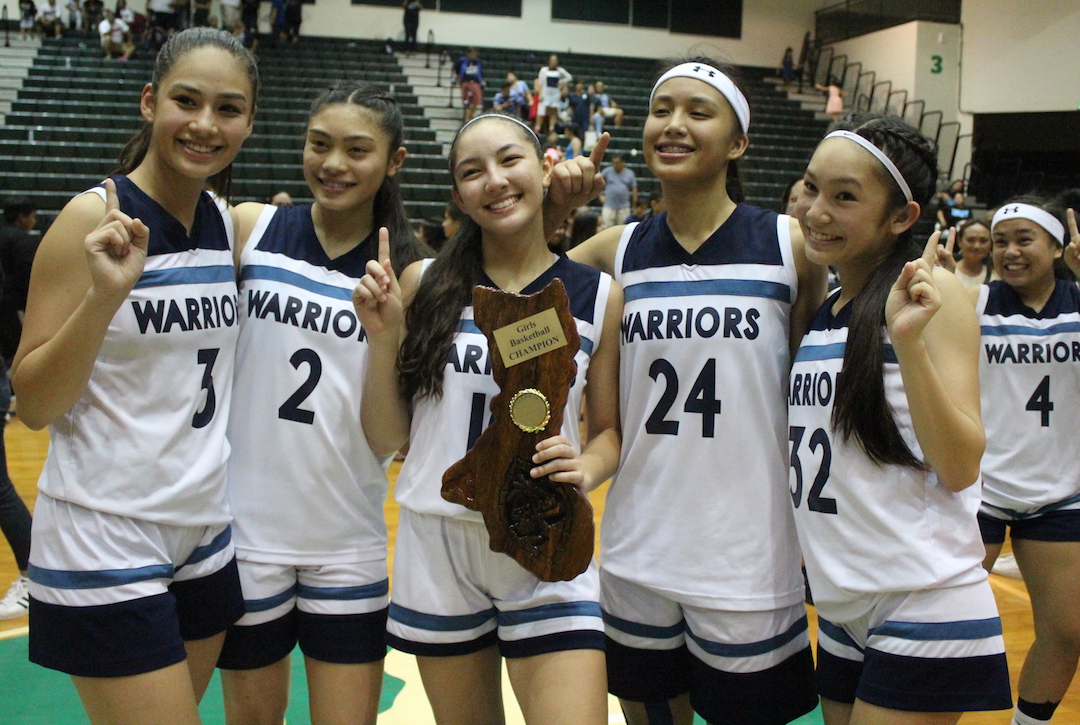 By Robert Balajadia
Not all sequels are as good as their prequel, but the second meeting between the St. Paul Warriors and Academy Cougars in 2017 to decide a IIAAG Girls Basketball Champion delivered another dramatic ending.
Warriors forward Monica Giger fought for an offensive rebound, tipping a pass to center Niah Siguenza who flew in for a game-winning lay-up as time expired to give St. Paul a wild 56-54 overtime win to send the crowd at the UOG Calvo Field House into a Saturday night frenzy.
"I saw [Isla] go in for the layup so I just chased as well. It was all or nothing in those last seconds. I was in the right place and got the shot to go in. I have to give all the thanks to God because he was there for all of us. It's an amazing feeling. I don't know how I was able to do it," said Siguenza on the big shot.
Siguenza finished with 16 points, but none bigger than her last.
"[Niah] has been that for us all year. I know she's only 2nd team All-Island, but she's our MVP. Without her, we're not as good as we can be. I had to play her all game and she had no rest. I'm very proud of her for sucking it up and not subbing out at all," said Warriors head coach Paul Pineda.
The regular season meeting between the leagues top two teams needed double-overtime to decide a winner and the Warriors were seeing deja vu as the Cougars scored on a last-second regulation bucket to force the championship-game overtime.
With 13 seconds on the clock, Warriors guard Isla Quinata missed her second of two free throws while holding a 49-47 lead. Cougar and league MVP Mia San Nicolas grabbed the defensive rebound and raced down floor with the game on the line.
Flashing back to the regular season, San Nicolas used a nifty spin move in the lane that set up her thrilling shot at the buzzer to send the game into overtime. In the title game, the Warriors were ready for the play as they collapsed on Mia as she made her spin.
"We had talked about that play all week after watching film. She did that to us last time but we made the mistake of not playing up on her. This time we made a different mistake," said Pineda.
But this time, San Nicolas would send a dish to a wide-open Meaghan Cruz who converted on the layup with a second left in regulation to force the championship game overtime.
"It was definitely deja vu. [Isla] was also cramping up like she did in the regular season game and we felt history was replaying itself. But we won the first time so we just made sure to do everything we could to win again," said Siguenza.
"There was a lot of pressure on us after that, but coach always tells us to trust the process. I think we did that down the stretch and we played like we had each others backs on the court, so I was confident we were going to come out with the victory," said Senne.
Cruz would finish with 15 points to lead the team and San Nicolas finished with 13 points and 21 rebounds.
"Academy is a great team coached by a good friend of mine and I didn't expect anything less. I knew they were going to come out and give us a hard time," said Pineda.
How the overtime was won
Tied at 52, Warrior guard Chloe Miranda turned a steal into a fast break opportunity, hitting Quinata for a lead changing layup 54-52 in the final minute of the game. The Cougars turned to San Nicolas as she made good on a layup to once again tie the game at 54.
A baseline floater attempt from Quinata came up empty and the Cougars burned their final timeout to draw up a play for the final 15 seconds of action.
The inbound was thrown along the Cougar baseline as it was immediately met with a double team which allowed Giger to get her hand in on a game-saving steal.
Racing down the other end was Quinata, who was shadowed by San Nicolas on the drive who was a foul away from disqualification. As Quinata's layup hit back rim, the missed shot came down to a rebound battle between San Nicolas and Giger.
With both hands fighting for the ball in the air, the ball would take a divine swing into a ready Siguenza, who calmly sank the shot to win the title.
This was the Warriors first title since 2007, breaking a 10-year title drought in 2017.
(Catch the last moments of the LIVE game on GSPN's Facebook account)
PHOTO GALLERY BROUGHT TO YOU BY:

QUICK HITS
Guam MTB National Championship: Edward Oingerang and Jennifer Camacho are your 2023 MTB national champions. Oingerang finished the course in 1:13:24 while Camacho won her second straight title in 54:08.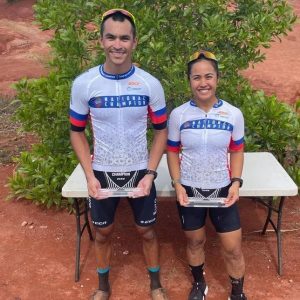 ——————————————
Kobe Miyashita, with St. John's coach Arvin Flores, was named the 2023 IIAAG Middle School Boys Volleyball MVP!