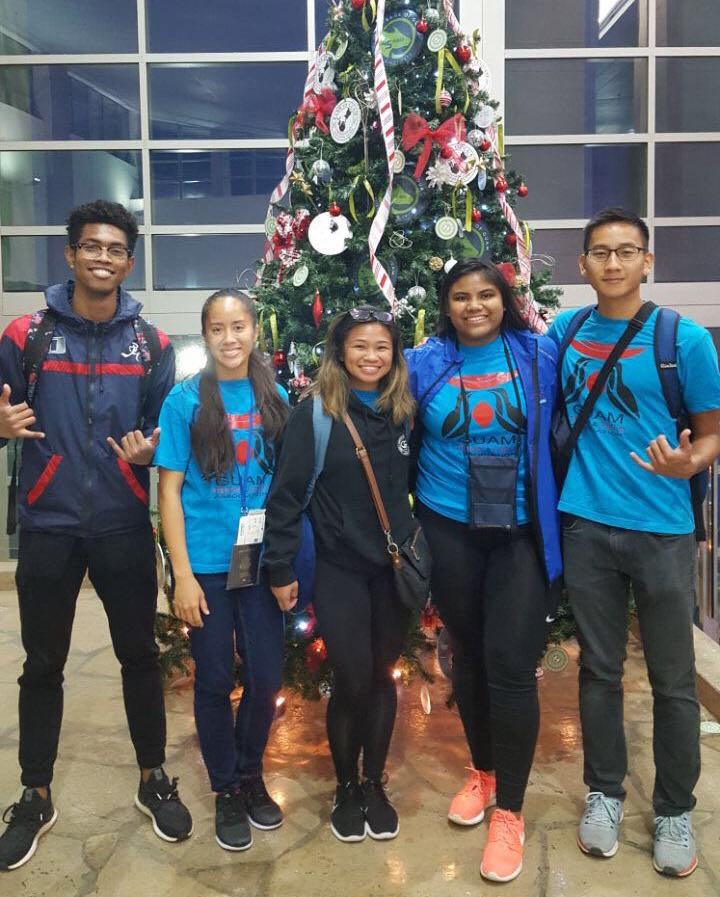 By Jay Leon Guerrero
The Pacific Mini Games in Vanuatu is already underway with Weightlifting and Judo starting the games on December 5th. The second round of athletes will start their competition later this week with Beach Volleyball and Track and Field ready for competition.
Tatiana Sablan and Kendra Byrd will take the sand and represent Guam once again in Beach Volleyball. "This is my second opportunity to compete at the Pacific Mini Games I played with my current partner Kendra Byrd back in 2013 at the Wallis and Futuna," said Sablan.
The duo look to bring their experience from the previous games to bring home a medal.
"It looks like there are more women's teams participating compared to the last Mini Games which possibly means that the level is getting better. I'm expecting that the other teams will challenge us and introduce us to new and different styles of play. I can remember playing against some of the same countries in the previous mini games and I have a feeling that we will meet and play against each other again," said Byrd.
Track and Field will bring four athletes, three females and one male. Athan Arizanga, Shania Bulala, Genina Criss and Amanda Cruz will compete in their first Mini Games. The four young athletes will have Olympian Joshua Ilustre accompanying them as an official.
"I'm really excited for this competition. Ive been training since March for this and I really want to know where i stand; my goal for this competition is to bring home a medal," said Criss who will do multiple events.
This is just the beginning for Criss and the entire team who look to gain experience at the Mini Games to set their resume for bigger events such as the Olympics and Asian Games.
Bulala and Arizanga are coming fresh off the Asian Indoor Games in Turkmenistan. Both said the experience in Turkmenistan will help them for the Mini Games.
"It helped me mentally and I could also say physically as well. Now that I know what international competition feels like, it makes me work even harder to represent my Island," said Bulala. Bulala will be doing the 100m, 200m and possibly the long jump.
No home of their own
"There were some setbacks in training," said Bulala. The athletes were unable to train on a proper track due to costs and availability. The tracks at JFK and GW are currently unavailable due to construction or light availability. The only available track is on the military bases or Okkodo High School.
"It's sad cause we were being charged a high amount just to use the track for a couple of hours a day," said Bulala.
The athletes were fortune to get some help after word got out the athletes had no track to train on. "We were able to train for a couple of hours a day at the Guam High Track," said Bulala. The team thanked the Guam High faculty, most especially Mr. Ben Leon Guerrero and Mr. Jason Sheedy for their assistance to use their facilities.
"I've experienced high caliber competition in Turkmenistan and it gave me more insight in what to expect. I've grown stronger with my mindset and it pushed me to get stronger and more explosive out of the blocks," said Arizanga.
"I'm looking forward to this experience and can't explain how truly excited and honored I am to be able to represent our island," said Byrd. "I'm truly honored to represent Guam once again. I'm excited for the experience and meeting new people and sharing our Pacific Island cultures," said Bulala. "I also heard Vanuatu has an abundance of lobster so I can't wait to try that. But, of course, after the competition," joked Bulala.
Both sports will get their first crack of competition on Monday, December 11th. Guam has accomplished one medal, a silver medal, won by weightlifting Jacinta Sumagaysay.

COMING SOON …
High School Football starts Sept. 29
Brawl 3: Oct 13
Guam's Strongest Man and Woman Competition October 29
QUICK HITS
The Figo Islanders 40s women's softball team took gold in the Senior Softball World Championship in Las Vegas. Figo came out of the loser's bracket and beat the Arizona Belles 17-3 in the AA division championship game Sunday afternoon.
Other Guam teams that played in the 40s tournament were: Team SOTTA (women's) and Bud Light Guam, Friars 671 and Sindalun Guahan (men's).
Sindalu finished a respectable 4th out of 24 AAA division teams.