PRESS RELEASE – Naivety in a few moments of the international friendly match between a relatively young Guam Women's National Team "Masakåda" and the Singapore "Lionesses" proved costly in the form of three goals Saturday evening at the Jalan Besar Stadium in Singapore.
"We are all obviously disappointed in the result, but I'm still proud of what the players have gained through the match in such a short time they've been together," said Belinda Wilson, Guam's head coach. "We are truly beginning to really create depth and sustainability in our program, as players making the transition from the youth national level to the senior national level rose to the occasion and were learning as they went. The average age of Guam's team was just about 17 years old and they played against a team with players on average about five years older.
"Despite the age disparity, we still managed to keep Singapore's team on high alert, while also creating several of our own scoring opportunities, which is a reflection of the progress we've made over the past few months. It also serves as an indicator of what improvements we still need to make to get to where we need to be," Wilson added.
Three of Guam's starters – Jinae Teria, Abigail San Gil, and Celine Doronila – all played earlier this year in the EAFF U15 Girls Championship, and another three players – Kiarra Hutcherson, Samantha Fegurgur, and Shyann Roberto – also featured on the same U15 Girls team. Of the 16 players on Guam's roster, 12 are still eligible to suit up for their respective high school teams in the upcoming 2018 IIAAG Girls High School Soccer League.
Singapore's Stephanie Dominguez opened her team's account in the 21st minute, barreling down the left side of the pitch on a give and go with teammate Nur Farhanah Bte Ruhaizat and finishing with a right-footed shot over Guam goalkeeper Chyna Ramirez. With just six minutes left in the match, Raudhah Kamis doubled Singapore's advantage, and teammate Afiqah Omar added one in stoppage time.
Guam captain Anjelica Perez earned the match's first shot on goal, attempting the finish off a through ball from Skyylerblu Johnson in the seventh minute. Johnson also tallied a string of shots on goal, with the majority in the final 15 minutes of the match. Yae Kawauchi and Jinae Teria also had some looks at the goal but Singapore's defense managed to avert the opportunities.
Following the match, Football Association of Singapore hosted a dinner at the VIP level of Jalan Basar Stadium for both teams.
PHOTO GALLERY BROUGHT TO YOU BY:

QUICK HITS
Guam MTB National Championship: Edward Oingerang and Jennifer Camacho are your 2023 MTB national champions. Oingerang finished the course in 1:13:24 while Camacho won her second straight title in 54:08.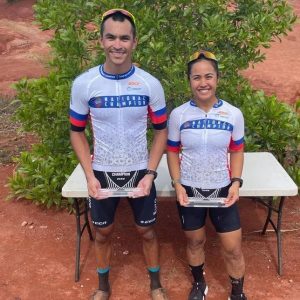 ——————————————
Kobe Miyashita, with St. John's coach Arvin Flores, was named the 2023 IIAAG Middle School Boys Volleyball MVP!