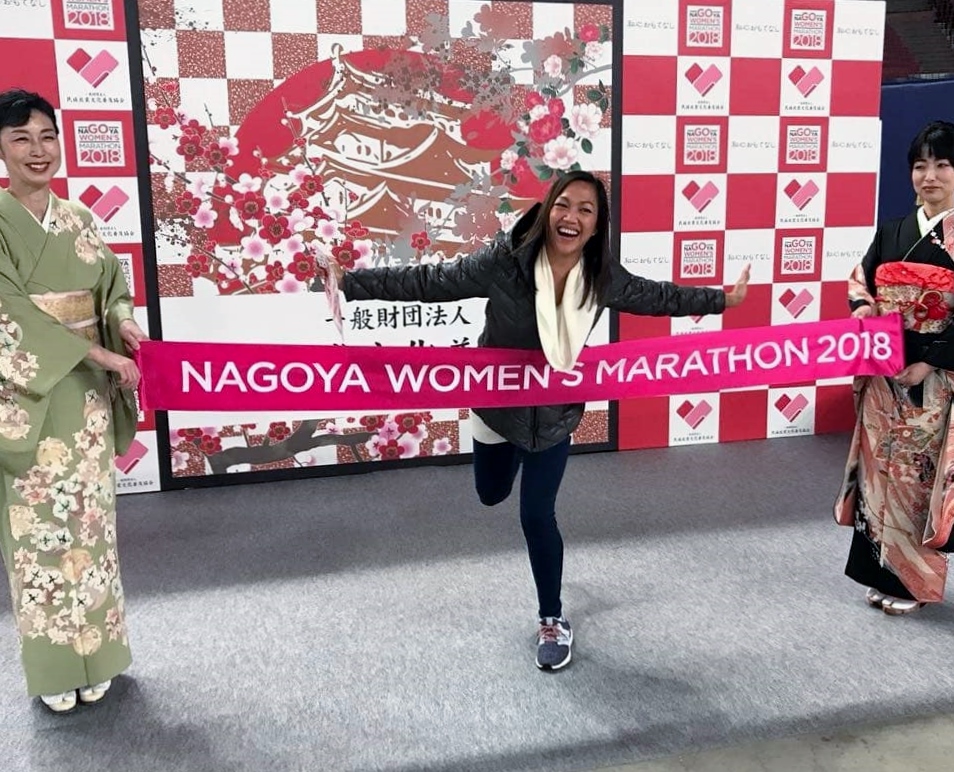 By Patrick Lujan
Just as we're moving along life feeling healthy and good about ourselves, an unexpected hurdle gets thrown our way.
For marathoner and long-time running enthusiast Marissa David Peroy, life not only set up a row of hurdles but a steeplechase obstacle.
Just a few weeks ago, Peroy and eight other Guam women ran the Nagoya Women's Marathon. An event that set a new Guinness record with 21,915 female runners.
It was her eighth marathon!
"It was a breath taking experience and life changing for me," said the 43-year-old mother of three. "Eighteen weeks of training, I think I did pretty well. I was happy with my 4:35:00 time. I was hoping to go under 4:30:00 but I felt good throughout the whole thing."
Then 'things' happened when she came back.
It was the Tuesday morning on March 13th when she started having headaches upon her arrival back from Japan.
"I wear contacts and Nagoya was very cold. I had a difficult time running because my eyes were bothering me," said Peroy, as she tried to figure out the reasons of the headaches. "I couldn't rest and eat very well so I felt I wasn't recovered enough from the marathon."
Friday, March 16th.
"I couldn't sleep. My husband (Ferlito) said I was unresponsive and they rushed me to the ER and I was almost in a comatosed situation. I was feeling numbness on my left side."
A CT Scan revealed swelling in her brain. Come to find out there's a hollowed tumor on the right side of her brain.
Just within the past week, an MRI showed the need for surgery soon.
"One week I'm jumping for joy with a Tiffany necklace around my neck (as every marathon finisher received one as a gift prize) and now I'm talking about brain surgery. We don't know if it's a cancer. It's a lot to take in."
Always one to wear a smile and be of any help to all, the 4th grade teacher at McCool Elementary School is in a peculiar state. Since being hospitalized, she hasn't felt any affects.
"I've been feeling really good lately. I don't feel any different than before. There's something up there because I see it in the pictures, but I don't feel limited."
Her doctor even suggests she doesn't pull back on her physical activities. "'Do I stop everything?', but the doctor said to continue what I'm doing. I'm feeling very positive about this. My faith is so strong. The community of Guam is overwhelming and very strengthening."
BRAIN SURGERY ON ISLAND
Peroy was able to schedule a surgery on April 20th at the Guam Regional Medical Center to remove as much of the tumor from her brain with an expected 4-5 day recovery in the hospital. There is a possibility of more surgeries.
"I take this as a testimony to show others that no matter what life brings you, you have to take it with courage and faith."
Peroy has been active in the running community on island since she started running in high school at JFK under coach Joe Taitano. She hasn't stopped since. She even has given back as a track coach before taking up the current position of General Secretary of the Guam Track & Field Association.
"It's what I love to do. It's an adrenaline and it keeps me motivated."
OVERWHELMING SUPPORT
Peroy says she's received an overwhelming array of support from everyone from her husband and three kids (Nathaniel 15, Naomi 13, Neo 7), to her students at McCool school.
"Everybody at school are aware of my situation and sending me lovely messages. My family has been pretty positive and it hasn't bothered them. I'm happy because I don't want them to be scared. Ferlito has been holding my hand throughout this whole thing."
As for her brothers and sisters in the running community, they've set up a medical fundraiser that's already sold out!
"They've already sold all 300 tickets," she mentioned about the running family's support.
Running Community Fundraiser
Cowboy Ninja,  April 8
6-10 pm
"I've been receiving overwhelming offers of help and prayers."
With the positive outlook on life and the endless support received, Peroy will easily get over this steeplechase hurdle and make a huge splash at the other side.