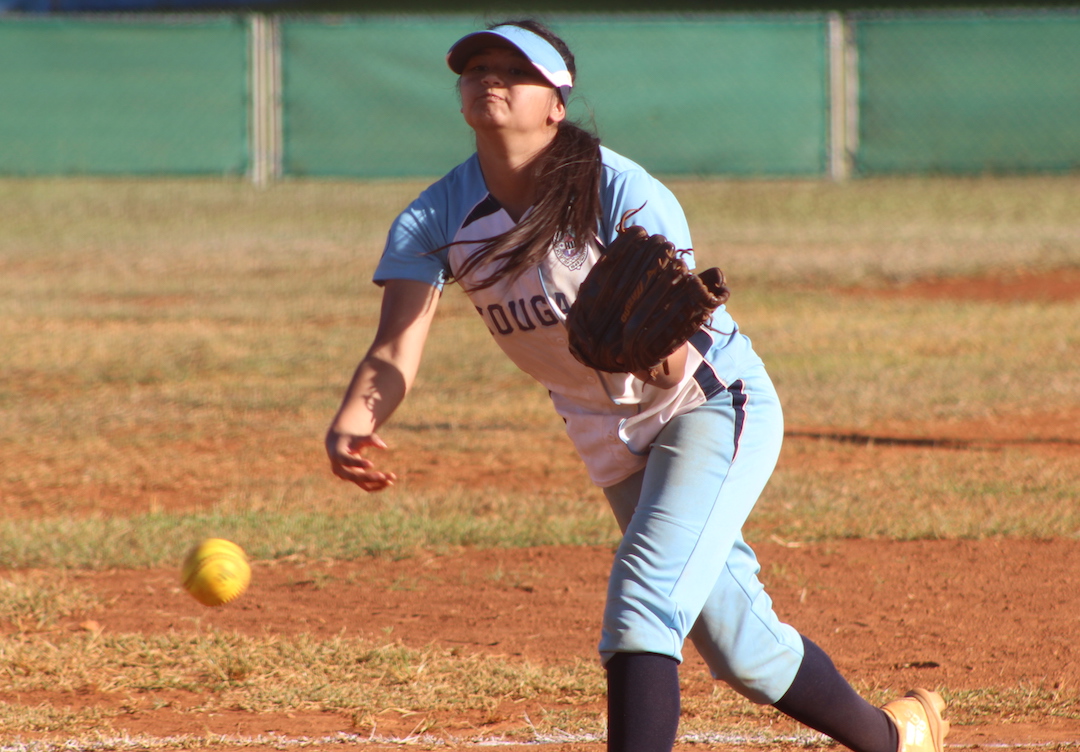 By Cole Alex Kim
The Academy Cougars faced off against the visiting Geckos on their home diamond Thursday afternoon at the Tai Field. Academy defeated GW 12-2 in the six inning match, not going a full seven innings due to nightfall.
The Cougar offense was on top of their game, having many short bursts of energy throughout the matchup producing runs, one of these being a five run series which almost put the five inning mercy rule into effect. If there was one more run scored, it would be game over, giving a victory to the Cougars, who were bouncing back from a loss to Guam High last week.
"It took communication, dedication, and desire to comeback and make that loss something that will fuel us for all of the games that are left," said Doriaun Calvo, who stole many bases and hit an RBI, "it was really our defense who held it down."
Academy's defense was able to stop the Gecko's offense after being led by veteran pitcher Ashley Mendiola, who struck out an impressive 11 total batters in a six inning span.
"The Geckos were a very competitive team and they brought it to us," stated Mendiola, "I would like to thank my team also, because they were behind me all the way. And for the defense, it's just about communication and being on the same page as one another."
Only two GW runs were allowed by the Academy defense. This duo of runs was scored in the second inning. One of which being scored when Kamerron Gumatoatoa stole home after stealing second and third base when she had been previously walked by Mendiola.
GAME FLOW
The Cougar defense came out and started making plays almost instantly in the top of the first inning, striking out two and catching a flyball, forcing an out. Only one base hit was made and that was a single.
Academy scored one run when it was their time to come to the plate. This run was scored when Tenorio was able to run her way home after a faulty pitch. This gave Academy a slight edge over GW, with a score of 1-0.
GW made a good impression when they were able to score two runs in the top of the second inning, one more run than what Academy had. The first run was scored when Kamerron Gumatoatoa was able to run home after a wild pitch was thrown. The next run was put on the board shortly after when an RBI single was hit by Rayleen Sablan, allowing a baserunner to run home. This gave them the 2-1 lead.
The Cougars scored a triple threat of runs in the bottom of the second inning. Two of which came from a pair of RBI singles from Isabel Muna and pitcher Ashley Mendiola. The other one was from an impressive sacrifice ground ball hit by Lapuebla, which distracted defenders so that Cruz could run for the score. The score was now 4-2, the Cougars back on top.
The bottom of the third brought one more run for the Cougars. This was scored when Limtiaco was able to successfully steal home, making the score 5-2.
Doriaun Calvo was able to give her team a sixth run when she got the go ahead run off of a sacrifice fly ball hit by Cruz in the bottom of the fourth inning.
Academy had a huge scoring surge in the fifth inning when five total runs were scored. Calvo registered an RBI single so that Isabel Muna could score. This was followed by another RBI single, this one being hit by Mendiola, which brought in Tenorio for the run. This was preceded by a flyball which triggered two runs to be scored, one from Calvo, the other from Mendiola. The last run was scored when an RBI was hit, allowing Analista to take the opportunity, granted by Lapuebla. This brought the score to a one sided 11-2.
The last run of the game was a walk off RBI single hit by Ashley Mendiola, who was awarded player of the game along with Isabel Muna and Doriaun Calvo.
"It really took the team and my coaches, and they're always there for me and cheer us on, and you just gotta do as good as you can," explained Isabel Muna after the game.
This win comes after a loss to the Guam High Panthers last week and adds a win to the Cougar's record.
PHOTO GALLERY BROUGHT TO YOU BY:

QUICK HITS
Guam MTB National Championship: Edward Oingerang and Jennifer Camacho are your 2023 MTB national champions. Oingerang finished the course in 1:13:24 while Camacho won her second straight title in 54:08.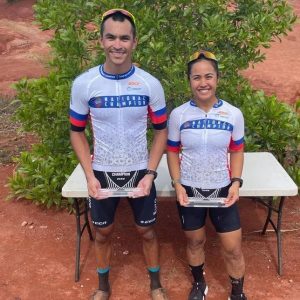 ——————————————
Kobe Miyashita, with St. John's coach Arvin Flores, was named the 2023 IIAAG Middle School Boys Volleyball MVP!