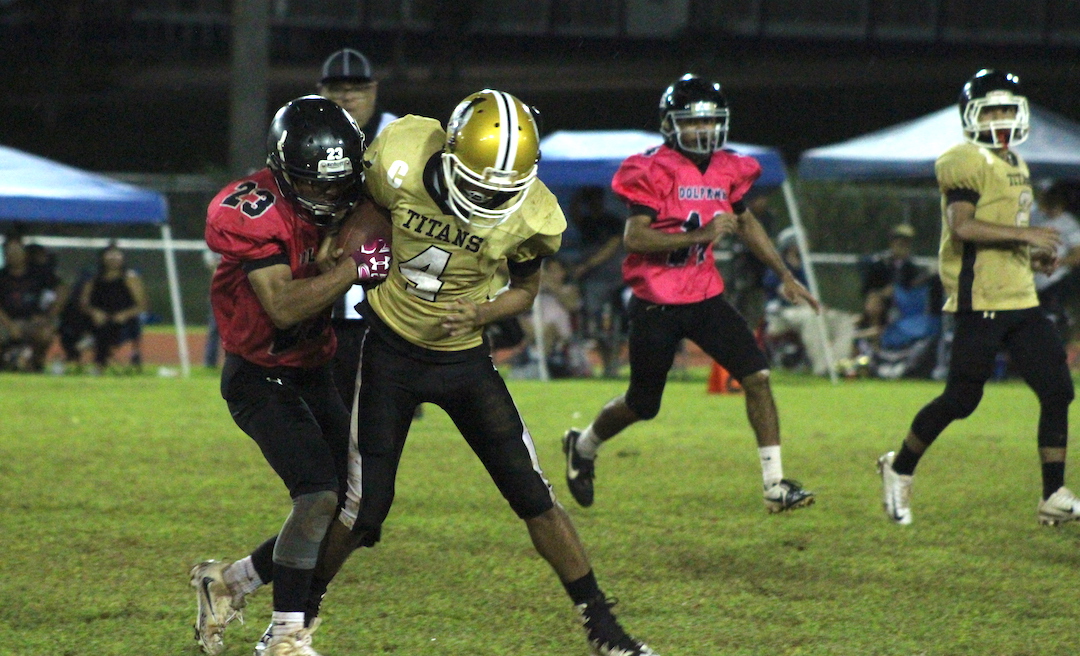 By Robert Balajadia
The Southern Dolphins were on edge after hearing yet another one of their football games was to be canceled. Typhoon week postponed their game against GW two weeks ago and the rainy weekend forced their game against Tiyan to be postponed as well.
Lucky for Southern, their wait only last a couple of days as they took to the GW Field Monday evening to go to battle with Tiyan. The Titans celebrated their homecoming at halftime, but the only celebrating happening post game was on the Dolphin sideline as Southern shutdown the Titans 18-0 to advance to (3-1) on the season. Tiyan falls so (1-4) on the season after the loss.
"We were frustrated when we found out this game was cancelled and we wanted to fight it. C'mon it's football, we can play in the rain," said Blas upon hearing last week Friday's game would not happen. "Not having a game hurt us, but my team handle it well; we're South-side strong. We could've came away with a better result, but most importantly we got a 'W'."
Blas picked a perfect time to score his first two touchdowns of his high school career by punching in a short distance run from two yards out for the games first score in the 1st quarter, and a game sealing catch and run from 16 yards out in the 4th.
The running game got a big boost from a trio of runners, namely by the shifty scatback in Cerilo Reyes, who would score his first touchdown on the season from five yards out in the 3rd quarter.
"Coaches just told me to be ready to play," said Reyes on his involvement against the Titans. "We put in a lot of hard work in the off season and my offensive line has been the biggest factor in our strong running game."
Southern's defense has shutout their third straight opponent in Tiyan. Defensive back John Topasna added two more interceptions to his growing collection on the season (four), making it difficult for the Titans to find any rhythm in the passing game.
"Two of my coaches play defensive back too (Kel Kawasaki and Justin Cruz) so they've really been teaching me everything I know," said Topasna on his rise to one of the best safeties in the league.
The Dolphin's next test comes in daunting fashion as they prepare to face the undefeated FD Friars on Saturday.
"We're just going to just keep doing what we're told, keep listening to our coaches and execute," said Topasna on facing FD.
Game Recap
Southern came ready to run after three big plays on the ground put them inside the red zone on their opening drive of the game. Bruising back Noah Rosalin and Gabriel Stanley set up the two-yard score from Blas after the Dolphins repeatedly attacked the middle of the Titan defense. A failed PAT left the score 6-0 Southern.
The Dolphins would march into Tiyan territory, but two turnover on downs gave the Titans a sign of life. Saftey Davin Mojica swatted away a pass intended for Stanley in the end zone on 4th down to set up a strong Titans drive in the 2nd quarter.
Tiyan quarterback John Angoco would find a gap in the Dolphin defense as he laid out a bomb to Mojica, who would haul in the 30-yard throw for Tiyan's first score. A holding penalty would negate the score and the Titans offense would never recover.
Southern started to extend their 6-0 halftime lead in the 3rd after Reyes started to break loose on running plays to the outside. A Reyes-heavy drive would end in a pitch to Cerilo to the outside for a five-yard touchdown to go up 12-0.
Southern initially converted on a 2-point conversion pass from quarterback Ethaniel Escuadra to Blas, but a penalty would force a replay on downs to which Southern wouldn't convert, resulting in a still 12-0 game.
Tiyan's offense would go pass happy in the 4th, but waiting in the secondary was Topasna, who picked off Angoco at the 16-yard line inside Southern territory to set up more points for the Dolphins.
Escuadra would hit his target Blas at the 10-yard line and Blas would work his way to the end zone while fighting off two Titan defenders. Blas would end up fumbling the ball two yards from pay dirt, but his persistence wouldn't allow the play to die as he recovered his own fumble in the end zone for the games final score.
PHOTO GALLERY BROUGHT TO YOU BY: