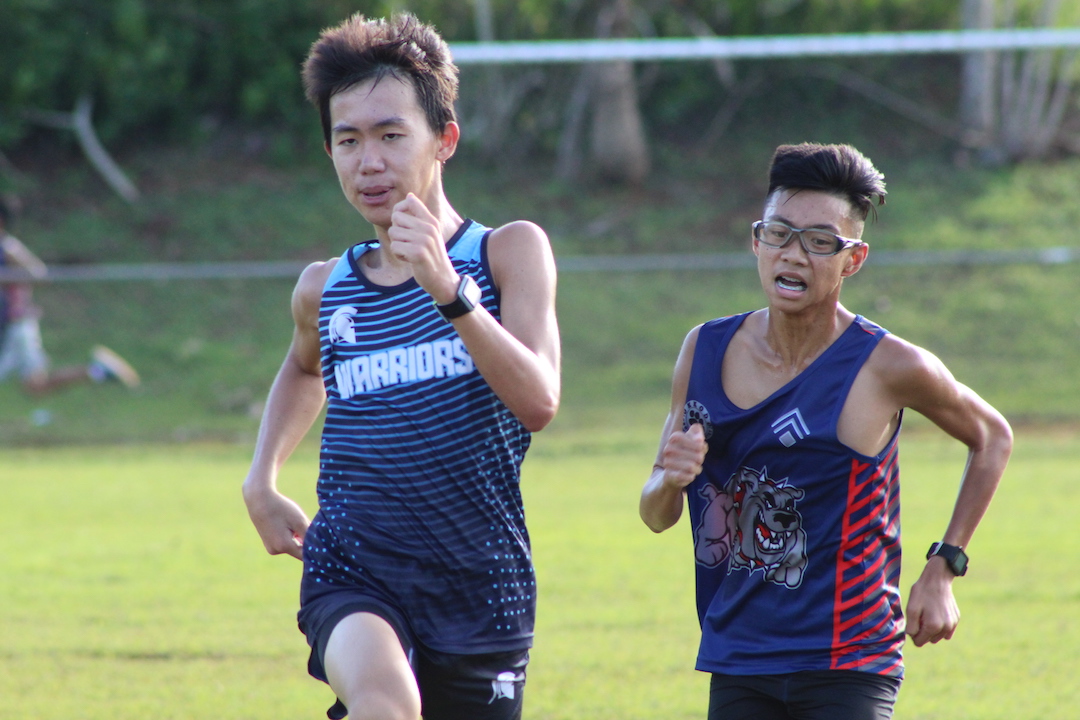 By Robert Balajadia
From having no team two years ago to being undefeated in 2018, the St. Paul Warriors are currently the IIAAG Cross Country's top dogs. Monday afternoon the Warriors hosted the Okkodo Bulldogs in a battle of unbeaten teams and St. Paul made quite the statement by sweeping Okkodo 23-32 in the boys and 26-29 in the girls.
Warriors star runner Brandon Miranda finished 18:19.53 and started to pull away from Okkodo's Kyle Delos Santos around the second mile of the run with the pair battling neck-and-neck all race long. Miranda was seen first down the final stretch with Delos Santos a mere 10 paces behind him.
"Two miles in I had already started to get into my pace and I noticed [Kyle] started to slow down. I managed to have in me to sprint there at the end," said Miranda on pushing himself to finish strong.
Miranda emptied the gas tank to secure 1st place as Delos Santos grabbed 2nd, but Warriors runner Jacob Miranda locked up 3rd and Kanta Yamazaki grabbed 4th to give the Warriors a big boost in the standing.
The girls race proved much closer, but a 1st place finish for Warriors Jazmin Samonte (24:15.27) and a 4th through 6th place finish by more Warriors gave the edge to the home team St. Paul.
Miranda finished 3rd in the All-Island race last season and hasn't been dethroned as the top runner in 2018. The speedy junior has his sights set on a 1st place in the All-Island race as well as being able to hoist up some Cross Country hardware.
"My main focus is of course to finish number one, but more importantly I want my team to win the whole thing," added Miranda.
Samonte was trailing Bulldog Jania Castor, who would finish 2nd, in the early parts of the race. Steady training had prepared Samonte to peak at the right time and there was no looking back after passing Castor a mile in.
"We've been doing well in practice and I think that played a key role in how we all raced today," said Samonte on her day. "I was right around my PR this race and I started to create separation one mile in. I've learned how to pace myself pretty well and I don't normally start strong because I don't want to die out at the end."
(full results below)
PHOTO GALLERY BROUGHT TO YOU BY:
FULL RESULTS
IIAAG 18-19 Cross-Country Meet #7 – 9/24/2018 11:57:26 AM
Guam, Guam, Guam
THS vs GW
=================================================================
Name Yr Team Time Pts
—————————————————————–
Girls
—————————————————————–
1 Elizabeth Desingano 9 George Washington Hi 26:42.00 1
2 Dae Pangelinan 10 George Washington Hi 28:40.00 2
3 Gissa Dumaroag 9 George Washington Hi 29:22.00 3
4 Ave Santos 10 George Washington Hi 29:52.00 4
5 Railee Webb 10 George Washington Hi 31:07.00 5
6 Raianne Quichocho 10 George Washington Hi 31:08.00 6
7 Doriann Andrew George Washington Hi 34:33.00 7
8 Arianna Gumataotao Tiyan High School 35:50.00
9 Danelle Aldan George Washington Hi 38:49.00
—————————————————————–
Boys
—————————————————————–
1 Luke Bukikosa 12 George Washington Hi 20:12.00 1
2 Christian Ruder 10 George Washington Hi 20:27.00 2
3 Terrence Johnson 10 Tiyan High School 20:40.00
4 Andrew Alconaba 9 George Washington Hi 23:04.00 3
5 Michael Sampang 10 Tiyan High School 24:03.00
6 Aiden Flory Tiyan High School 24:44.00
7 Resty Versario 9 George Washington Hi 25:06.00 4
8 Nathan Perez 9 George Washington Hi 26:29.00 5
9 Michael Flisco 10 George Washington Hi 29:51.00 6
10 Nathaniel Sejaldo Tiyan High School 29:57.00
11 Zachary Cabrera 12 George Washington Hi 30:31.00 7
Girls IIAAG THS vs GW Team Scores
=================================================================
Team Pts 1 2 3 4 5 (6) (7)
=================================================================
1 George Washington Hi 15 1 2 3 4 5 6 7
Total Time: 2:25:43 Average: 29:08.60 1-5 Split: 4:25
Boys IIAAG THS vs GW Team Scores
=================================================================
Team Pts 1 2 3 4 5 (6) (7)
=================================================================
1 George Washington Hi 15 1 2 3 4 5 6 7
Total Time: 1:55:18 Average: 23:03.60 1-5 Split: 6:17
SJS vs JFK
=================================================================
Name Yr Team Time Pts
—————————————————————–
Girls
—————————————————————–
1 JENNA HAN 12 St. John School 22:34.12 1
2 Mya Tolerson 10 John F Kennedy High 23:34.69 2
3 MADISON PACKBIER 11 St. John School 23:52.67 3
4 KAILEA WIESE 12 St. John School 23:56.81 4
5 Chasity Minor 9t John F Kennedy High 24:16.12 5
6 Arika Wada 12 John F Kennedy High 25:51.19 6
7 Viannka Leon Guerrero 12 John F Kennedy High 26:26.34 7
8 JANALYN CRISS 9 St. John School 27:27.17 8
9 JENNY MANN 10 St. John School 28:24.67 9
10 Jonah Ry Santos 10 John F Kennedy High 29:46.73 10
11 Ariya Limtiaco 12 John F Kennedy High 29:57.45 11
12 Laryn Techaira 10 John F Kennedy High 35:03.41 12
—————————————————————–
Boys
—————————————————————–
1 ZACHARY CRISS 12 St. John School 19:04.62 1
2 PHILIP SUHR 12 St. John School 19:25.49 2
3 Jerimiah Rosario 11 John F Kennedy High 19:38.45 3
4 ADAM CRUZ 9 St. John School 19:39.10 4
5 Ryan Kent 11 John F Kennedy High 19:40.40 5
6 John Paul Sanchez 12 John F Kennedy High 19:40.77 6
7 Joseph Aguon 11 John F Kennedy High 19:43.18 7
8 Mark Imazu* 9t John F Kennedy High 20:52.79 8
9 MARC RAJESH 11 St. John School 21:16.94 9
10 Jesse Jean-Louis 9t John F Kennedy High 21:26.44 10
11 Jovan Pineda 10 John F Kennedy High 21:32.01 11
12 Cain Pamintuan 12 John F Kennedy High 21:32.67
13 Andre Pancho 11 John F Kennedy High 21:42.82
14 Taiga Sato 11 John F Kennedy High 21:45.55
15 Rizaldy Tugade 10 John F Kennedy High 21:52.74
16 Melvin Reyes 10 John F Kennedy High 22:16.62
17 Jaeden Umagat 9 John F Kennedy High 22:23.03
18 THOMAS YSRAEL 9 St. John School 22:24.92 12
19 ERREN CHEN 9 St. John School 23:20.76 13
20 BRIAN JOSEPH 10 St. John School 23:34.22 14
21 Matthew Rivera 10 John F Kennedy High 23:36.74
22 TREY LARSEN 12 St. John School 23:48.24
23 Gian Villanueva 12 John F Kennedy High 24:16.49
24 LUKE JOHNSON 12 St. John School 24:20.37
25 ALBERT LIU 10 St. John School 24:42.50
26 Angelo Bernardo 12 John F Kennedy High 24:50.12
27 Yuma Ichikawa 10 John F Kennedy High 24:56.55
28 Edward Canales 12 John F Kennedy High 25:00.96
29 Czar Rosas 9t John F Kennedy High 25:26.45
30 HONGWEI LIU 12 St. John School 25:42.99
31 BRIAN LEE 10 St. John School 25:47.03
32 Matthew Hix 11 John F Kennedy High 26:03.12
33 DERRICK YEN 10 St. John School 27:24.87
34 KYLE LIU 11 St. John School 28:09.16
35 FRED OTTE 9 St. John School 31:59.74
Girls IIAAG SJS vs JFK Team Scores
=================================================================
Team Pts 1 2 3 4 5 (6) (7)
=================================================================
1 St. John School 25 1 3 4 8 9 – –
Total Time: 2:06:16 Average: 25:15.09 1-5 Split: 5:51
2 John F Kennedy High 30 2 5 6 7 10 11 12
Total Time: 2:09:56 Average: 25:59.02 1-5 Split: 6:13
Boys IIAAG SJS vs JFK Team Scores
=================================================================
Team Pts 1 2 3 4 5 (6) (7)
=================================================================
1 St. John School 28 1 2 4 9 12 13 14
Total Time: 1:41:52 Average: 20:22.22 1-5 Split: 3:21
2 John F Kennedy High 29 3 5 6 7 8 10 11
Total Time: 1:39:36 Average: 19:55.12 1-5 Split: 1:15
FD/AOLG vs HCS
=================================================================
Name Yr Team Time Pts
—————————————————————–
Girls
—————————————————————–
1 Minami Cramer 10 Harvest Christian Ac 19:45.03
2 Sheila Dumaraog Academy of Our Lady 20:02.21 1
3 Farnaz Farahani 12 Harvest Christian Ac 20:19.22
4 Hannah Cathey 12 Harvest Christian Ac 21:15.05
5 Nierra Ubaldo 9 Academy of Our Lady 21:52.46 2
6 Sierra Tenorio 9t Academy of Our Lady 22:58.02 3
7 Kayla Arellano 9t Academy of Our Lady 23:31.57 4
8 Maria Egurrola 9t Academy of Our Lady 24:40.50 5
9 Ave Borja 9t Academy of Our Lady 28:16.01 6
—————————————————————–
Boys
—————————————————————–
1 Roy Manaloto Father Duenas Memori 16:19.58 1
2 Keanu Hada 10 Harvest Christian Ac 16:48.74 2
3 Nathan Chomel 11 Harvest Christian Ac 17:12.18 3
4 Ethan Storie Father Duenas Memori 17:27.20 4
5 Kai Suzuki Father Duenas Memori 17:35.53 5
6 Stephen Stettenbenz Father Duenas Memori 17:37.58 6
7 Aaron Gumataota Father Duenas Memori 17:46.61 7
8 Masaki Tsuboyama 12 Harvest Christian Ac 18:02.48 8
9 Jonan Fejeran Father Duenas Memori 18:13.96 9
10 Darren Bautista Father Duenas Memori 18:31.96 10
11 Alexander Hernandez Father Duenas Memori 18:50.25
12 Brandon Deliguin 12 Harvest Christian Ac 18:58.21 11
13 Enqi Yang 9 Harvest Christian Ac 19:35.04 12
14 Luke Taisipic Father Duenas Memori 20:39.60
15 Khan Vongjalorn 12 Harvest Christian Ac 20:40.60 13
16 Seungmin Kim 11 Harvest Christian Ac 21:05.04 14
17 Jonathan Xu 11 Harvest Christian Ac 21:12.12
18 Devin Lamb Father Duenas Memori 21:14.60
19 BRian Songco Father Duenas Memori 21:36.31
20 Jacob Herrera Father Duenas Memori 21:49.76
21 Landon Alegre Father Duenas Memori 21:54.37
22 Keisi Clark 9 Harvest Christian Ac 22:10.13
23 Ethan Guzman Father Duenas Memori 22:42.67
24 Jarred Anulao Father Duenas Memori 23:06.43
25 Andrian Baluyut Father Duenas Memori 24:19.47
26 Andrew Lu 9 Harvest Christian Ac 26:12.83
27 Rylan Escobar Father Duenas Memori 27:18.18
Girls IIAAG FD/AOLG vs HCS Team Scores
=================================================================
Team Pts 1 2 3 4 5 (6) (7)
=================================================================
1 Academy of Our Lady 15 1 2 3 4 5 6 –
Total Time: 1:53:05 Average: 22:36.96 1-5 Split: 4:39
Boys IIAAG FD/AOLG vs HCS Team Scores
=================================================================
Team Pts 1 2 3 4 5 (6) (7)
=================================================================
1 Father Duenas Memori 23 1 4 5 6 7 9 10
Total Time: 1:26:47 Average: 17:21.30 1-5 Split: 1:28
2 Harvest Christian Ac 36 2 3 8 11 12 13 14
Total Time: 1:30:37 Average: 18:07.33 1-5 Split: 2:47
SPCS vs OHS
=================================================================
Name Yr Team Time Pts
—————————————————————–
Girls
—————————————————————–
1 Jazmin Samonte 11 St. Paul Christian S 24:15.27 1
2 Castor Jania 11 Okkodo High School 25:04.50 2
3 Lacsina Celynn 10 Okkodo High School 25:10.69 3
4 Leila Arroyo 11 St. Paul Christian S 25:46.33 4
5 Jiao Wen 12 St. Paul Christian S 26:23.77 5
6 Lily Franklin 11 St. Paul Christian S 26:27.09 6
7 Cuabo Chloe 11 Okkodo High School 26:36.04 7
8 Rivera Kyona 11 Okkodo High School 27:14.13 8
9 Bantugan Alyanna 11 Okkodo High School 27:18.16 9
10 Carlene Blailes 11 St. Paul Christian S 27:28.88 10
11 Aquino Genesis 10 Okkodo High School 28:01.84 11
12 Breanne Jamindang 9 St. Paul Christian S 29:44.43 12
13 Quichocho Jayna 9t Okkodo High School 30:11.05 13
14 Adriana Caraig 11 St. Paul Christian S 31:29.48 14
15 Clark Kiana 10 Okkodo High School 33:05.02
16 Magsombol Leigh 11 Okkodo High School 39:55.16
17 Olarte Paulliene 9t Okkodo High School 42:04.44
—————————————————————–
Boys
—————————————————————–
1 Brandon Miranda 11 St. Paul Christian S 18:19.53 1
2 Delos Santos Kyle 12 Okkodo High School 18:28.80 2
3 Jacob Miranda 9 St. Paul Christian S 18:38.68 3
4 Kanta Yamazaki 9 St. Paul Christian S 18:39.79 4
5 Pangelinan Gerald 12 Okkodo High School 19:12.01 5
6 Melliza Lorenz 11 Okkodo High School 19:21.02 6
7 Keith Nauta 10 St. Paul Christian S 19:24.66 7
8 Masato Tsujii 9 St. Paul Christian S 20:01.99 8
9 Tamondong Darren 11 Okkodo High School 20:02.75 9
10 Pangelinan Gabriel 10 Okkodo High School 20:14.27 10
11 Edrosa Mason 11 Okkodo High School 20:22.65 11
12 Olandez Peter 11 Okkodo High School 20:29.90 12
13 Jeffrey Labanza 10 St. Paul Christian S 20:59.34 13
14 Lacap Adrian 11 Okkodo High School 21:02.23
15 James Labanza 11 St. Paul Christian S 21:13.91 14
16 Hayato Tsujii 11 St. Paul Christian S 21:17.77
17 Juico Jadrian 9t Okkodo High School 21:18.07
18 Palad Darius 11 Okkodo High School 21:19.00
19 Audrey Dela Cruz 11 St. Paul Christian S 21:45.29
20 Imagawa Ronnie 11 Okkodo High School 21:56.28
21 Asuncion Gerome 9t Okkodo High School 22:03.46
22 Elomina Jayvee 11 Okkodo High School 22:52.34
23 Olandez Mathew 10 Okkodo High School 23:17.90
24 Marquez Aron 10 Okkodo High School 23:38.46
25 Charles Jackson 9 St. Paul Christian S 24:10.93
26 Bryzen Punongbayan 10 St. Paul Christian S 24:21.32
27 Ronald Adame 12 Okkodo High School 25:31.61
28 Dimag Chance 9t Okkodo High School 25:34.34
29 Bacani Alvin 10 Okkodo High School 26:23.10
30 Manacmul Charles 11 Okkodo High School 26:41.94
31 Tacubanza Nathaniel 11 Okkodo High School 27:14.70
32 Chauncey Jamindang 11 St. Paul Christian S 28:40.65
33 In Jo 11 St. Paul Christian S 29:55.80
34 Pineda Marvin 11 Okkodo High School 30:41.45
35 Travis Blas 12 St. Paul Christian S 32:24.70
36 Shintaro Hikichi 11 St. Paul Christian S 32:24.92
37 Christian Hotelling 11 St. Paul Christian S 32:49.85
38 Jacob Perez 11 St. Paul Christian S 34:17.37
39 Caleb Centeno 12 St. Paul Christian S 36:56.35
Girls IIAAG SPCS vs OHS Team Scores
=================================================================
Team Pts 1 2 3 4 5 (6) (7)
=================================================================
1 St. Paul Christian S 26 1 4 5 6 10 12 14
Total Time: 2:10:22 Average: 26:04.27 1-5 Split: 3:14
2 Okkodo High School 29 2 3 7 8 9 11 13
Total Time: 2:11:24 Average: 26:16.71 1-5 Split: 2:14
Boys IIAAG SPCS vs OHS Team Scores
=================================================================
Team Pts 1 2 3 4 5 (6) (7)
=================================================================
1 St. Paul Christian S 23 1 3 4 7 8 13 14
Total Time: 1:35:05 Average: 19:00.93 1-5 Split: 1:43
2 Okkodo High School 32 2 5 6 9 10 11 12
Total Time: 1:37:19 Average: 19:27.77 1-5 Split: 1:46
SSHS vs SHS
=================================================================
Name Yr Team Time Pts
—————————————————————–
Girls
—————————————————————–
1 Geordyn Santos 11 Southern High School 26:23.30 1
2 Kerida Quinata 10 Simon Sanchez High S 27:16.65
3 Edyn Santos 9 Southern High School 29:25.09 2
4 Edeenalyn Gatmen 12 Simon Sanchez High S 29:42.15
5 Raven Leonen 10 Simon Sanchez High S 30:41.61
6 Raina Okada 11 Southern High School 35:00.42 3
7 Jerymae Segovia 9 Simon Sanchez High S 35:19.59
8 Agatha Vaughan 11 Southern High School 36:08.99 4
9 Maryann Vaughan 10 Southern High School 38:12.08 5
10 Raisa Sinel 11 Southern High School 38:12.76 6
—————————————————————–
Boys
—————————————————————–
1 LeonGuerrero Carlos 11 Southern High School 19:29.99 1
2 Ryniel DiRamos 12 Simon Sanchez High S 20:22.11 2
3 Cody Villegas 10 Simon Sanchez High S 20:38.18 3
4 Rico Castro 11 Simon Sanchez High S 20:53.26 4
5 John Medina 10 Simon Sanchez High S 21:20.29 5
6 Jerald Bagain 11 Simon Sanchez High S 21:36.81 6
7 Dru Sangueza 9 Simon Sanchez High S 21:38.89 7
8 Wolfe Zach 11 Southern High School 21:45.38 8
9 LeonGuerrero Ramon 11 Southern High School 21:48.19 9
10 Vegafria Craig 11 Southern High School 21:53.49 10
11 Granville Tandoc 11 Simon Sanchez High S 22:00.63 11
12 Aaron Torres 11 Southern High School 22:38.85 12
13 Jim Pamplona 10 Simon Sanchez High S 22:46.32
14 Caleb Santiago 9 Simon Sanchez High S 23:03.90
15 Remoh Nel Sanchez 12 Simon Sanchez High S 23:15.81
16 Christopher Chiguina 11 Southern High School 23:45.37 13
17 Vegafria Christian 11 Southern High School 24:27.66 14
18 Isaiah Malig 11 Simon Sanchez High S 24:32.16
19 Gumataotao Skyler 11 Southern High School 24:38.53
20 Teo Galvez 9 Simon Sanchez High S 24:51.07
21 Vincent Suamer Simon Sanchez High S 24:56.19
22 Diaz Joaquin 11 Southern High School 25:02.43
23 Julio Devera 12 Simon Sanchez High S 25:46.50
24 Jon Lordios 10 Simon Sanchez High S 26:59.04
25 Quinata Levi 10 Southern High School 27:54.75
26 Denniel Taloyo 9 Simon Sanchez High S 29:00.66
27 William Vaughan Southern High School 29:35.74
28 Fejeran Joshua 11 Southern High School 31:17.33
29 Kevin Paat 10 Simon Sanchez High S 31:56.61
30 Gabriel Vitug 10 Simon Sanchez High S 36:53.96
Girls IIAAG SSHS vs SHS Team Scores
=================================================================
Team Pts 1 2 3 4 5 (6) (7)
=================================================================
1 Southern High School 15 1 2 3 4 5 6 –
Total Time: 2:45:10 Average: 33:01.98 1-5 Split: 11:49
Boys IIAAG SSHS vs SHS Team Scores
=================================================================
Team Pts 1 2 3 4 5 (6) (7)
=================================================================
1 Simon Sanchez High S 20 2 3 4 5 6 7 11
Total Time: 1:44:51 Average: 20:58.13 1-5 Split: 1:15
2 Southern High School 40 1 8 9 10 12 13 14
Total Time: 1:47:36 Average: 21:31.18 1-5 Split: 3:09

2022 GSPN I MÅS METGOT COMPETITION
2022 GSPN I Mås Metgot Competition Recap
2022 GSPN I MÅS METGOT COMPETITION
2022 GSPN I Mås Metgot Competition Recap
2022 GSPN I MÅS METGOT COMPETITION
2022 GSPN I Mås Metgot Competition Recap