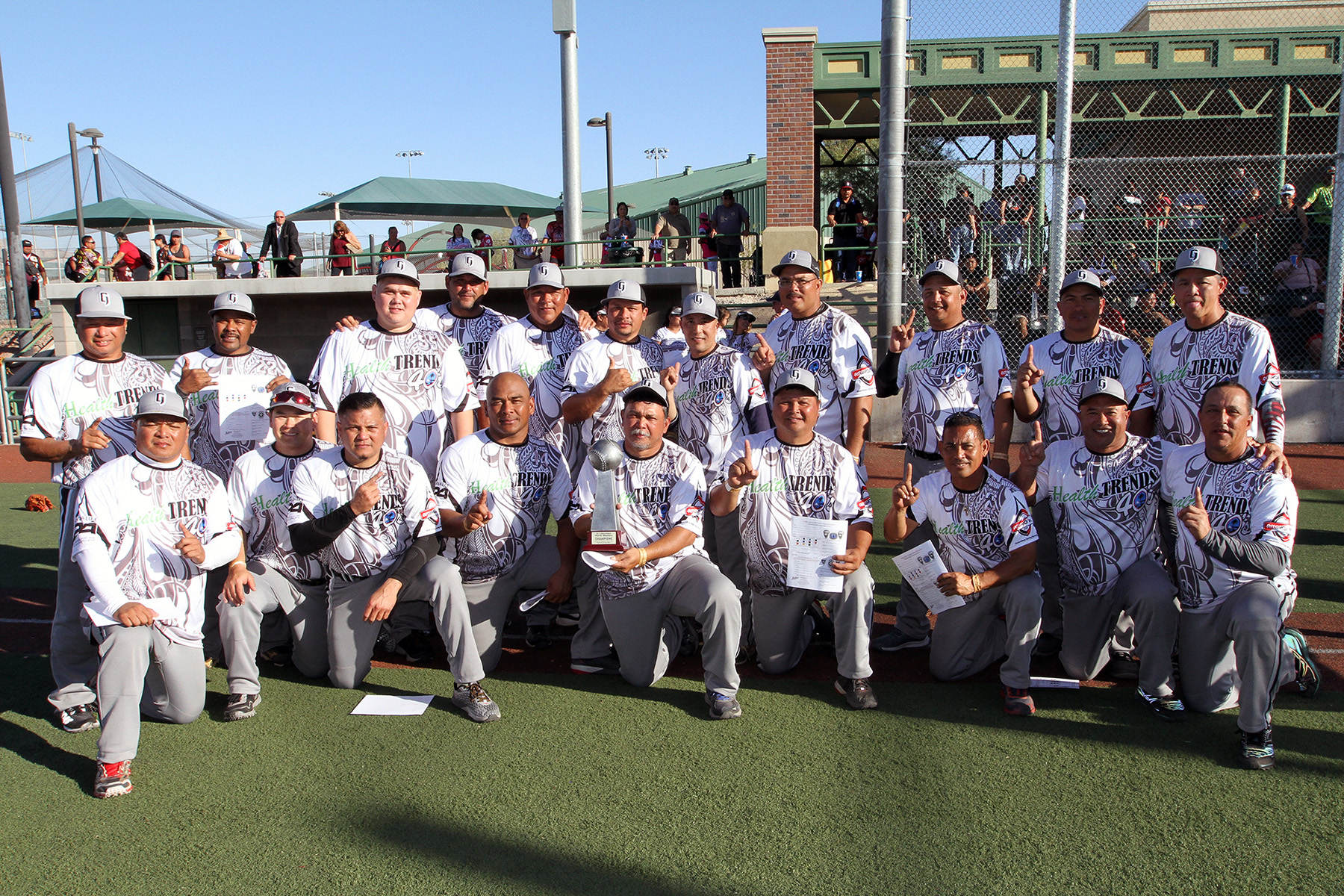 By Patrick Lujan
After years of trying and eventually capturing the Masters Softball World Series AAA Division in 2017, the best Guam has to offer is moving up in competition.
GISA's (Guam Islander Softball Association) gold means a promotion to the 40+ Major Division – meaning even stiffer competition amongst 65 teams in the Las Vegas Senior Softball/United States Senior Softball World Masters Championship at the Big League Dreams Softball Complex, Las Vegas starting this Friday.
"Overall, we're pretty excited about the team," said player/coach Benjie Pangelinan.  "Our approach is putting everything together with the hitting and strong defense. The speed will be a great addition with veterans that we have. We will be ready."
The core returnees along with Pangelinan are Keith Hattig, Tony Yatar, John McDonald, Jimmy Reyes, Mike Cepeda and Patrick Alvarez.
The 'new kids on the block' are former GML stand outs Dale Alvarez and Gerson Hoebing.
"With the new additions of Dale and Gerson, they bring a lot of balance to the team with speed and flexibility to our defense," Pangelinan added.
Moving up to the 50+ division are the likes of Peter Aguon, Jarvis Quenga and Tim Aguon.
"We all know what we have to do. We have played with the best and in the Majors Division we will just continue to play with island pride and see where the ball bounces. We know we can compete at that level."
GISA gets things underway with two games on Friday, Vegas time.
GISA 40+ Major Division
Dale Alvarez
Patrick Alvarez
Luis Camacho
Mike Cepeda
John Flores
Chris Guzman
Herbie Hattig
Keith Hattig
Gerson Hoebing
Laurence Idelbong
John McDonald
Bob Meno
Glenn Nelson
Benjie Pangelinan
Jose Perez
Jimmy Reyes
Joe Rivera
Tony Yatar
Our Guam ladies are also in Las Vegas to compete:
Figo 40+
Jek Concepcion
Judy Artui
Berny Reyes
Jennifer Leon Guerrero
Mayleen Yobei
Yvette Ueki
Annie Cruz
Michelle Salas-Reyes
Tina Leon Guerrero
Christine San Nicolas
Gigi Blas
Nadine Concepcion- Reyes
Faithe Escalona
Mighty 50's
Sue Miner
Annie Bordallo
Rose Palomo
Maui Cambonga
Arlene Borja
Arlene Sahagon
Tish Sahagon
Rita Aguon
Lisa DiBene
Loretta Duenas
Monica Fernandez
Del Balajadia
Norma Salas
Sandra Perez
Robyn Masnayon
Flo Santos
Maria Cruz
Noreen Leon Guerrero

2022 GSPN I MÅS METGOT COMPETITION
2022 GSPN I Mås Metgot Competition Recap
2022 GSPN I MÅS METGOT COMPETITION
2022 GSPN I Mås Metgot Competition Recap
2022 GSPN I MÅS METGOT COMPETITION
2022 GSPN I Mås Metgot Competition Recap