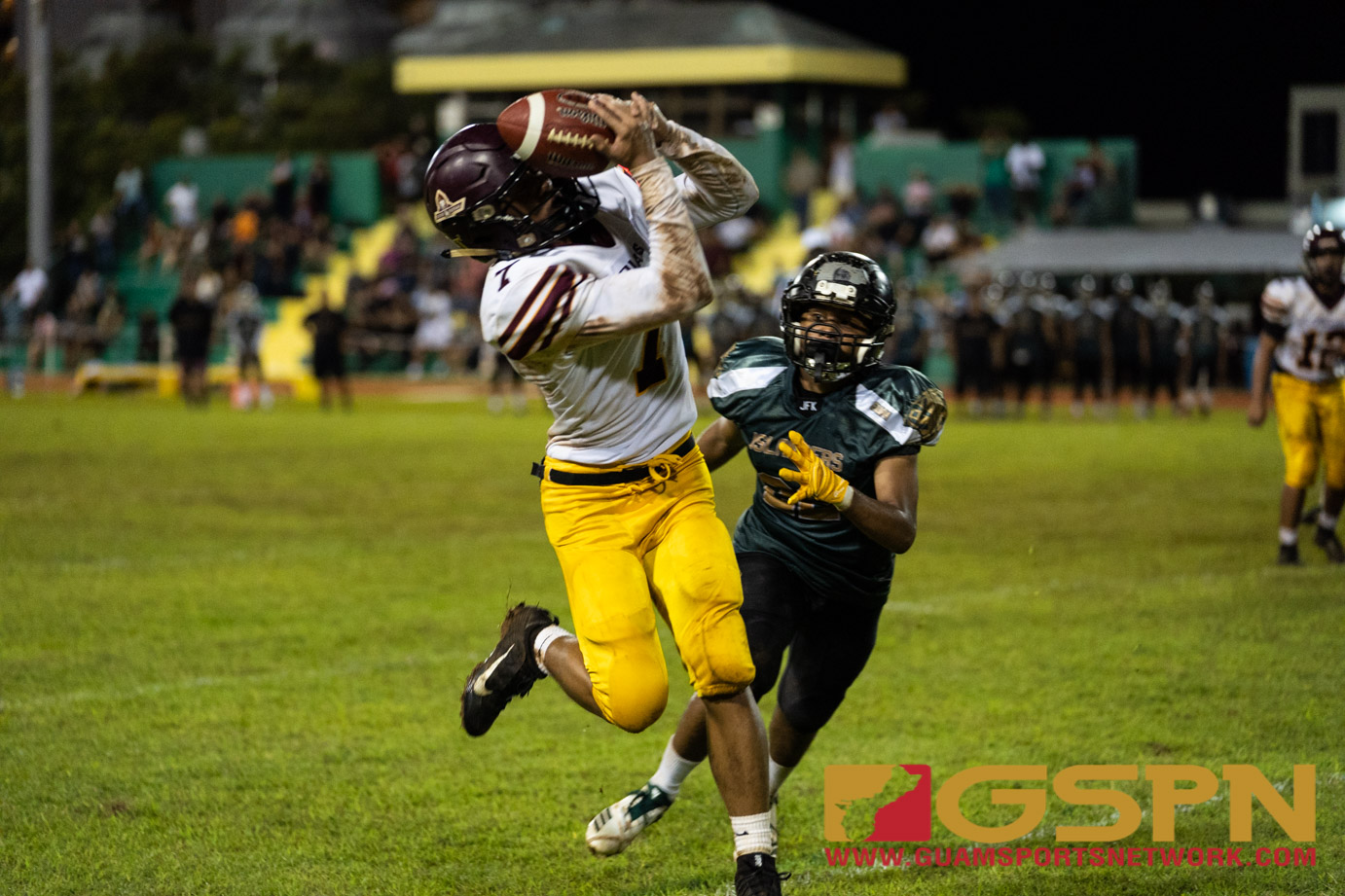 By Robert Balajadia
The last two unbeaten teams left in IIAAG Football put together one suspenseful showdown Saturday in the FD Friars and JFK Islanders. The Friars dug deep to pull out a 17-9 victory over the home team JFK with FD also taking a blow in the injury toll after three key players were out of commission due to injuries suffered on the night.
FD's Kein Artero churned out 134 yards on 26 carries with one touchdown and quarterback Nick Anderson connected with brother Bryan Anderson for the Friars only other score. A successful field goal from Shawn Sablan from 23 yards in the 1st quarter rounded out all the Friar scores.
JFK's Juan Sarmiento made good on a 35-yard field goal in the second quarter and quarterback Andrew Perez scored the Islanders lone touchdown on a quarterback keeper at the goal line in the 3rd.
FD's offense had ball security issues, fumbling the ball five times and lost three. The defense had their backs against the wall time and again, but proved grit with their pass rush getting to the Islanders dual-quarterbacks in Perez and Alan Blend nine times.
"Today really put us to the test and today's game was the hardest I've ever had to work in my football career because JFK is a really hard working team. We played very disciplined in staying in our lanes which helped us create an effective rush," said Onedera.
Onedera had seven tackles and two sacks and fellow lineman Rylan Napoleon had three sacks. Linebacker Tyler Aguon had three sacks as well while freshman Evan Brown led the team with eight total tackles and also corralled a key interception.
JFK's defense was led by last years MVP in Chase Spotanksi with nine total tackles.
The referees had a busy evening handing out yellow flags like it was candy on Halloween night. FD was tagged for 15 total penalties for 175 free yardage while the Islanders were hit with eight penalties for 75 yards.
Injuries take its toll
With the game tied at nine all at the start of the second half, Friar return man and lockdown corner Noah Diaz was injured on a kick-off in the 3rd after scrambling for a loose ball and would not return. A series later, the team lost first year running back Caiyle Gogue who had to be transported off the field via ambulance after landing awkwardly after a tackle.
Still in the 3rd, the Friars would lose starting center Joaquin Rivera who also would not return. Losing key players in key positions really tested the Friars mettle.
"It was a tough challenge, but we managed to pull through. We still have to work harder though," said Onedera.
FD's offense, particularly the running game, struggled in the first half. It appeared as if the team rallied together after Gogue's injury in the 3rd when they started to get signs of life in their ground game.
"When one of our brothers go down it makes us want to push even more so that's where the hard work, discipline and commitment comes in," said Artero.
Artero would keep pounding after Gogue's exit which led to an 88-yard second half with no stops in the backfield.
Recap
Both defenses were fired up from the go with the Friars Noah Diaz picking off JFK's Alan Blend II midway through the 1st quarter. Diaz's pick set up the first score from Sablan from 23 yards out to give FD a 3-0 lead.
A fumble by the Friars in the 2nd on a recovery by Spotanski led to points for JFK as Sarmiento booted a 35-yard field goal to tie the game at three all.
Late in the 2nd, Perez tried to hit his tight end on a route up the middle, but Friars linebacker Brown was there to come away with a big-time interception at the 40-yard line. Brown's pick set up the Friars first touchdown as Nick Anderson laid a perfect ball for a wide-open Brian Anderson as the brother-to-brother tandem made good on a 43-yard touchdown. A failed PAT had FD up 9-3 just before the half.
The Friars first play in the 3rd quarter resulted in a fumble with JFK recovering the ball in the red zone. A short pass from Perez to Niko Valez set up Perez's goal-line sneak to tie the game at nine. Two failed attempts on the PAT after a Friar penalty kept the scored tied.
The Friars would then loose Diaz on the ensuing kick off and then Gogue on the same drive. Artero would string together his best collection of runs, but penalties would push FD out of the red zone which resulted in a missed kick from 33 yards out.
Artero would pick up steam in the 4th after short runs and an Islander pass interference penalty put FD in scoring position at the 30.
FD would eventually find themselves in a 4th and short at the 5-yard line where they tried to draw JFK offsides. The hard count worked as three Islanders jumped the gun, but no flags or whistles were blown even though the Friars had reacted as such. The bizarre call would end in a replay of the down which turned into a four-yard touchdown run from Artero. A successful 2-point conversion catch from Brian Anderson put FD up 17-9.
JFK went pass heavy late in the 4th with the defense collecting three sacks on Perez on the final drive alone. Perez's last shot was a deep pass to Velez on the left side, but the Friar defense backs of Tomas Ludwig and Nate Pinaula managed to hold down the secondary to deny any last-minute big plays.
JFK will play host to the Guam High Panthers on Friday while FD will travel up North to face the Sanchez Sharks on Friday as well.
PHOTO GALLERY BROUGHT TO YOU BY:

Foody's Fun Facts
Foody's Fun Facts with Makayla Atoigue
ND Royals Rugby Player Makayla Atoigue lays down her Foody's Fun Facts and shares her dream vacation spot
Foody's Fun Facts
Foody's Fun Facts with Makayla Atoigue
ND Royals Rugby Player Makayla Atoigue lays down her Foody's Fun Facts and shares her dream vacation spot
Foody's Fun Facts
Foody's Fun Facts with Makayla Atoigue
ND Royals Rugby Player Makayla Atoigue lays down her Foody's Fun Facts and shares her dream vacation spot
COMING SOON …
Asia Pacific Little League
GML Playoffs
QUICK HITS
———————————————–
14-year-old Franny De Leon has been named to the 2022 WBC Muay Thai USA Youth Team.  The former youth muay thai world champion will be competing in Canada's WBC MT World Youth Games come August. She is the daughter of Jaime Quitugua and granddaughter of Frank and Norma Quitugua living in Fairfield, CA.