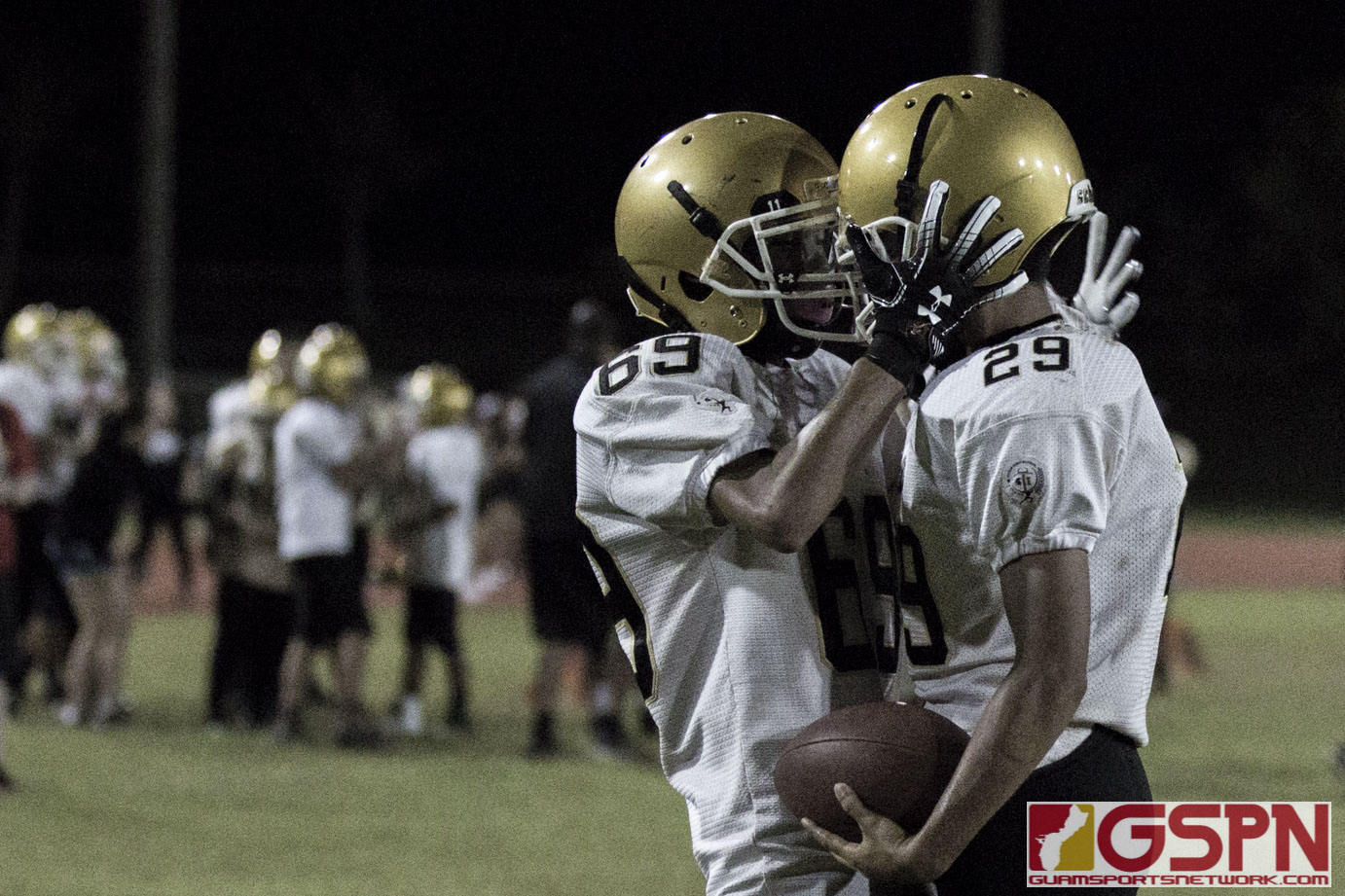 By Jay Leon Guerrero
The Tiyan Titans got their first victory of the IIAAG Football season with a thrilling 29-28 victory over the Sanchez Sharks at the GW field. Tiyan quarterback John Angoco had a huge game completing 8-of-13 passes for 179 total passing yards which included three throwing touchdowns and one rushing touchdown on offense. Wide receiver Davin Mojica caught two touchdown passes from Angoco and had five receptions for 101 yards.
Both teams played their hearts out as each squad searched for their first victory of the season. The game featured four lead changes that went down to the final minute of regualtion.
Toves rushes for 211 yards
The Sharks got a big game from running back Kamerin Toves. Toves had 25 carries for 211 yards which also included two touchdowns. The Titans had no answer for the wishbone running game but the Tiyan defense came up big when it counted most.
With the Sharks down 29-22, they march downfield and complete a 63-yard drive with a three yard rushing touchdown by fullback Patrick Salas. Trailing by just one point (29-28), the Sharks went for the two point conversion but was denied the victory with less than a minute left to help the Titans improve to 1-2 for the season. The Sharks drop to 0-3.
"We worked hard on practice at executing our pass plays. The team particularly worked on passing plays to the right side which goes to Davin (Mojica)" said Angoco.
"It feels good to finally get a win. Our offense worked on a variety of plays leading to this game and I'm glad we executed tonight," said Mojica. Mojica had 128 total yards which included 27 rushing yards. "Davin has good hands, we have that trust in him to gain some yards for us," said Angoco.
Game sequence
The Titans start their opening drive with Mojica rushing for a 23-yard first down. After a pass interference call, the Titans got on the score board with Angoco finding Juan Duenas in the end zone for an 18-yard touchdown.
The Sharks countered immediately with Toves bullying his way into the end zone from eight yards out for his first touchdown of the game. Toves completed the two point conversion to go up 8-7.
The Titans looked to answer immediately, but a pass in the middle from Angoco is picked off by cornerback Jayton Penaflor to give possession back to the Sharks. Penaflor managed to return 12 yards after the interception which put his offense in Tiyan territory.
The Sharks take advantage of the good field position and Toves scores six plays later from two yards out to increase their lead to 16-8 after a two point conversion.
Tiyan continued to go to the air and looks to put some points on the board with Angoco finding Duenas again for a 42-yard touchdown but it's called back due to an illegal block. The Titans stuck to their game plan and moved the chains with running back Kio Kaminanga gaining 10 yards. After a pass interference call, Angoco rushes up the middle with a quarterback sneak for a touchdown. Mojica caught the two point conversion from Angoco after the touchdown to have Tiyan trailing 16-15 by halftime.
Mojica comes up clutch
Mojica started to heat up in the third quarter with a 28-yard reception followed by a 25-yard touchdown reception from Angoco to put Tiyan ahead 22-16 after Kaminanga kicked the extra point.
The Sharks countered on the ensuing drive with Kameo Toves rushing for a TD from eight yards out to tie the game at 22-22 after a failed 2-point conversion.
The Titans threatened to score in the fourth quarter with Kaminanga and Angoco working the run-pass plays to advance the ball to the Shark 24-yard line. Angoco finds Mojica from 24 yards out to take the 29-22 lead after Kaminanga makes the extra point kick.
The Sharks had possession with less than six minutes left in regulation and went to their bread and butter, which is their versatile run game to get three first downs. The Sharks advanced to the three-yard line with the Toves twins (Kamerin and Kameo) taking turns gaining positive yardage.
The drive ended with less than a minute remaining in regualtion with Salas bulldozing his way into the end zone for a touchdown. At this point, it's 29-28 with Tiyan clinging to the lead. The Sharks go for the win and attempt another two point conversion but are stopped.
"If they got that two point conversion, they would've won that game. As a team we had to do our jobs and get that stop," said Kaminanga. "I told the team that if we want win this game right here right now, we have to stop this run," said Kaminanga. Kaminanga who had a team high 72 yards rushing also had five tackles on defense. Davieon Siguenza led Tiyan with seven total tackles on defense.
Salas had 10 carries for 63 yards and a touchdown. Kameo Toves also had a touchdown and his numbers were 46 yards on five carries. The Sharks rushed for a total of 319 total yards, there were no completed passes from Sanchez.
On defense, Kamerin Toves and Gavin Bejerana each recorded six tackles for the Sharks.
The Titans had 291 total yards of offense, 179 rushing and 112 yards on the ground. Kaminanga rushed for 72 yards on 12 carries, Vincent Gamallo contributed 12 yards rushing. Duenas recorded three catches for 50 yards and a touchdown. Crispan Santos had four tackles on defense for the Titans.
The Sharks (0-3) will take on the FD Friars (3-0) next Friday at the Okkodo field. The Titans(1-2) will look to make it two in a row, facing the Okkodo Bulldogs (0-3) at Okkodo on Saturday.
PHOTO GALLERY BROUGHT TO YOU BY:

QUICK HITS
The Figo Islanders 40s women's softball team took gold in the Senior Softball World Championship in Las Vegas. Figo came out of the loser's bracket and beat the Arizona Belles 17-3 in the AA division championship game Sunday afternoon.
Other Guam teams that played in the 40s tournament were: Team SOTTA (women's) and Bud Light Guam, Friars 671 and Sindalun Guahan (men's).
Sindalu finished a respectable 4th out of 24 AAA division teams.