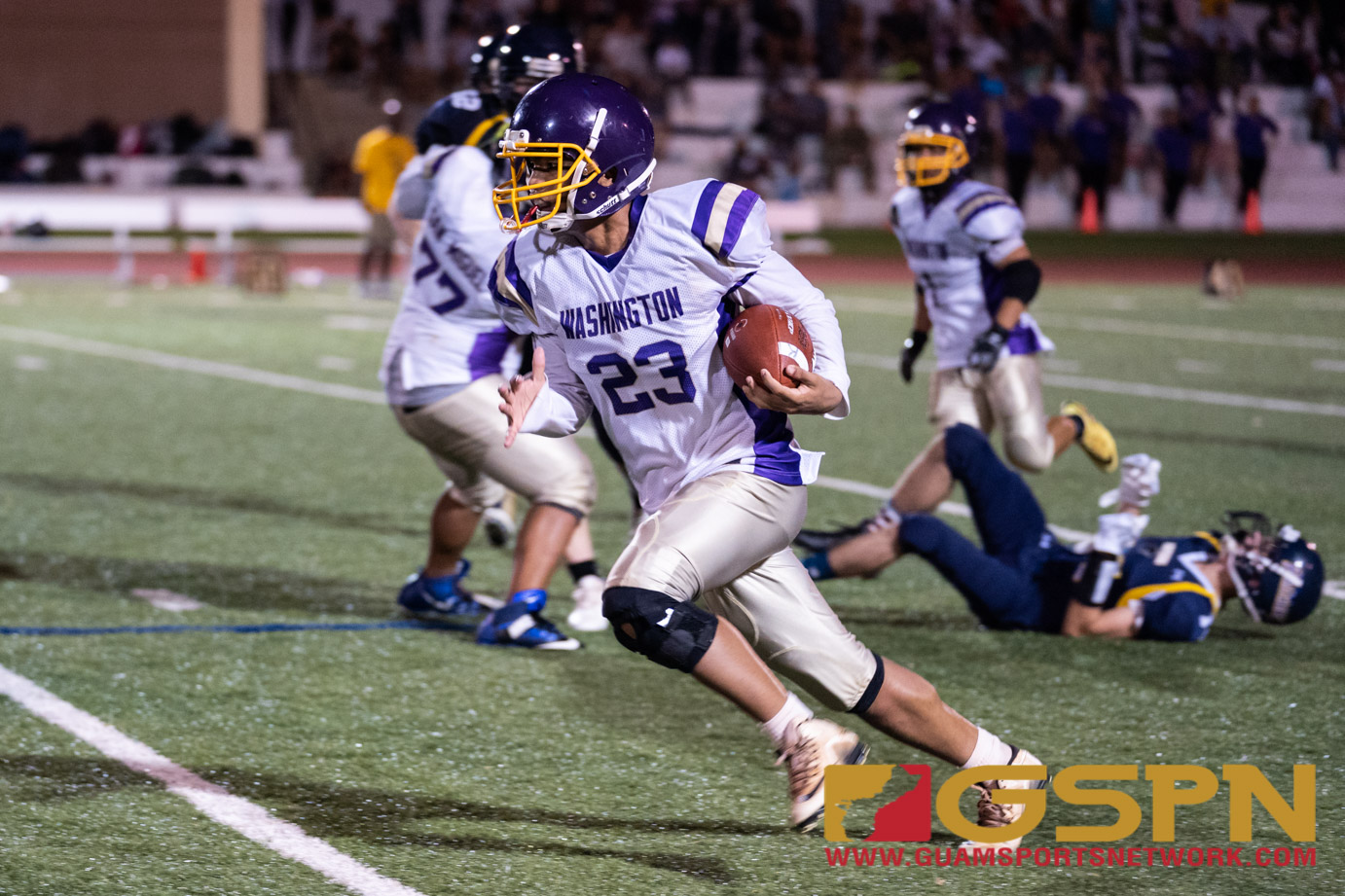 By Jay Leon Guerrero
Another year, another run at the title. For the last decade, the GW Geckos have been a top three team and 2018 is to be no different. The Geckos were tested under Friday Night Lights on rival turf and passed with flying colors in a highly anticipated game against the Guam High Panthers.
The Geckos walked away with a 20-7 victory, keeping the Panther offense out of the end zone. Guam High's lone touchdown came from their defense with linebacker Jeylyn Dowdell returning a fumble for a touchdown. The Geckos improve to 2-1, Guam High drops to 1-2.
Leading the way for the Geckos defense was team captain Jon Espino. Espino had six total tackles; two of which were behind the line of scrimmage, a near interception and a fumble recovery for a touchdown. The defensive touchdown by Espino came in the fourth period and secured the win for the Geckos.
Defensive insurance touchdown
The Panthers were backed up deep in their own territory in the fourth period, trailing by just six points (13-7) until their hopes at a comeback were crushed.
"I was doing a blitz and I got to their quarterback (Travon Jacobs) quickly," said Espino. "Once he dropped the ball, I just dove on it."
The fumble ensued during a blitz that saw Joseph Lujan and Jerome Quichocho disrupting a handoff which caused the fumble.
GW 1-2 punch running backs
The Panthers were unable to move the chains after getting their initial first down and were forced to punt. The Geckos' running back duo of Shelby Meeks and Jesse Manglona took turns on the Gecko first offensive possession that ended with Manglona scoring a 40-yard touchdown to lead 7-0.
"We just try and stay as humble as we can but also push ourselves as far as we can go," said Manglona. "We are just going to take it one game at a time; that's what we are going to continue to do all season long."
The Panthers got the ball back but we're forced to punt after a 3-and-out sequence. The Geckos looked to attack with quarterback Ricky Macias drawing back to pass but he gets hit by Tyler Pham and the ball bounces into the hands of Dowdell. Dowdell instinctively shook off two tackles and dashed down the left sideline for a 62-yard defensive touchdown to tie the contest at 7-7.
Both teams were unable to score until the Geckos got good field position late in the second quarter. Macias led the 52-yard drive capped off by a touchdown pass to Aaron Jamanila to lead 13-7 by halftime. Macias and Jamanila connected for their third touchdown this season on the score before the half.
Both defenses proved stingy in the third quarter with each team picking up an interception. Gecko Rico Mandilag picked off Jacobs to give his offense a chance to add another touchdown. The Geckos are unable to capitalize and Macias was picked off by Panther defensive back Elijah Ferrell-Ayers to give possession back to Guam High.
The Panthers turned to running back Sincere Powell more frequently in the second half. He moved the chains twice with gains of twelve and eight yards during the drive but Guam High was unable to take advantage and gave possession back to the Geckos.
Pham and Dowdell both record tackles to temporarily suspend the Gecko running game with six minutes remaining. The Geckos were forced to punt and Macias delivered a punt that left the Panthers deep in their own territory. After a costly penalty against the Panthers, the Geckos decide to blitz and Espino scored the defensive touchdown to secure the win.
Meeks rushed 12 times for 83 yards, Manglona had 53 yards on 11 carries for the Geckos. Macias threw the lone passing touchdown of the game and made 2-3 extra point kick attempts for the Geckos.
"Our team is doing okay right now," said Macias. "There is a lot of work we need to fix on the offensive side but the defense is doing a great job right now. The next weeks we plan on working hard and getting better throughout the season," Macias added.
Powell had nine carries for 45 yards to lead the Panthers offensively. Dowdell rushed 11 times for 12 yards, Jacobs completed three passes for 38 yards. Dowdell led the Panther defense with a game high seven tackles and the fumble recovery touchdown. Anthony Bow had five tackles and a sack for Guam High.
Special note
The Gecko defense allowed 0 points on 84 total offensive yards. They also had 36 tackles (7 TFL), two sacks, two forced fumbles and an interception. In the fantasy football world, that equals plenty points!
PHOTO GALLERY BROUGHT TO YOU BY:

Foody's Fun Facts
Foody's Fun Facts with Arren Yatar
UOG Tritons Pitcher Arren Yatar shares some of his fun facts and tells us about his favorite YouTube channel!
Foody's Fun Facts
Foody's Fun Facts with Arren Yatar
UOG Tritons Pitcher Arren Yatar shares some of his fun facts and tells us about his favorite YouTube channel!
Foody's Fun Facts
Foody's Fun Facts with Arren Yatar
UOG Tritons Pitcher Arren Yatar shares some of his fun facts and tells us about his favorite YouTube channel!
COMING SOON …
Asia Pacific Little League
National Triathlon Championships
GML Makeup Games
FD Alumni Basketball Tournament (ongoing)