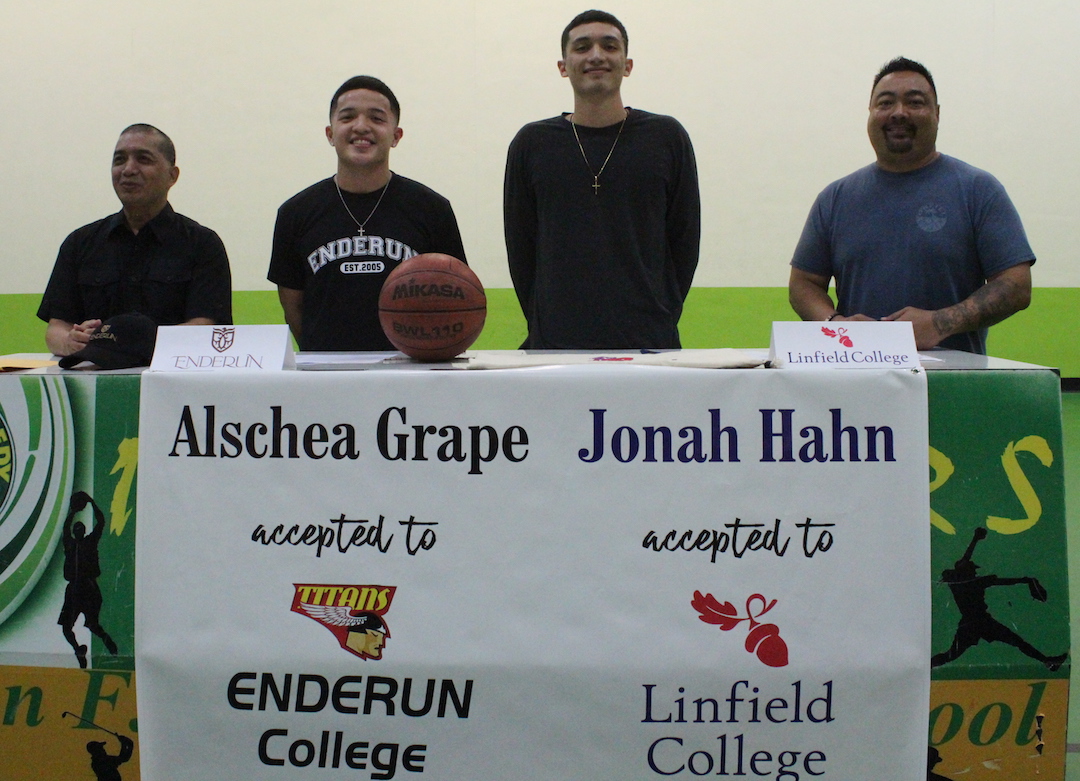 By Jay Leon Guerrero
A pair of JFK Islander student athletes had a college signing day Friday afternoon at the JFK gymnasium. Alschea Grape and Jonah Hahn held a small press conference as they signed their respective letters of intent to enter the next chapter in their academic and athletic careers.
Grape, an aggressive point guard and a leader on the court, will play basketball at Enderun College. Hahn, a multi-sport athlete, announced he will focus on football and will play tight end at Linfield College in Oregon.
Grape will leave this summer and will be a three hour plane ride away at the Enderun campus in the Philippines. Grape was the leading scorer (17 points per game) for the Islanders and looks to use his skills to contribute to his new team, the Enderun Titans.
Grape will not be the only Guam-based athlete playing basketball at Enderun, he will join incoming freshman Kyle Gaitan from FD on the men's team as well as Joy Pangilinan who will enter her junior year at Enderun.
"Kyle and I both put in a lot of hard work and it looks like we will be rooming together when school starts," said Grape.
Pangilinan celebrated multiple tournament championships in her underclassmen years at Enderun and has also achieved being selected to the mythical five (all-tournament team) as well. Grape will look to join forces with Gaitan and contribute to the Enderun program to try and follow Pangilinan's footsteps.
"On the day of my tryout, she (Pangilinan) was really a big help by showing me around the school," said Grape."It's been my dream to play basketball in college," said Grape. "Enderun is a good school and the campus is beautiful. I chose to go to college in the Philippines because I have family from there and my brother (Aljurrell Grape) also plays basketball there."
Grape said he plans to study in the field of Business.
Alschea Grape visited the campus prior to a high school tournament in the Philippines to meet the coaches. The coaches were impressed with the short visit and workout with Grape that they extended an invitation to attend Enderun.
"Alschea played for me for three years and Jonah played under me for two years. I'm proud of both of them for putting in hard work and having the opportunities to play sports in college," said head basketball coach Rey Serafico.
Hahn also moves close to family
Hahn excelled in both football and basketball and made the all-star team for both sports. He was also named the MVP of the Wendy's all-star game last month scoring 22 points and grabbing 11 rebounds in the victory. But Hahn will put his post moves on standby, shifting his focus on football. He will look to use his height to help the division III Linfield Wildcats as a tight end.
The decision to attend his college of choice was similar to Grapes choice as well with family living nearby the campus. Hahn said his paternal grandmother lives near the campus and he also has an Uncle who coaches baseball at Linfield College.
"I'm really excited to start my college career. I chose this particular college because I will have family there to help me and support me," said Hahn. Hahn thanked his family from Guam, Saipan, Hawaii and Oregon for their love and support. Hahn said he has been in contact with the coaching staff and is currently doing the workouts sent to him.
Hahn plans to study in the field of Exercise Science at Lindfield. He also hopes there are more local athletes to have the same opportunities of playing sports after high school.
"My advice to the next group is just to keep up with your studies and stay away from drugs. Also, do you best and make the best of the opportunities on the field or on the court."
Both athletes will be graduating from JFK over the weekend.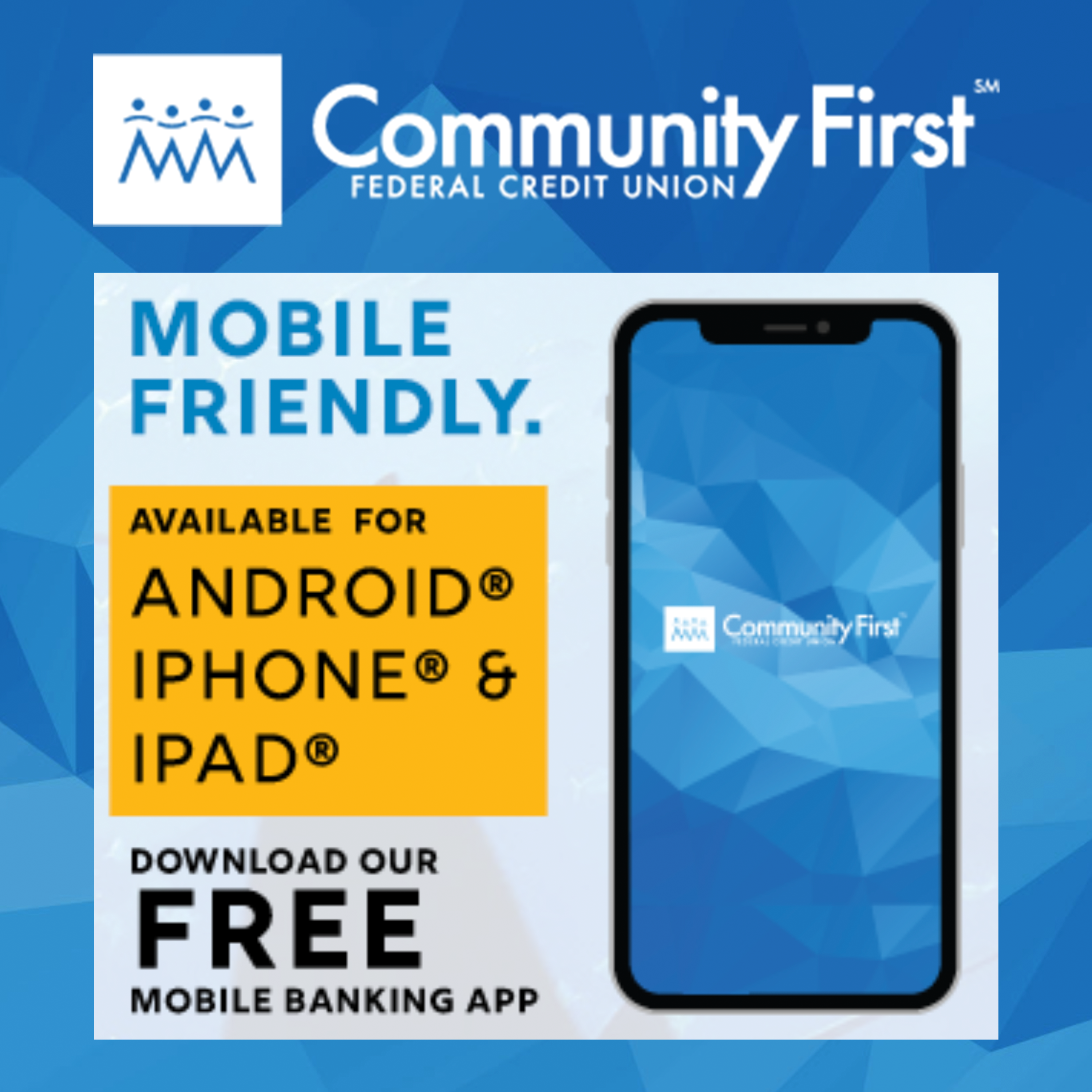 GPS Sports Calendar
SU

MO

TU

WE

TH

FR

SA
Events for November
1st
04:30 PM - 08:00 PM
JFK
05:30 PM - 08:00 PM
Various
05:30 PM - 08:00 PM
Various
Events for December
2nd
09:00 AM - 05:00 PM
FD Phoenix Center
10:00 AM - 03:00 PM
Various
10:00 AM - 04:00 PM
Various
Events for December
3rd
06:00 AM - 08:00 AM
Hilton Hotel
Events for December
4th
04:15 PM - 06:30 PM
Various
04:30 PM - 08:00 PM
GW Field
05:00 PM - 07:00 PM
Okkodo
Events for December
5th
04:00 PM - 06:00 PM
Various
05:00 PM - 08:00 PM
Various
06:00 PM - 08:00 PM
TBA
Events for December
5th
No Events
Events for December
7th
04:00 PM - 06:00 PM
Various
04:15 PM - 06:30 PM
TBA
Events for December
8th
05:00 PM - 08:00 PM
Various
Events for December
9th
Events for December
10th
05:00 AM - 09:00 AM
Skinner's Plaza, Hagatna
09:00 AM - 05:00 PM
UOG Field
Events for December
11th
04:00 PM - 06:00 PM
Father Duenas
04:15 PM - 06:30 PM
Various
Events for December
12th
04:00 PM - 06:00 PM
Various
05:00 PM - 08:00 PM
Various
Events for December
12th
No Events
Events for December
14th
04:00 PM - 06:00 PM
Various
04:15 PM - 08:00 PM
TBA
Events for December
15th
05:00 PM - 08:00 PM
Various
05:30 PM - 09:00 PM
TBA
Events for December
16th
08:00 AM - 04:00 PM
10:00 AM - 03:00 PM
Various
10:00 AM - 04:00 PM
Various
Events for December
16th
No Events
Events for December
18th
04:30 PM - 06:00 PM
Harvest Christian Academy
Events for December
19th
04:00 PM - 06:00 PM
Various
05:00 PM - 08:00 PM
Various
Events for December
19th
No Events
Events for December
21st
04:00 PM - 06:00 PM
TBA
Events for December
22nd
05:00 PM - 08:00 PM
Various
Events for December
23rd
10:00 AM - 04:00 PM
Various
04:00 PM - 10:00 PM
Okkodo
Events for December
23rd
No Events
Events for December
24th
No Events
Events for December
25th
No Events
Events for December
27th
05:30 PM - 07:00 PM
TBA
Events for December
27th
No Events
Events for December
29th
05:30 PM - 09:00 PM
TBA
Events for December
29th
No Events
31

1

2

3

4

5

6
Events for December
30th
No Events