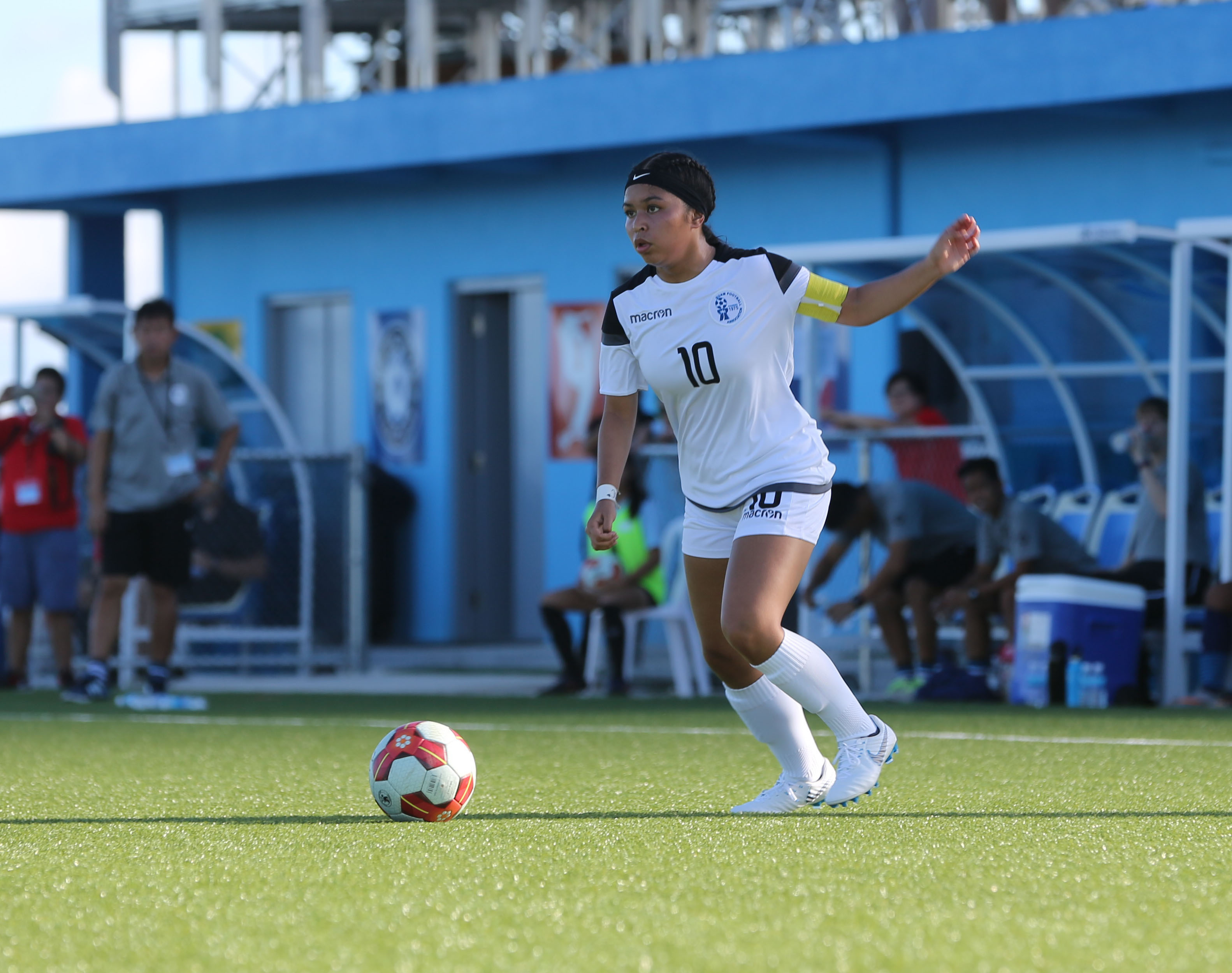 PRESS RELEASE – The Young Masakåda, Guam U19 Women's National Team, are acclimating to cold, snowy conditions ahead of the team's matches in the AFC U19 Women's Championship Qualifier beginning Saturday in Kyrgyz Republic.
Guam kicks off Asia's qualification round when the team opens its bid Saturday against the Maldives at 4 p.m. Guam time at the Dolen Omurzakov Stadium in Bishkek. The Young Masakåda was drawn into Group C with the Maldives, United Arab Emirates, Uzbekistan, and the host country, the lone group in the qualifying round of the tournament featuring five teams.
"We plan to go out and execute the playing style we have implemented and most importantly, enjoy doing so," said Maggie Phillips, Guam U19 Women's National Team Head Coach. "Right now, the girls are mesmerized by the snow, but know that the conditions will be tough to play in. They are ready to fight and leave it all on the field for Guam."
The Young Masakåda departed Guam early Tuesday morning and was met by snow on the team's first day in Kyrgyz Republic. The team will partake in a few training sessions to acclimate to the weather and conditions before stepping onto the pitch Saturday.
Called up to play for Guam are goalkeepers Aeryn Anulao, Kiarra Hutcherson, and Angelyn Sobrevilla and field players Thea Baker, Isabella Bass, Hannah Cruz, Celine Doronila, Rylee Guzman, Sabrina Kenney, Samantha Kenney, Aurianna "Roben" Morellano, Lauren Phillips, Richelle Ragadio, Ava Ramos, Shyann Roberto, Abigail San Gil, Jinae Teria, Ysabella Vasquez, and Isa Whalen.
Members of the staff accompanying the team are Phillips, Assistant Coach Kimberly Sherman, Goalkeeper Coach Ross Awa, Team Manager Chyna Ramirez, Equipment Manager Julius Campos, Team Physiotherapist Hannah Hallor, and Technical Analyst Belinda Wilson.
Fans will be able to watch the team during the tournament via the Football Federation of Kyrgyz Republic Internet TV channel:
• Guam vs Maldives, Saturday, Oct. 20 at 4 p.m. Guam time:
https://mycujoo.tv/video/ffkr?id=26067
• Guam vs Uzbekistan, Monday, Oct. 22 at 4 p.m. Guam time:
https://mycujoo.tv/video/ffkr?id=26068
• Guam vs Kyrgyz Republic, Wednesday, Oct. 24 at 8 p.m. Guam time:
https://mycujoo.tv/video/ffkr?id=26073
• Guam vs United Arab Emirates, Saturday, Oct. 28 at 4 p.m. Guam time:
https://mycujoo.tv/video/ffkr?id=26079
Each link provided has the option to save the date on your device's calendar. Teams advancing out of the U19 Women's Qualifiers move on to the tournament's championship round to fight for allotted spots for Asia in the 2020 FIFA U-20 Women's World Cup.