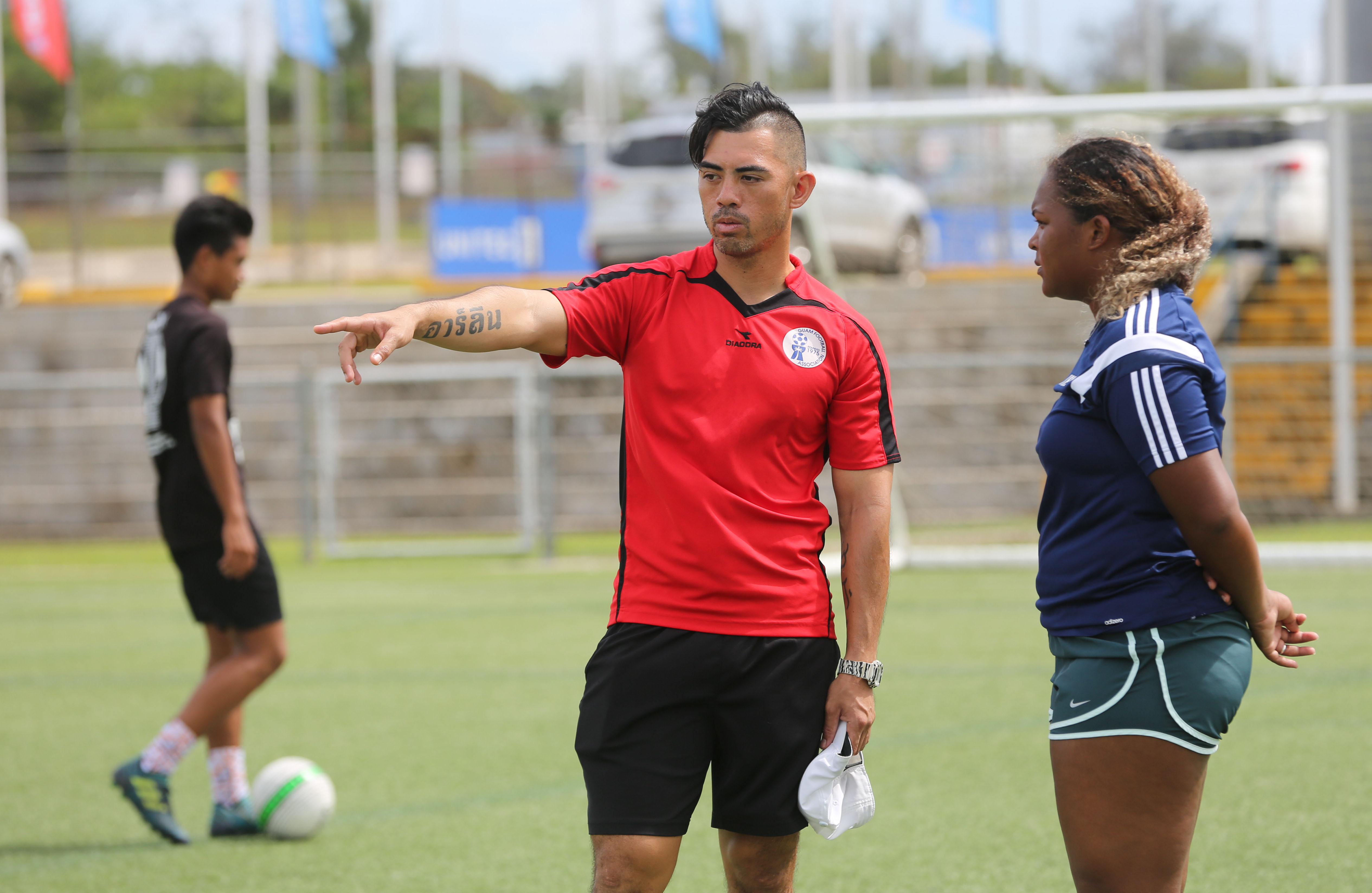 PRESS RELEASE – Guam Football Association recently was lauded as one of Asian Football Confederation's newest AFC Grassroots Charter Members based on initiatives and development strategies in place by the GFA Technical Department.
The announcement of GFA's membership officially was made Oct. 10 through official communication that included an AFC Declaration of Recognition of Grassroots Charter Bronze Membership Status signed by AFC General Secretary Dato' Windsor John.
"In recent years, football development in Guam has accelerated greatly and it is with great honor to announce that Guam has received AFC Grassroots Charter membership at the bronze level," said Tino San Gil, GFA President. "GFA's vision is to ensure that every person is given an opportunity to be involved in all the wonderful aspects of football as part of a life-long commitment for an active, healthy, and positive lifestyle while obtaining a life-long passion for the sport. This recent achievement is testament to the steadfast efforts of all at GFA in moving toward realizing this vision. We still have so much more to accomplish, and I look forward to seeing the next phases of football development in Guam."
Earlier this year, Guam Football Association submitted an application for membership, which included extensive details and photos of Guam's grassroots football activities and strategies based on 20 performance categories: leadership, planning, structure, staffing, player programs, grassroots competitions, fair play, finance, partnerships, personal development, results, women's projects, social schemes, special areas, promotional activities, member association events, adult education, ambassadors, communications, and facilities.
"We are very excited that Guam has earned this recognition from AFC, as GFA's Technical Department has been working earnestly to develop new programs and document what our local clubs and community organizations have been doing to promote participation and development of the sport in Guam," said Belinda Wilson, GFA Technical Director. "We will continue working to maintain Guam's bronze status, while initiating more programs and refining structures to next achieve silver status, and ultimately gold status. All of this falls in line with our goals and objectives set to achieve our overall vision. Grassroots football is the foundation of all we do at GFA as it drives all of our other programs, from coach education to success at the top level of our development pyramid."
The AFC Grassroots Charter was developed in 2016 as a development tool that aims to raise the quality of grassroots programs across the continent. GFA submitted an official application for membership earlier this year. Guam's achievement was highlighted on the AFC Web site: 
http://www.the-afc.com/news/afcsection/guam-football-association-receives-afc-grassroots-charter-bronze-membership
"Receiving recognition from AFC is a clear indication that we have set up a solid framework for grassroots football in Guam from which we can build," said Bryan Cadiz, GFA Player Development Officer, who authored Guam's application for membership. "The charter represents the benchmark for Asia's member associations to aspire toward, systematically raising the quality of the continent's grassroots programs. In order to be approved for the bronze level of the AFC Grassroots Charter, applying member associations need to satisfy a robust set of criteria and commitment toward developing a vibrant ecosystem through wide-ranging programs, lifelong pathways, and retention of players. Given the relatively smaller size of Guam and resource limitations compared to most other member associations in Asia, Guam's ability to fulfill each of the 20 performance categories is quite impressive."
In 2017, only three AFC member associations – Bhutan, Hong Kong, and Macau – received bronze membership. The Chinese Football Association earned silver membership and Australia earned gold membership. The five member associations join 10 applied member associations in AFC Grassroots Charter membership, the AFC Web site states.
PHOTO GALLERY BROUGHT TO YOU BY: