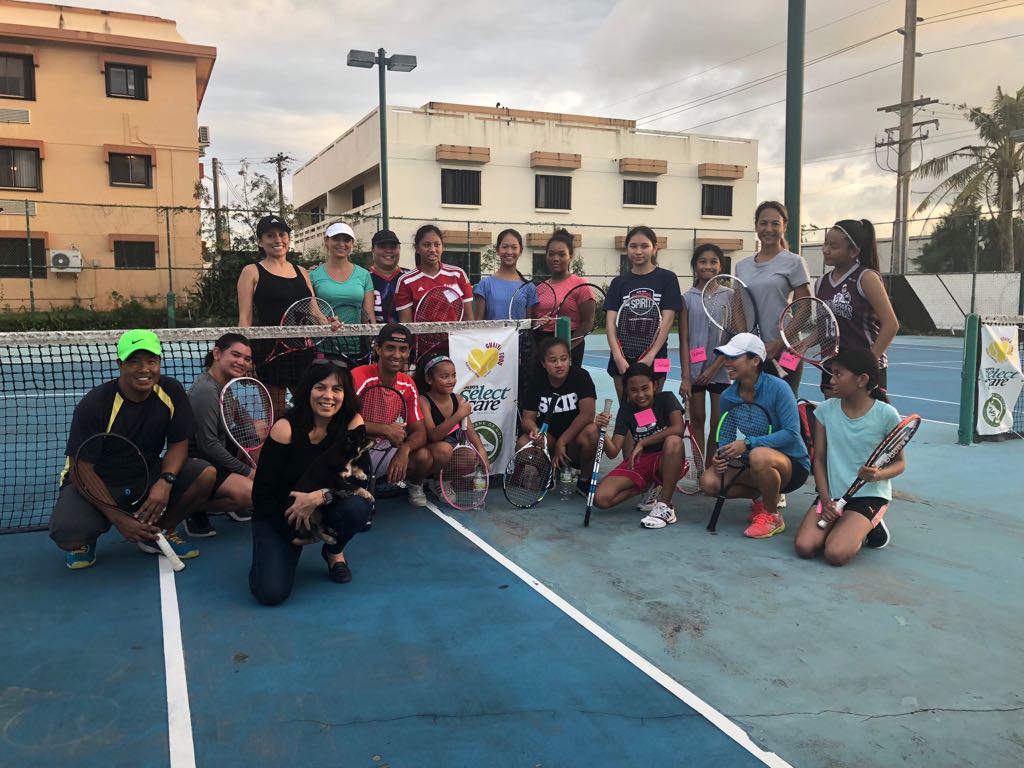 PRESS RELEASE – The sport of tennis has the power to influence positivity in the local community as evidenced by the popularity of social outreach events organized by the Guam National Tennis Federation with assistance from former tennis professional Michael-Ray Pallares and the Development of the National Sports System (DNSS).
Pallares, an International Tennis Federation (ITF) expert, was in Guam for two months working with GNTF to develop a viable five-year strategic plan and to jumpstart work on achieving objectives for the development of the sport in Guam. In the two months, as part of GNTF's strategic plan for participation, he worked to organize community events with the Guaiya Todu Foundation and the Mañelu Foundation.
"I have met many wonderful people during my time on Guam and I am always awed and inspired when I am able to team-up with local community organizations that are constantly working on improving their community," Pallares said. "The local community organizations like Guaiya Todu and Mañelu Foundations are actively impacting people in society and are aware of their needs and how tennis can fill in these gaps effectively. By reaching out to people that might not have an opportunity play tennis otherwise, we have the ability to influence a demographic positively through tennis."
Pallares and local tennis coaches organized an event for close to 20 girls and women in partnership with Guaiya Todu Foundation, a non-profit organization striving to promote the sport of tennis to girls and women of all ages in the spirit of good sportsmanship and love of the game.  The foundation's mission is to aspire and empower girls and women of all ages through the benefits of playing tennis on Guam.
Pallares and local tennis coaches also introduced tennis to children through events with Mañelu Foundation, a non-profit organization that helps children reach their potential through professionally supported mentoring relationships.
"It was certainly a pleasure to have Michael-Ray in Guam mentoring us as an expert from the ITF," said Torgun Smith, GNTF President. "Michael-Ray has assisted us in propelling forward objectives set in GNTF's strategic plan in four main pillars: participation, coaching, performance, and funding. Particularly in the area of participation, we will continue to build on the success of community programs and events from the past two months to further develop the sport of tennis in Guam."
Pallares, a former professional tennis player and member of the Dominican Republic Davis Cup team, also conducted a series of coaching courses in Guam. Pallares holds an ITF Level 3 Coaching Certificate, the highest in the world, and also is an ATP and WTA certified coach.
PHOTO GALLERY BROUGHT TO YOU BY:
Manelu Foundation Event 3.jpeg: Participants from Mañelu Foundation take part in tennis drills during a social outreach event with visiting ITF expert Michael-Ray Pallares and Guam National Tennis Federation. Pallares was in Guam for two months as part of the Development of the National Sports System (DNSS) Project in Guam for tennis with GNTF, with the overall mission to strengthen GNTF's focus on four strategic pillars of participation, coaching, performance, and funding. During his visit, he and the GNTF organized various social outreach events to give back to the local community. Photo courtesy of Guam National Tennis Federation
Manelu Foundation Event 2.jpeg: Visiting ITF expert Michael-Ray Pallares, standing in the back row on the right side with white shirt, poses with participants from Mañelu Foundation. Pallares was in Guam for two months as part of the Development of the National Sports System (DNSS) Project in Guam for tennis with GNTF, with the overall mission to strengthen GNTF's focus on four strategic pillars of participation, coaching, performance, and funding. During his visit, he and the GNTF organized various social outreach events to give back to the local community. Photo courtesy of Guam National Tennis Federation
Manelu Foundation Event 1.jpeg: Visiting ITF expert Michael-Ray Pallares, standing in the center with white shirt, poses with participants from Mañelu Foundation. Pallares was in Guam for two months as part of the Development of the National Sports System (DNSS) Project in Guam for tennis with GNTF, with the overall mission to strengthen GNTF's focus on four strategic pillars of participation, coaching, performance, and funding. During his visit, he and the GNTF organized various social outreach events to give back to the local community. Photo courtesy of Guam National Tennis Federation